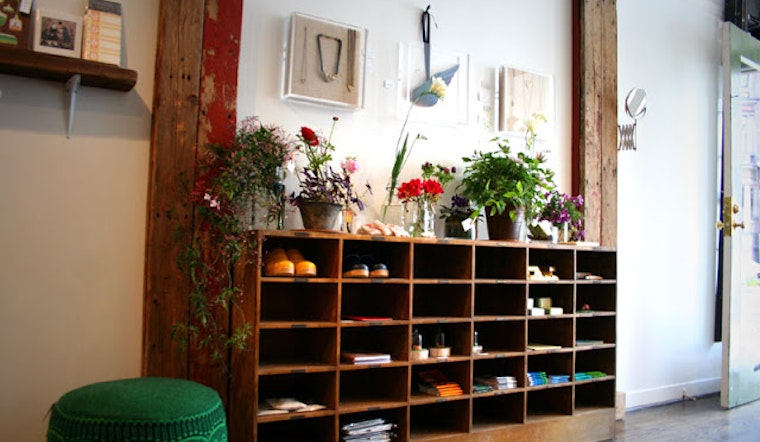 Published on April 05, 2010
This is
not
the true story of seven strangers picked to live in a house and have their lives taped. This
is
the true story of four friends running three businesses out of a single shop on Divisadero. It's called Prairie Collective, and it's cool. Here's why.
Prairie Collective is a trio of like-minded operations selling handcrafted gifts, cards, books, flowers, art, pillows, bottles, clogs, jackknives, soaps, miniature oddities... well, lots of stuff. It may sound like a hefty list for what is a relatively small space, but the three shops have wisely intermingled their items to create one cohesive, uncluttered experience.
Studio Choo
Friends Alethea Harampolis and Jill Pilotte make up
Studio Choo
, and their focus is on flowers. They try to source fresh, seasonal, locally grown plants for their arrangements, which are available both in the shop and via pre-order for weddings, parties, and other events.
Magpie & Rye
Some of the more fanciful/unusual findings at Prairie Collective come courtesy of
Magpie & Rye
, which carries goods that are evocative of the owner's western roots. Items from Magpie & Rye include handmade arrows and mason jars full of colorful stones.
Cloak & Cabinet
Finally, you'll find books, vintage items, and other curiosities courtesy of the Cloak & Cabinet Society.
Revolver
(which
we profiled
last week), and
Merch
(which was formerly Doe), the eclectic offerings at Prairie Collective encourage you to take your time, consider each object, and appreciate the details. Sort of a Slow Food movement, but for shopping. With the arrival of these shops, we can safely say there's a trend toward high-quality boutiques emerging in the neighborhood. Will the Lower Haight soon rival Hayes Valley as a destination for the quality-minded shopper? It's sure beginning to look that way. Stay tuned.