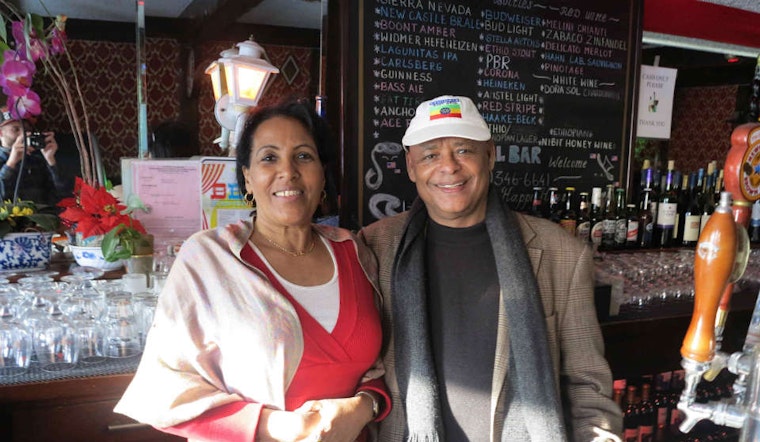 Published on March 31, 2014
If you've been to Divis, you've probably been to Waziema.
The bar is steeped in history, a fact readily apparent from the original wallpaper still present today. It used to be called Club Morocco, a name derived from time the original owner, Mr. Robinson, spent in Northern Africa during World War II. It was a hopping jazz club in its heyday until it shuttered its doors in 1979. The place went dormant for 20 years until Ethiopian-born Giday Beshue and Nebiat Tesfazgi gave the place new life in 1999, adding an Ethiopian menu on top of the bar's offering. We stopped by the other day to get to know them a little better.
Where are you guys from?
Adwa, Ethiopia.
And when did you arrive in America?
Nebiat: Giday came to Canada in 1981 and I moved to Peoria, Illinois in 1982. I then moved to San Francisco in 1983.
Did you meet in Ethiopia?
Nebiat: We grew up together. I remember him from kindergarten. We kept in touch after I moved to San Francisco and he moved here one day before the 1989 Earthquake. After that, he moved back to Canada. But then he came back six months later and we eventually got married.
So what was the bar like when you first acquired it? When was that?
Nebiat: December 10th, 1999. That was our grand opening, but we had been working on the place since 1995. It was completely boarded up for 20 years. The renovations themselves took eight months, but it took three years for the original owners to let us start a bar here.
So Waziema has a lot of history. What can you tell us about the good old days?
The original business was extended into Hayes Street. There was another entrance next to the Popeye's. The place was shaped like a horseshoe. On the right side of where the pool table is now, it was open completely. That's where the stage was. There was another bar on that side and a smaller bar where the office is now. There was also a pizza kitchen on that side. The whole place went out to Hayes Street. Since a new owner bought the other building, we could no longer connect them.
So what's there now?
It's a storage space and a garage, I believe. If you look at the building next to Popeye's, you can see where the old entrance was. Willie Brown once came in here and said [pointing to a corner next to the pool table], "I used to sit right here when I was a young man." Another guy once came in and said that the bar saved his marriage. He had a mistress and was sitting by the stage end of the bar. He saw his wife coming from where the entrance is now and ran out with the mistress on the Hayes side. Then he came around the corner to meet his wife and explained her was just getting there. See that's what people don't realize, the place was huge. That's why so many big names used to come here.
What is your favorite thing about this bar?
Nebiat: It has a lot of history!
Giday: We were fascinated by the history. The bar was a bar from day one. Everything about the bar's configuration is original and done by hand. If you look up, you'll see that the beams are handmade. The original bar owner, Mr. Robinson, cut them himself with an axe. Also, when we came to the bar it was left exactly the same. We love its originality. In fact, we have three boxes of original records we found when we first came into the bar. The people who used to play here [when it was Club Morocco] were legends. James Brown, BB King, Billie Holiday, Tina Turner, Marvin Gaye … they all played here.
Nebiat: We actually have some original recordings of concerts played here. There were also radio shows aired from inside this bar.
So you found original records from when they shut down in 1978 when you renovated?
Nebiat: Yes. They were a gift from the original owners.
What's been the most exciting about running this place?
Nebiat: When we came here in 1999, it was a very disadvantaged area. It was a challenging place to invest your money. I spoke with the police captain at the time about opening the restaurant and he said, "Why do you want to throw your money in the garbage bin?" For us, it was an amazing opportunity to give the place a facelift, just because we love food, entertainment and music so much.
What are your favorite kinds of customers?
Nebiat: All our customers are our favorite!
Giday: We really do love all the people who come in here.
Nebiat: When we first opened, neighbors used to go to permit hearings with us.
Giday: Yes, we were originally restricted [by the time when we needed to stop serving alcohol], but this neighborhood, they've helped us. Where we are now, we could not be here without the neighborhood's support.
What's the best dish on the menu?
Giday: The Ethiopian Vegetarian Combo. It's one hundred percent vegan, but you don't miss any protein. All the veggies you need are in one serving.
What's next for Waziema?
Nebiat: We are starting to do much more music in the back. We now have a DJ every Saturday. We are also working on soundproofing the back as well.
Do you plan on staying here forever?
Giday: Yes. We love food, entertainment and people. It's not about the money. Running this place is something we plan to do for a long time. We are going to keep this place affordable, too.
Nebiat: My customers are my friends. They support me a lot and I'm happy to see them everyday.