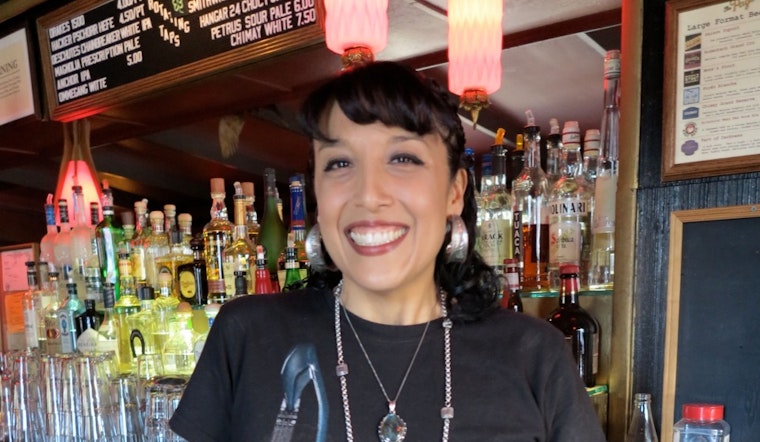 Published on April 13, 2014
The Page
has anchored the south end of the Divisadero Corridor since 2004, and the space itself has been a bar for over 70 years. Famed for its cozy atmosphere and local vibe, the bar will no doubt be a low-key mainstay for years to come.
The staff is a collection of familiar faces, but arguably none are as smiley and welcoming as Racquel's. (Though she didn't want her last name in this interview, she might tell it to you if you ask nicely.) We stopped in the other day to get to know the spritely, Giants-loving barkeep a bit better.

Where are you from and how did you get here?
I was born and raised in Gilroy and lived in Monterey for five years. I found myself on Divisadero when I first moved into town and I haven't left since!
How long have you worked here and what's the most entertaining thing you've seen?I've worked here for six years. The most entertaining I've seen is when the Giants won the NCLS in 2010. The whole neighborhood was here, we were cheering for the home team, and it was nice to be surrounded by friends!
Has The Page changed much since you've been here?
It's always been a neighborhood spot, and that's what I love about it. In my experience, I don't think it's changed a lot.
Why did you move to San Francisco in the first place?
I moved here to go to grad school at the Academy of Art for Fashion Design.
Any current artistic endeavors in the works?
I'm launching my own clothing line. I'm starting small with aprons, shorts, skirts and scarves. I'm basically designing everything I like, in the time I want to do it. I'm hoping to have stuff ready to go and be a part of the Open Air Market this summer.
Do you have any other hobbies?
I love to draft patterns, sew, and crochet. I also love to jog, and I love long walks on the beach.
When you need to put some tunes on the juke box, what are your three go-to tracks?
I'd have to say "Beast of Burden" by The Stones, "If I Was Your Girlfriend" by Prince and "Sittin' by the Dock of the Bay" by Otis.
What's your favorite kind of barfly?
Someone who will engage in conversation, someone who has a sense of humor, and someone who likes to drink whiskey.
How do you stay so cheerful?
I love life!
Any advice for folks who come here?
Smile, take in the beautiful art, the cozy atmosphere and say 'hi' to the neighbor sitting next to you at the bar.