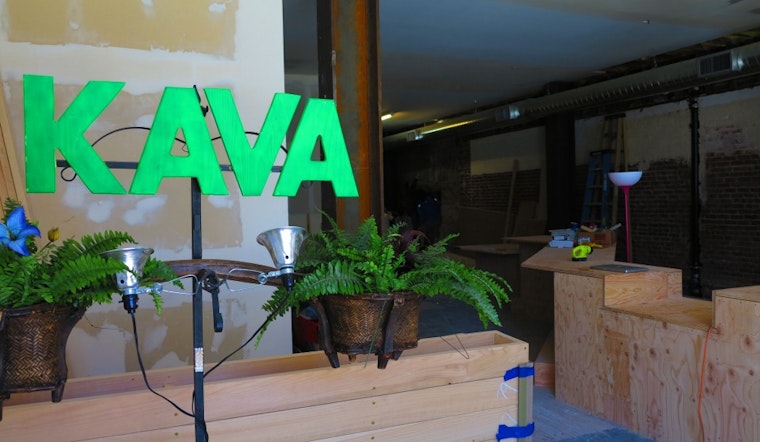 Published on May 11, 2014
Tired of the Divisadero bar scene? Looking for a new social lubricant? You just might get your wish this summer, when

Kava Lounge San Francisco

plans to open its doors to the public.
If you're not familiar, kava is a plant from the Western Pacific that was traditionally consumed by the Oceanic cultures of Polynesia and the surrounding regions. It is used as a sedative and anesthetic and has been proven in some studies to relieve social anxiety.
Gee, and here we were, drinking beer this whole time like chumps.
We stopped by 901 Divisadero (at McAllister) to check out the space, which is under construction. From the looks of it, it's going to be a pretty big place.
We caught up with owner and herb-monger Alva Caple to learn more. Originally from the Toledo Metro Area in Ohio, Caple moved to SF about a year and a half ago from South Florida with the aim of opening a kava lounge. He previously owned the Durty Bird Tavern, a popular gastropub in downtown Toledo. He was introduced to kava in Florida, which has the most Kava lounges in the US outside of Hawaii.
Caple is excited to set up shop in the neighborhood. "I'm providing a wonderful alternative for people to socialize outside of a bar setting," he told us. "I thoroughly enjoy kava myself and it surprised me to learn that a state as progressive as California had so few kava lounges."
The lounge plans to serve kava and other "specialty herbal drinks" such as damiana and yerba mate. They will be available straight up or in the form of herbal cocktails. A single shot of kava will run you $5 and a double will cost $9. The cocktails will range from $4 to $15.
Caple tells us the place will feature a relaxed, lounge-type setting with a gallery space and a living moss wall. He plans on piping in what he calls "mystical music" over his sound system. All in all, he seeks to create a relaxing, low-key ambience that promotes a general sense of calm to his patrons.
"Imagine coming here and allowing the day's problems just wash off your shoulders," said Caple. According to him, kava is a "miracle cure for anxiety." He also told us it's non-addictive, and is also used as a muscle relaxant and an aphrodisiac.
Is this your next date spot? Will Kava Lounge San Francisco steal your heart and business from The Page? We'll have to wait until late summer to find out. In the meantime, we'll keep you posted with any updates.