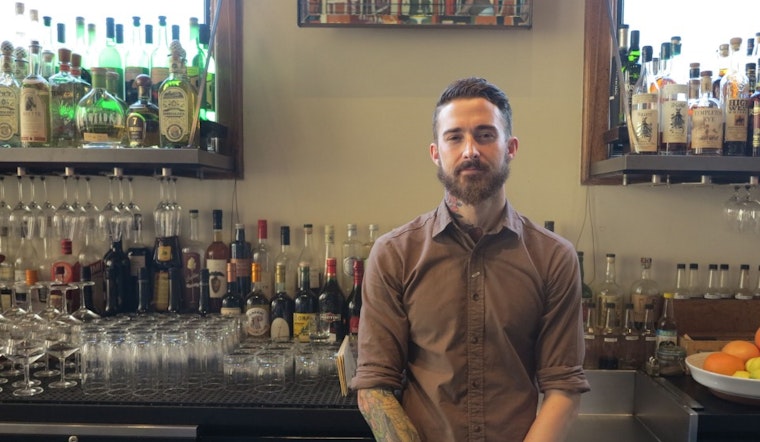 Published on June 13, 2014
Since 2006,
NOPA
has been an institution on the corner of Hayes and Divisadero. Though they're known for their cuisine, the other side of the coin is the comprehensive bar program that makes it a neighborhood go-to for fancy cocktails.
For the latest installment in our local barkeepers series, we caught up with longtime bartender and former neighborhood resident Caleb McGehee to pick his brain about servin' hooch at the neighborhood's classiest joint.
Where are you from and how did you get here?
"I'm from Phoenix, Arizona. My sister went to USF and she made me fall in love with the city. I originally went to Academy of Art downtown. That was nine years ago. My sister also got me my first job in the restaurant industry at Dragon Well down on Chestnut Street."
Describe your experience as a bartender. Where else have you worked? How long have you been at NOPA?
"I've been at NOPA for six years. I've also worked at Solstice, Brick—which is now Fly Bar on Sutter and Larkin—and Maven. But mostly at NOPA. It's the one I love the most."
What makes a good cocktail "great"?
"I think it's finding a balance and catering to the person who's actually drinking it and hopefully enjoying it. I'd also say it's important to respect the ingredients and not try to dilute them or sully them by adding too many. It's about respect, man."
What's the best cocktail in the world?
"Wow. I'd have to say the Sazerac. I like the history behind it. It's a simple, straightforward cocktail. It feels good to make and even better to drink."
What's your favorite thing to do outside of work?
"My favorite thing to do outside of work is to eat and drink around the city. My first passion is bartending, so it feels good to maintain my appreciation for the other side of things."
What's the worst experience you've had as a bartender?
"People throwing things at me is not fun. Even if they're being playful, having someone throw a cork at your head, it's still frustrating."
What's your favorite kind of drunk?
"I love quirky drunks who are no-nonsense and speak their mind. Honesty is real important and it goes a real long way."
What's the craziest thing you've ever seen at NOPA?
"On New Year's Eve we had a gentleman who was intoxicated on something much more than alcohol that went to the bathroom and came out with his pants still down and flashed everyone that happened to notice. He was quickly carried out and picked up by the police, but not before cracking his head open on the concrete outside."
Is there a philosophy to being a good bartender?
"I think it's really important to be sociable, friendly, and a good reader of character and people in general. It sounds like speculation, but it's all very real."
What do you think of that creepy powdered alcohol stuff?
"I don't know, I haven't tried it, but if it's anything like the Jack In The Box powdered meat they put in their tacos, it's good in my book."
What's the most out of the ordinary thing you've been asked to do as a bartender?
"Aside from being directly propositioned, I've been asked to take my shirt off, I've been asked by people to smell their breath, and lots of people have asked me to go to the bathroom with them. People also ask me to hook them up with other people at the bar."
What's your take on the way the neighborhood has changed since you first got here?
"I look back on first living in this neighborhood with a lot of fond memories. I loved the edginess that was here and the heightened sense of danger, but ultimately the neighborhood is safer now and has a lot more to offer than it did before. Times have changed, and thinking about my feelings toward the way things were would just make me bitter. I'm ultimately happy with what we have now."
***