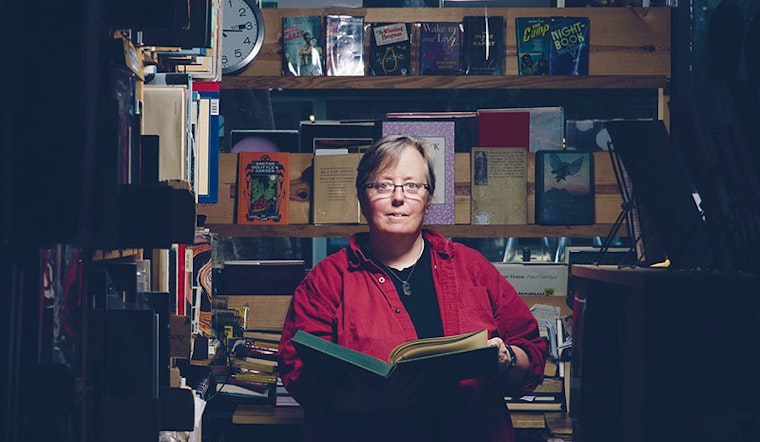 Published on July 31, 2014
It's Bibliohead's tenth anniversary on Gough Street, but owner Melissa Richmond isn't celebrating. Instead, she is preparing to close up shop after her landlord announced plans to double the bookstore's rent following a four-month earthquake retrofit to begin in January.
When
we last spoke to Melissa
, she had been told that the store could stay until December, though her lease ends on August 31. Now, the landlord has given her a September 30th deadline to vacate.
Melissa says that though she developed a plan, including a compromise on the rent hike, she was still denied a new lease by the landlord. "Many places are in limbo because of complications with the new retrofit mandate," she told us. "Once businesses have completed their retrofits, the rent naturally goes up since owner want to recoup their expenses. It's going to be hard for a lot of mom and pop stores to stay in business." She says her landlord wants to install a high-end boutique in the space.
"I don't want to say that I'm anti-boutique," she told us. "I just think there should be a balance ... In reality, thousands of people are moving to Hayes Valley each year, and they need a variety of goods and services. There is more than one type of shopper in Hayes Valley."
Bibliohead had its best of month of revenue last month, barring the Christmas season, and Melissa says her current landlord is ""chomping at the bit" to tell people about how good of a tenant she's been. But though she's been looking around, she says she is not optimistic about staying in Hayes Valley, even though the bookstore's inventory has been curated for the neighborhood to have a focus on music theory, sheet music, interior design, fashion and more.
Though she says there's no chance she will be able to reach an agreement with her landlord, Melissa is currently in negotiations with a new space in a different neighborhood. She says she's looking for a landlord who will allow her the opportunity to meet the challenge of running a bookstore in this day and age so that she can do what she's already done, which is to create a successful bookstore that people love.
Still, Melissa says that if she isn't successful in securing a space before the end of September, she'll have to get creative, starting with a moving sale, though she says it would be sad to be forced to sell her really good stock at pennies on the dollar.
Another option she is considering is the possibility of going mobile with an old school bus turned bookmobile.
While Melissa figures out the bookstore's future, Bibliohead is continuing
its Indiegogo campaign
, which seeks to raise $60,000 to either assist in storage and rent should they stay on Gough Street after the retrofit, or moving, marketing, and more, should they be forced to move.
We'll keep you updated on what's ahead for Bibliohead. In the meantime, if you want to know more about Melissa and Bibliohead, check out
our interview with her
from September of last year.
Stephen Jackson contributed reporting to this story.