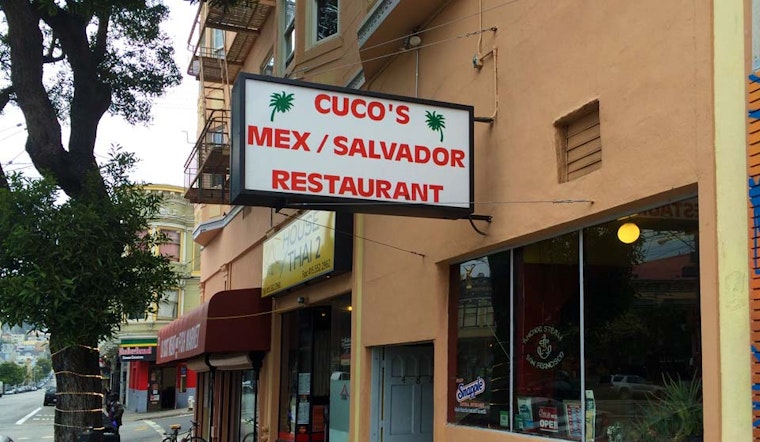 Published on July 15, 2014
A Lower Haight landlord has waded into controversy again, this time serving local restaurant Cuco's with an eviction notice.
Two months ago, we
reported
that tenants of a building at Haight and Fillmore had received a letter from their landlord outlining strict criteria for living at the address, including a minimum annual salary of $100,000 and credit score of at least 725. That story ignited a firestorm of attention, and the landlord, who was soon identified by various media outlets as Robert Shelton, quickly retracted his letter.
Now it seems he's turning his attention to the ground floor tenants at Cuco's.
In a letter postmarked June 24th, an attorney for Shelton informed Cuco's owners Domingo and Carmen Campos that the restaurant had to shut down within thirty days.
The letter reads, in part:
"NOTICE IS HEREBY GIVEN that your tenancy of the aforesaid premises is terminated as of thirty (30) days after service on you of this Notice (excluding the date of service). You are hereby required to quit and surrender possession thereof to the undersigned no later than thirty (30) days after service of this Notice upon you."
The notice is signed by attorney
Daniel Bornstein
, "the landlord's duly authorized agent." No explanation is given for the eviction.
"I felt like it wasn't legit, just by how the signature looked," said Domingo and Carmen's daughter Judy, who supplied us with a photograph of the letter yesterday.
"This happened three years ago ... He was telling [my mom] verbally, 'you have thirty days.' It was verbally, he never sent anything in the mail. But now it's serious."
Judy is referring to February of 2012, when Cuco's
first allegedly received
a similar eviction threat from Shelton. At that time, the family solicited pro bono help from a lawyer, gathered support from customers and neighbors via a petition, and eventually got Shelton to back down. They're hoping a similar groundswell of support will help them overcome this latest challenge.
The Campos family has operated Cuco's for 22 years, paying rent to Shelton on a month-to-month basis.
"We don't have a lease," Judy told us. "If he wants to evict us, he can evict us."
The family's most recent rent payment, made on July 5th, was returned, along with a second letter from Bornstein that they received this past Saturday. It reads, in part:
"Enclosed please find Carmen Campo's Bank of America check #469, in the amount of $4,287.00, made payable to 312 Fillmore Street L.L.C. and purporting to represent rent for the premises, 488 Haight Street, San Francisco, CA.




Said check is being returned because your tenancy is being and/or has been terminated."
According to Judy, Shelton has also made frequent demands that the restaurant either upgrade its interior or face eviction, a behavior that she said was "like harassment."
"He wants her to remodel the [space] that we're in. Which, I have an understanding that it's his responsibility, being a landlord," Judy said.
The thirty-day notice does not give the Campos family much time to make alternate plans. If Shelton had given them a few months, Judy noted, they might have chosen to move to another location or wind down the business. Instead, Judy told us Carmen has no intention of giving up.
"She's going to try to do everything she can to fight it. She's been here so long."
We have reached out to both Shelton and Bornstein for an explanation, and will update if and when we hear back.