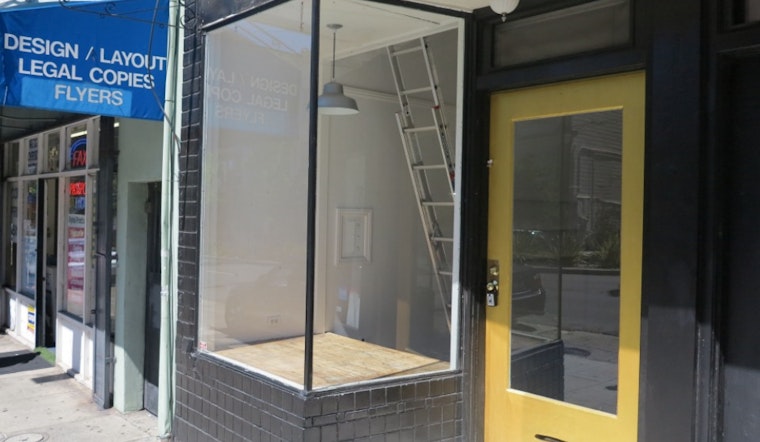 Published on July 07, 2014
We caught up with soon-to-be java slinger James Grogan to get some more details about Divisadero's next caffeination station.



Where are you from originally? Tell us a little about yourself.
"I grew up in Sonoma County and moved to San Francisco from Sebastopol a few years ago. I currently live in Noe Valley. I'm sort of a jack-of-all-trades. My degree is in computer science, I spent many years in IT and Operations, and I'm also a watercolor artist. My father and brother are both general contractors so I have a lot of construction experience. I moved to San Francisco to help open an age management medical office in the Financial District."
Is this your first coffee shop? What made you decide to open one on Divis?
"Yes, this is my first coffee shop. I have always wanted to open a coffee shop/art gallery. I love great coffee and was a weekend docent at the Sebastopol Center for the Arts and always wanted to own a small gallery. I picked Divisadero because it has a local community vibe and is up and coming."
What are some details about what your space will feature? Will the coffee shop serve as a gallery space?
"I'm using Sagan Piechota Architecture to help me design the space. My vision is serving great coffee and hanging fine art from local artists, preferably students. I have spent some time at the Academy of Art and Sadie Valeri's Atelier. I noticed a lot of student work that is pretty amazing. These are the artists I would like to feature."
What kind of coffee will you be serving? Will there be food, beer and wine as well?
"I will be serving Ritual. I've been spending a lot of time talking with Eileen Rinaldi and Daria Whalen at Ritual Roasters. I love love love their coffee. I frequent the Flora Grubb location and that's how I was introduced to Ritual. Our drinks will be mainly espresso, batch brew and pour over. We will not be serving alcohol and we will not be cooking at this location. For food I m in negotiations with
Sweetmue
. They offer classic French pastries that are Asian-inspired. We're coming up with something special only served on Saturdays."
What's your philosophy as a coffee shop owner?
"I always think about what I like when I go to a coffee bar. We want to be acknowledged and feel important when we walk through the front door. Next is the product. The coffee needs to be great every time. That's what makes me come back. So if you really think about it, your staff is the key. They need to be friendly and good at what they do."
When will construction begin and when do you estimate you will be open?
"We are in the design stages now. I hoping that we can open by the end of October, but it all depends on the permit process."
We'll keep you posted on when the new spot gets a name and a concrete opening date.