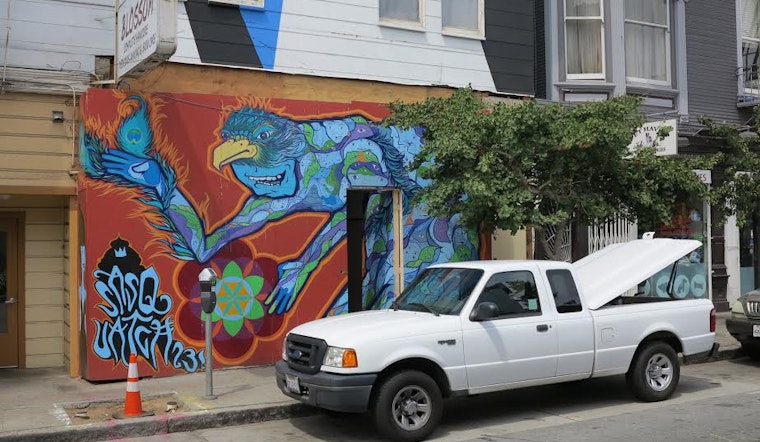 Published on August 05, 2014
Have you been curious about the address next to Bean Bag that's been
mural-veiled
for months?
We certainly were, so we set out to find some answers.
As it turns out, the space at 605 Divisadero Street is set to become a sister restaurant to Zaytoon, a Mediterranean place on Valencia and 22nd. We tracked down soon-to-be owner Chris Totah, who told us that he and his family have run Zaytoon for four years at the Mission location, and he now plans on bringing similar fare to Divisadero.
While Zaytoon has more of a take-out counter vibe, Totah's new endeavor (he wishes to keep the name under wraps) will provide a sit-down atmosphere, although it will also accommodate folks on the go.
When asked why the construction had been taking so long, Totah told us that it was due to general complications in retrofitting the space, but that he is optimistic that the restaurant will open in the next few months.
As far as food goes, Totah says he will be using all fresh and local ingredients, along with Niman Ranch meats. Additionally, everything the new restaurant offers will be made from scratch. "All of our food is inspired from my grandma's recipes," said Totah, "and everything we do has all been passed down for generations. She is kind of the inspiration for everything we do."
Some menu items to look forward to include a Lamb Burger ($11.95) and a home-made, fresh falafel, which will also be available in a wrap for about $7. They will also serve beer and wine, and plan to offer other specialty drinks as well.
The restaurant will be open from 11am to 11:30pm Sunday through Wednesday, and will serve food until 1:30am on Thursday, Friday and Saturday nights.
Totah, who was born and raised in San Francisco, is optimistic about his new Divisadero location. "The NoPa area has changed a lot in the past few years…there's so much liveliness that it's almost impossible not to do well. There's lots of foot traffic and good vibes and people in the neighborhood love to support local businesses. People know what good, fresh food tastes like, so we'll just let the food do the talking."