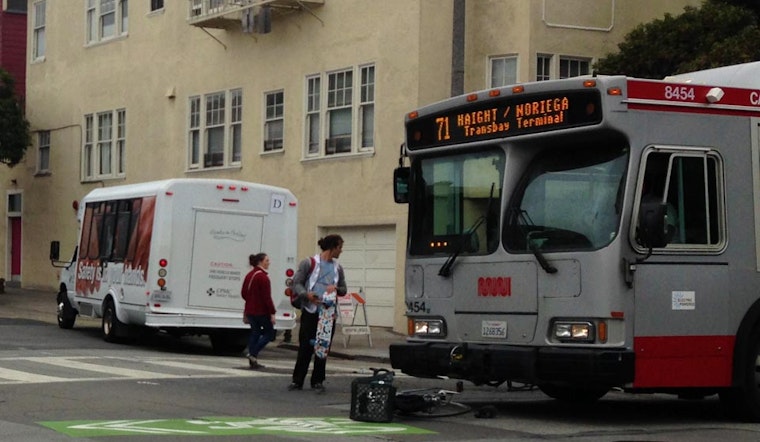 Published on August 20, 2014
Traffic was snarled around Haight and Scott early this afternoon, the aftermath of a collision involving a 71-Haight Muni bus and a CPMC shuttle bus.
Hatchbeat's
Liz Fedak sent us these photos from the scene, and details on what happened around 12:42pm today. According to Liz, the driver of the Muni bus claims the CPMC shuttle driver blew through the stop sign without stopping, precipitating the accident.
The Muni bus hit the shuttle, injuring at least one person who was seen being brought to an ambulance on a stretcher. The impact also damaged a bike rack on the front of the Muni bus.
Passenger David Quicke, who also happens to be a bike messenger for PostMates, told Liz that his bike was left mangled.
"I hope that they reimburse me for the bike at least," said Quicke. "That
wheel is totally screwed."
@haighteration Haight/Scott blocked due to MUNI accident. Police and ambulances on scene. #SFMUNI pic.twitter.com/HCGtX7XvKQ

— Steven Bracco (@Braccs) August 20, 2014
Traffic was prohibited on several blocks of Haight and Scott Streets as police investigated the collision. No word yet on whether either driver will be cited for the collision.
Thanks to everyone who sent this in.