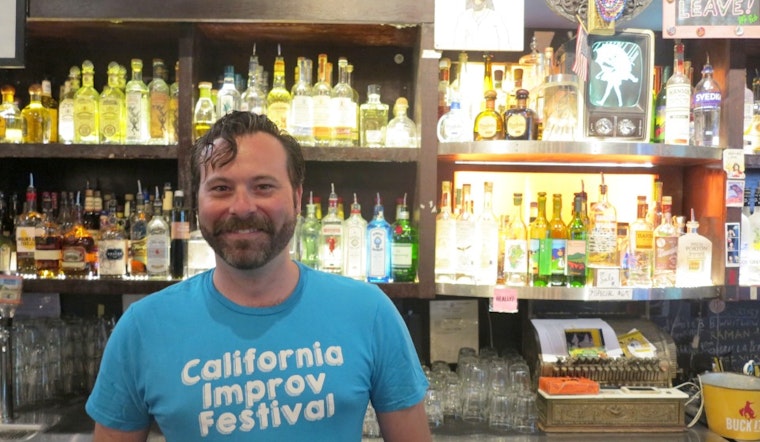 Published on August 21, 2014
Continuing our mission to introduce you to your local bartenders, we visit Madrone and meet Chris Libby. To meet Caleb from Nopa visit this post, Giday and Nebiat from Waziema are over here, and to get to know Racquel from The Page head this way.
Madrone is as much a steamy discothèque as it is a friendly local haunt.
Sure, it's best known for the seven nights of entertainment it provides each week. But there's another side to this local staple: the quieter, less club-like atmosphere that Madrone offers earlier in the evening.
That's when you can sit down and really get to know your barkeep, and we recently did just that.
We caught up with well-known shot slinger Chris Libby, a neighborhood resident for over 10 years. Here's what Chris had to say about cocktails, comedy, and curious customers:
Where are you from and how did you get here?
"I am from Maine, but I moved from Boston across country with a bunch of comedians by car."
"I went to Emerson in Boston. I was in a troupe called "This Is Pathetic", where I met the dear funny people that wanted to drive across country after we graduated. We landed at the San Francisco Mime Troupe, where we were interns for the summer show. We took classes in Comedia Dell'arte, we built sets, and we built a bathroom. That was in 1999."
When did you start bartending?
"I started bartending in '96 at the Charles Playhouse Lounge in Boston, pouring drinks when The Blue Man Group was performing there."
Describe your relationship to cocktails and cocktail making.
"My favorite cocktail is the one in front of me. I can't decide what makes me happier, when it's full, or when I finish it. I like to make people happy. When I make cocktails, it's fun to put a smile on people's faces, to turn their day around, to get them comfortable being in the room, or being finished with their day."
What's a remarkable drink order you've gotten while working at Madrone?
"We have a drink called a Steve McQueen. It's a bourbon cocktail, our take on the Manhattan. It was St. Patrick's Day or something and this guy was with a group and ordered six of them and I stirred them and served them up. I returned with the change and found they had all taken the entire cocktail like a shot, all six of them."
Madrone oscillates between a nightclub, a sleepy bar and an art gallery. Which form do you prefer and why?
"If I have to choose a preference, it's happy hour, because those are the shifts I work."
What does a person's drink order say about them?
"There are folks that know what they want, and folks that don't know what they want. Folks that know usually make me think, 'yeah that is what you drink' and I get excited for them. Other folks may have a go to, but they are curious about the conversation that can take place between themselves and me as a bartender. They have a curiosity about finding what's right for them. It could be that night, or, dare I be so bold, in life."
What do you do when you're not here?
Lie awake, dream about being here! [laughs] When I'm not here I ride my bike, read comics.
Are you still acting or performing?
Yeah, I go out on commercial auditions and perform once a month, doing improv comedy and music with my comedy partner Anthony Veneziale. Together, we are "HUGE". That's the name of our group. Our next performance will be at the SF Improv festival on September 18th at the Eureka Theatre.
What are you most afraid of?
Living an unfulfilled life.