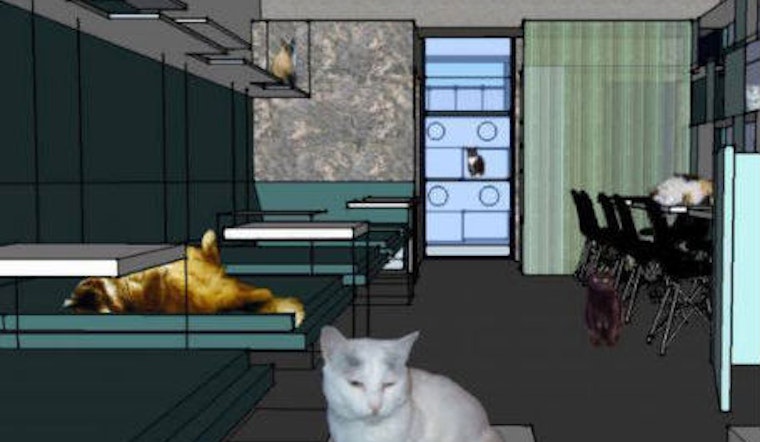 Published on September 12, 2014
A month ago,
we broke the news
that San Francisco's first cat cafe, KitTea, would be moving into the neighborhood after securing a space at Gough and Page.
Now, though construction of the Hayes Valley-bound cattery has not yet concluded, KitTea
has shared
some mockups for what the space will look like once it's finished, courtesy of
Shift Design Studio
.
Many readers have wondered what the cafe would look and feel like in practice, and specifically how the division between cat lounge and tea house—a health code requirement—would be achieved. Below are the preliminary design mockups, which show the layout of the "cat lounge" side of the space, which includes both table seating (for humans) and cat seating along the opposite wall. The cat lounge will be separated from the tea house by a partition that includes a wall-mounted cat track.
Below is a bird's-eye view of the plan, which includes a retail nook and host stand upon entry. A window cat play display area will be visible from the street, and a "peek-a-boo" cat play wall will keep cats entertained (for cats that need a break, there's a separate "cat zen retreat" area and private cat quarters).
It'll be another few months before KitTea officially opens its doors, but we'll be sure to keep you posted. In the meantime,
here are more details
on what owner Courtney Hatt has planned for the new space.