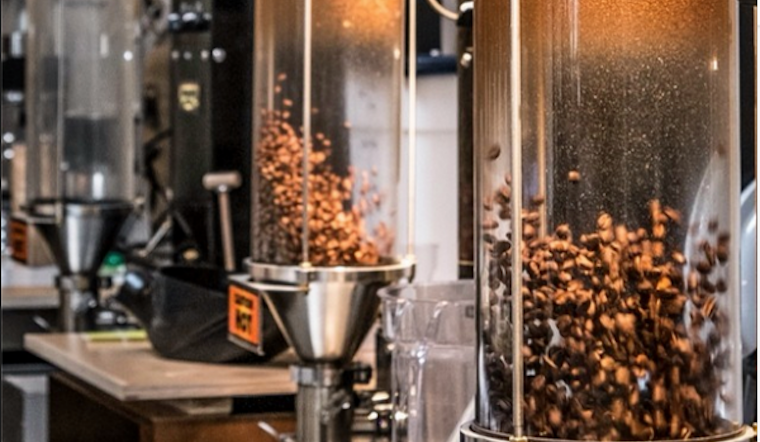 Published on October 17, 2014
There's a brand-new coffee enterprise headed to the neighborhood, as we've learned that Berkeley-based coffee roastery
Artís Coffee
will be opening up its second location right here in Hayes Valley.
The
former Reliquary
and
current Move Loot
pop-up space at 537 Octavia Street will be the location of the new project, which aims to offer more than your run-of-the-mill coffee shop. Yes, you will be able to score a cup of joe, but Artís' focus is as much on live-roasting small batches of coffee beans to order as it is on grab-and-go coffee and espresso drinks.
We spoke with co-founder Elvis Lieban, who formed the company with fellow business school buddies Alex Lowe and James Gutierrez. Artís' ethos, said Lieban, is to bring the roasting process to the customer, so that visitors can ask questions, learn their preferences, and become empowered to both choose from a selection of raw coffee beans and select just how deeply roasted they'd like their beans to be.
Beans are roasted in small batches in-house to order, so you can watch as your beans go from green, to yellow, to wheat-colored to brown, then have them bagged up to take home on the spot.
The former Reliquary space.
Lieban told us that Hayes Valley made their short list for a possible expansion location due to its busy retail corridor, which mirrors Artís' original 4th Street location in Berkeley. But although the Berkeley location has a spacious, industrial vibe, Lieban says that the far cozier 800-square-foot Octavia Street cafe will have its own identity to match the neighborhood, and will likely have about 10 seats inside. Some possible sidewalk seating may be in the works further down the road, and like the Berkeley location, there will be a robust retail selection with expert tools for brewing coffee at home.
With Move Loot occupying the space through the end of the year, construction on the new Artís has yet to begin, but Lieban says that they are targeting an early 2015 timeframe for opening up shop. We'll keep you posted as Artís gets further along in the process.