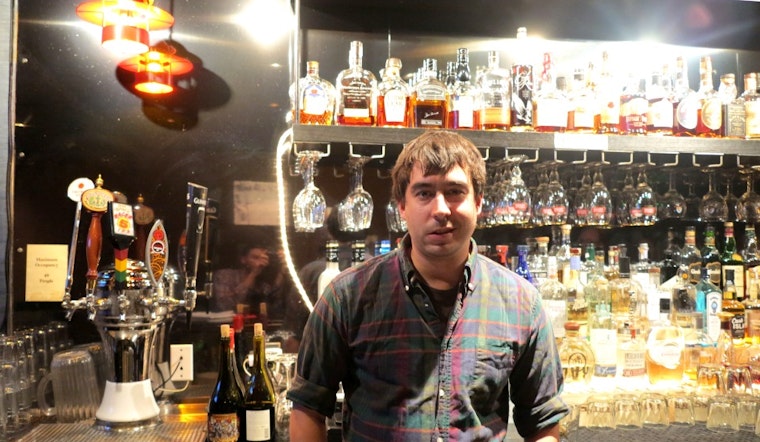 Published on October 01, 2014
Welcome to another edition of Tapping In, wherein we get to know the neighborhood's local bartenders just a wee bit better. On today's docket is Michael Wieck of Bar 821.
Bar 821 is a cozy neighborhood bar just north of Fulton Street on Divisadero. Owned by the Dajani Group, the same folks behind Tsunami, Corkage, Cafe Abir, and Nihon Whiskey Lounge, Bar 821 boasts some of the cheapest cocktails in town (all $8) and a beer and shot happy hour special that gets the job done. We stopped in to chat with bartender Michael Wieck, and this is what we learned.
Where are you from, and how did you get here?
"I grew up in Michigan and had a five year stint in New York City. I got tired of it and wanted to check out a new city."
What about San Francisco do you like more than NYC?
"I think the people are friendly here, it's a more laid-back atmosphere and I like the weather a lot more, especially having grown up in Michigan."
How is drinking culture in San Francisco different from Michigan?
"Michigan is known for a lot of small breweries, so it's more about beer drinking over there. Here, it's a lot more of a cocktail culture. There's a lot of great cocktail bars out here."
How long have you been bartending?
"I only started bartending in March. I was a barback at two other spots this company owns, Nihon Whiskey Lounge and Tsunami. Now I bartend here and at Nihon.
"I like spirits and food. I've been doing various service industry jobs for a while, and I like eating and drinking, so this works. I have a literature degree and I'm not really doing anything with that right now. This is fun, and it allows you to spend time with the arts and other hobbies."
What else do you do outside of bartending?
"I like reading a lot. I'm also a big audiophile. I don't currently play any instruments—I left those in Michigan—but I really enjoy going to shows. I also travel a lot ... it's where I like to spend my money. I just got back from Mexico, traveling around there for three weeks. Last year I went to Russia."
What are your favorite spots to go to on Divisadero?
"Definitely Mini Bar because I think the staff is really friendly and it's a nice place to hang out. I also like the Page. We kind of close early for a bar, around midnight, and it's one of my after-work spots. The staff and people are really nice there. It's just a great, no-frills bar. I also like Waziema a lot."
You seem to have the cheapest fancy cocktails on Divisadero. What keeps your prices so low?
"One of the things this bar is supposed to be is a neighborhood bar, and I can't speak for the owners, but I feel like it has to do with that. It's really just a no-frills neighborhood bar, so it's good to keep the prices down."
What's your favorite cocktail here?
"My favorite on the menu is The Divisadero. It's our take on The Boulevardier. We do it with scotch, sweet vermouth, and Campari."
What makes it your favorite?
"I'm a big Campari fan. We have a really solid selection of amari ... for example, we have seven different kinds of Fernet. I just like bitter stuff."
As an audiophile, what do you think is best to play while bartending?
"I like a lot of solid classic music. Right now, I'm playing some classic funk, but a lot of nights I like to play a lot of old psych and garage. I think good, old classic stuff works best."