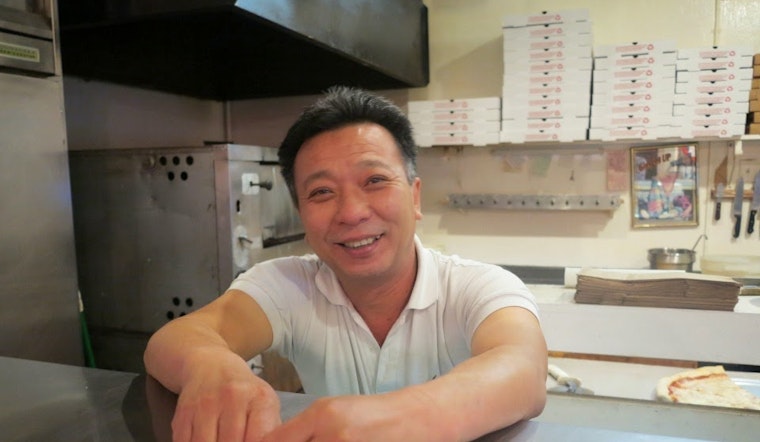 Published on December 03, 2014
Sam Heng has been running Bus Stop Pizza since 1986 and doesn't plan to quit any time soon. Originally from Cambodia, Sam moved to San Francisco in 1978 and started as an employee at Bus Stop when it opened in 1981.
His boss, a man named Mansoor, eventually wanted to sell the 256 Divisadero space, and that's when Sam stepped in and bought the business. He's been running it ever since with his wife, Jane, and employing his children as well. We caught up with Sam yesterday with seven questions to get to know him a little bit better.
1. What made you want to run a pizza shop in the first place?
"It's the only skill I have! You start as a pizza maker, and a pizza delivery guy, when you're young, and that's all you know. When you're old enough, and you save enough money, you buy a place of your own instead of working for someone else."
2. Has the store changed at all since 1986?
"Nope! If it's not broke, don't fix it."
3. You've been here a long time. What are your thoughts on how the neighborhood has changed?
"Well, it's…I wouldn't say it's changed. The structure of the neighborhood hasn't changed but the people have. There's always been young people here ... people come here, then when they want to have a family, they move out. Young people have always come here but now they happen to be tech people and the rents are higher. That's it!"
"I don't really care, because I've been here longer. People come and want to make it, and I say good luck to them, but I've seen a lot of businesses come and go."
5. What's the secret to making good pizza?
"Loving it. You have to care about it. To make good pizza, you have to care about what you are making."
6. What's your favorite kind of pizza?
"Now I tend to be simple, cheese or mushroom. Back in the day, I used to put everything on it— especially if you're the cook, you want to put on everything. Now, not so much. It's typical when you first start making pizza that you want to eat everything, but now you just want a cheese slice to fill you up."
7. What's in store for the future of Bus Stop Pizza?
"If I live 'til I'm 60 or 70, or if I'm tired of running the place, I'll probably give it to some kid who's really motivated, like someone did for me. I'd want to give it to someone who wanted to start their life and give them a good opportunity."