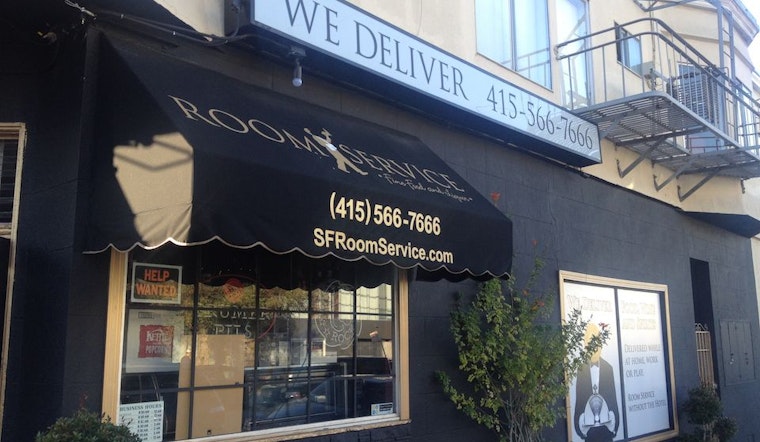 Published on December 23, 2014
We spoke with store founder/owner Daniel Flores, a Dublin, CA native who moved to San Francisco several years ago.
"The idea came to me when I was at home and there wasn't really any place that would deliver wine, beer and junk food," Flores told us. "I figured we needed to get something in the city."
For a minimum order of $30, Room Service delivers anywhere in San Francisco until midnight on weekdays and 2am on weekends. If your order is under $50, there's a $5 delivery fee. Above $50, delivery is free.
"The last delivery with booze is 1:30am," said Flores.
Room Service carries staples like toothpaste, candy and coffee, personal care basics and a range of canned, packaged and frozen foods. Beyond the corner store basics, visitors will notice the extensive selection of wine and spirits lining the shelves.
"I've always been a big fan of whiskey and bourbon," said Flores. "I started expanding the selection to what I think we have now, 120 different selections."
In addition to wine and spirits, Flores estimates that he carries about 180 different varieties of beer.
"The inventory is slowly changing and evolving," he said, adding that Room Service now offers keg delivery.
A typical day's work includes deliveries to executives and restocking startup office fridges, Flores told us, "or it's that guy who works at home and wants a six pack." Room Service serves a "wide spectrum of clientele," with the top-selling products being beer, wine, liquor and ice cream.
"I think ice cream is in about 75% of our orders," Flores noted. "We sell a
lot
of ice cream."
In fact, business is so good, Room Service will soon be expanding. After almost three years on Irving Street, Flores is planning to open a new location in the Richmond district in a few months.
Room Service does have competition in the SF booze delivery landscape —
Mike's Liquors
and
The Jug Shop
are well-established rivals — but Flores said he offers something they can't.
"We bring your frozen burritos
and
your beer to your house, without you having to go out."