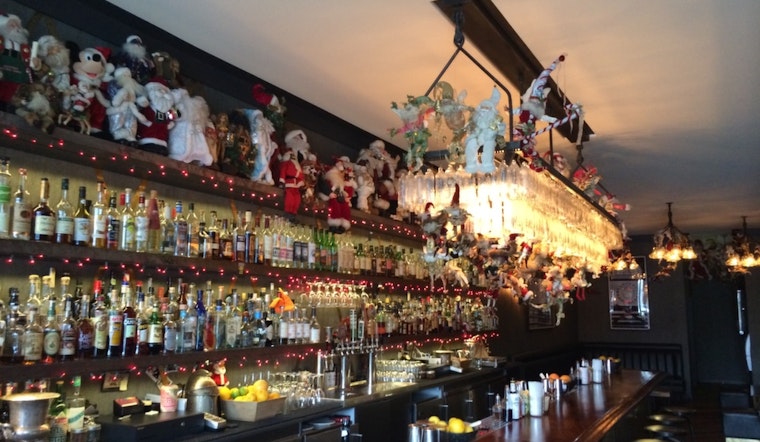 Published on December 06, 2014
Marlena's, the beloved gay bar at 488 Hayes,
has been closed
since March 2013, with new bar Brass Tacks
taking its space
in July.
As you'll recall, Marlena's was a notable bastion of holiday spirit,
with up to
1,400 different Santa dolls
adorning the bar during the holidays. When Marlena's closed, the fate of the extensive Santa collection was up in the air until Brass Tacks
took up the mantle
in December of last year.
"I began [22 years ago] with three little Santa Clauses and it has grown from that to 1,400 today," bar owner Garry "Marlena Empress XXV" McLain told us
back in 2012
. "Eventually, people started giving them to me from all over the world — from Russia to Czechoslovakia to South America and even as close as Santa Barbara. It's just become this phenomenal thing to do at Christmas."
This year, we bring glad tidings: some of Marlena's Santas have again come home for the holidays, returning to Brass Tacks in what's officially become a pared-down continuation of the now 24-year holiday tradition.
Though representing only a small portion of the vast Santa collection accumulated by Garry, Brass Tacks' display runs the gamut from small to large and across a variety of Clausian attire, including one "Folsom Street" Santa in a black leather get-up.
As for the rest of Marlenas' former collection, word has it that Brass Tacks and Stacks have some of the Santas, and that some remain in storage. There may be a project afoot to resuscitate the entire collection, perhaps for a gallery show and/or archival photo book, but that project won't be happening in time for the holidays this year.
Still, whether you've been naughty or nice this year, you can get a large slice of festive holiday cheer by stopping in at Brass Tacks this month for a fortifying drink and a visit with Santa(s).