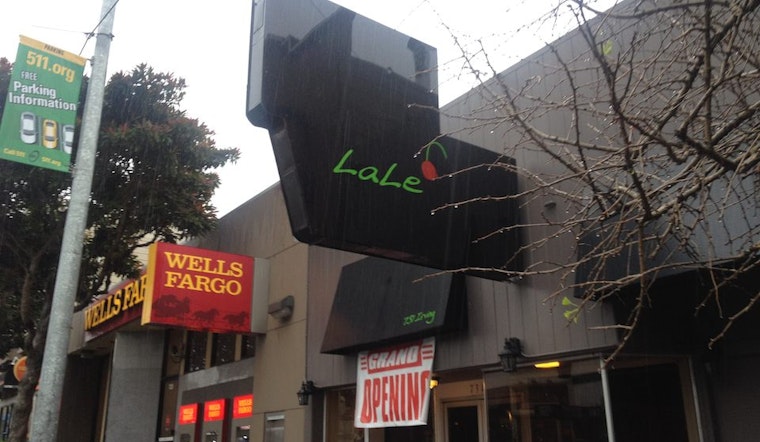 Published on December 11, 2014
Back in July, Inner Sunset staple Villa Romana
closed its doors
after nearly 60 years in the neighborhood. Now, we've got word on the new restaurant opening in its stead.
Called "Lale", the new restaurant is run by Suzan Sarikurt and celebrated its grand opening at 731 Irving St. today.
Many new restaurateurs would be reluctant to hang their grand opening sign on the rainiest day in years, but Sarikurt didn't give Thursday's weather a second thought. "Rain is a good thing. It's fertility, it's Earth, and a little more rain than usual? We welcome it."
Lale, Turkish for "tulip", currently offers customers American brunch standards, several of which are influenced by Sarikurt's Turkish-American heritage. In a few weeks, she plans to expand the menu and hours for dinner service.
"My family had a lot of small businesses, ranging from coffee shops to specialty stores," said Sarikurt. "They butchered their own animals, grew their own tomatoes and made their own jams and relishes, so I always loved cooking."
Lale's menu features classic items like Benedicts and omelets, as well as vegan and vegetarian options and freshly-squeezed juices. Mediterranean-inspired dishes include lamb and chicken wraps, soups and flatbreads. Mimosas are available now, but beer, wine and cider will be served once Lale is open for dinner.
"We try to make everything simple and from scratch, so we make our own organic jams. Today, there's fresh bread and English muffins we baked this morning," said Sarikurt, who lives across the park in the Richmond. "It's close to home, so I can come here 10 times a day with no issues."

A San Francisco resident for 10 years, Sarikurt worked as a therapist for substance-abuse disordered clients before opening Lale. "I quit my job, so this is full-time, my baby right now." Before its debut, she significantly remodeled the former Italian restaurant. Lighting fixtures with floral motifs give the wood ceiling a warm glow and an enclosed rear patio has been refurbished.
"I love the Inner Sunset," she said. "It relates to all different kinds of people, groups, ages, different demographics. I like the multicultural range of that. And we're in the middle of the city and it's close to home."

There are a lot of restaurants on Irving, but Sarikurt said Lale's appeal is very straightforward. "We're simple, not pretentious. We're a humble establishment with fresh and good food."
Lale is located at 731 Irving Street and is open from 8am to 3pm, seven days a week, (415) 566-8814.