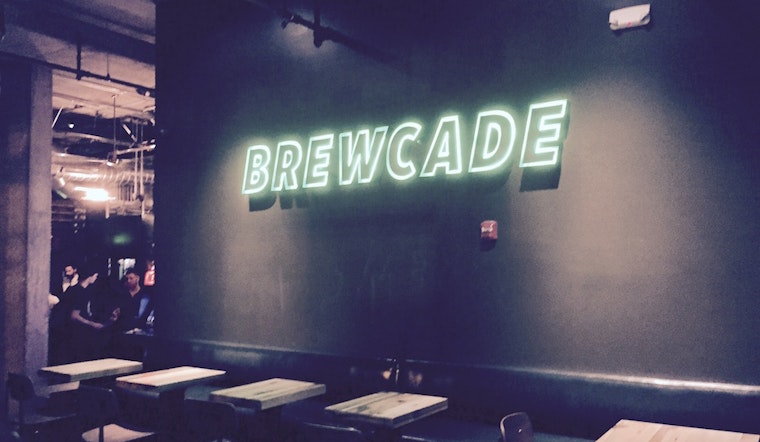 Published on December 09, 2014
The Castro's newest drinking destination is Brewcade, an arcade bar located at 2200 Market Street (next door to
Hecho
) and specializing in a huge selection of beers and classic arcade machines.
Hoodline attended the bar's media preview last night to snap a few photos and whet your appetite for the bar's grand opening tomorrow.
The bar will be offering 25 beers on tap with 15 rotating beers that will change throughout the year. Regular selections like Racer 5, Anchor Steam and Sierra Nevada will be available in addition to selections like Captain Black IPA, Red Seal Amber Ale, Shallow Grave Porter, Honest Day's Pay Tart Saison, and Mighty Dry Hard Cider, to name a few more.
The bar will also feature a long list of bottled beers, artisanal soda pop, wine, and low-gravity cocktails like the Brewcade Aperitif, a bitter orange creation with ruby wine port. Brewcade will also be serving Stumptown Coffee and boasts two self-serve water spigots near the quarter machine.
The bar also features a munchies menu featuring jerky (chicken lemon garlic, pork sweet teriyaki, and beef chili pepper), chicharrones, chips, corn nuts, and
CC Made
artisanal carmel corn. Brewcade manager Kai told us that the bar will allow folks to bring in outside food as well, and mentioned Hecho next door and Hi Tops just up the street as examples.
Along the rear west wall, Brewcade has installed a giant magnet wall where you can play tic-tac-toe while you wait for your munchies or your favorite arcade game to free up.
The games themselves include 24 arcade machines, some including up to 500 games. Classics like PacMan and Frogger have their own dedicated, standalone machines while others have a game menu you can use to pick from hundreds of titles.
The machines come with custom-made beer holders to set your brew into while you focus on your game, which in most cases will cost you 50 cents. The game master, Bob Albritton, has over 40 arcade machines on hand to swap in and out, and will also be available to service the machines in the event they run into glitches. Albritton ran the famous Starbase Arcade in San Rafael for 30 years before
closing
last year.
The bar has ample seating, with nearly a dozen high-top tables near the entrance, and pub chairs lining the window that allow you to enjoy a beer, soda, or cup of coffee while watching passersby along Market Street. The bar also features an electronic jukebox and an 80-inch wall-mounted television.
Judging from the variety of beverages (aimed at drinkers and non-drinkers alike), the bring-your-own-food-if-you-like model and the arcade atmosphere, the Castro's newest bar aims at being a playful and welcoming addition to the neighborhood.
Check out Brewcade, opening tomorrow, and let us know what you think in the comments.