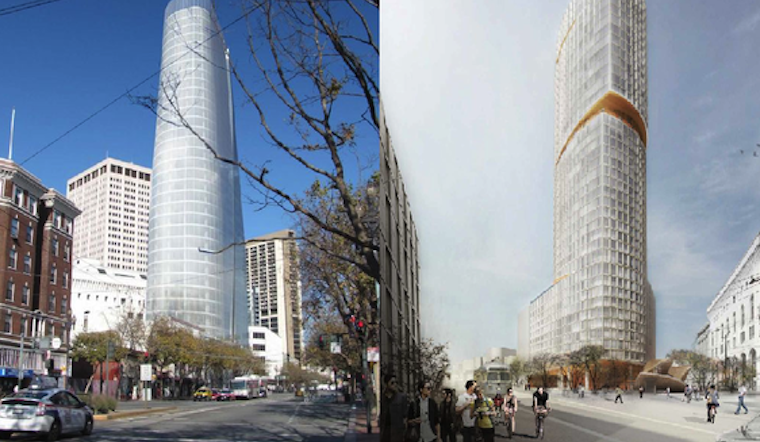 Published on January 03, 2015
This week, new designs were revealed for One Van Ness (above, right), the mid-rise housing tower set for the northwest corner of Market and Van Ness, with
Chronicle
architecture critic John King
calling it
"a low-key but satisfying addition to Civic Center."
Other kinds of architecture critics, of course, were bound to weigh in, and as
CityLab
and
SFist
have noted, the design's uniquely mouth-like mid-tower slice has already inspired some photoshopped parodies.
Here's Susie Cagle's
version
of the 37-story building, which will include 308 proposed housing units:
Designed by Snøhetta, the newest renderings represent another go at the original Richard Meier & Partners vision (top image, left), which got left behind
when the project changed hands
. Build Inc., the new developer, will begin meeting with neighborhood groups in the next month, and is hoping to receive approvals by the end of 2015.
As readers who made it to the end of the
Chron
article
may have noticed, King signs off by stating that All Star Cafe, the longstanding donut shop currently occupying the Van Ness and Market corner, "is set to close on Monday."
However, we checked in at All Star yesterday, and the staff there seemed genuinely flummoxed as to why Monday had been designated as the shop's closing date, stating that they would not be closing next week and don't have a closing date set in the near future.
But although much of 2015 is left before the new plans for the tower are set to be approved, you may want to get your All Star donut fix sooner rather than later, just to be safe.