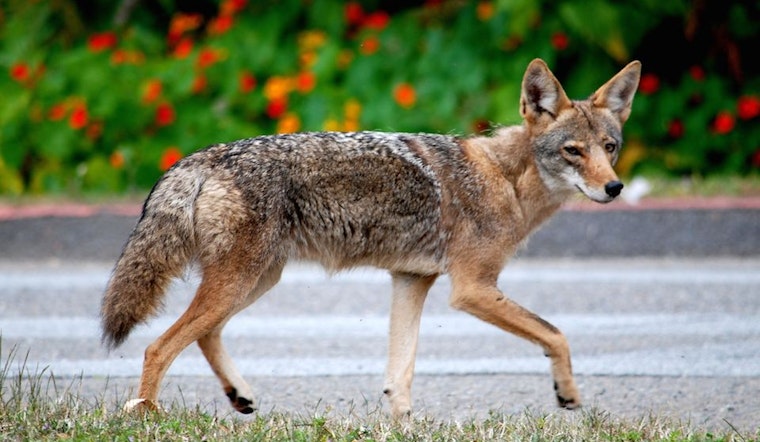 Published on January 24, 2015
Fifteen years ago, coyote sightings in San Francisco had the air of urban legend. Today, this natural opportunist has taken up residence in our largest park, causing many residents of a city named after the patron saint of animals to rethink their stance on environmentalism.
So far, San Francisco officials are taking a light management approach.

DNA analysis reveals that San Francisco's coyotes descended from packs in Marin County. Security cameras and tourists on the Golden Gate Bridge have captured video of coyotes trotting across the span during low-traffic periods.
In 2002, coyotes began making regular appearances in the Presidio. The following year, the Presidio Trust began working with San Francisco Animal Care & Control, the National Park Service and the US Department of Fish and Game to manage the newly-arrived predators. According to the Presidio Trust, these efforts are intended to promote public safety and "ensure that our coyote population remains healthy and wild."
Flickr/Shelly Prevost

Since arriving on the northern tip of the city, coyotes have headed south. The largest permanent population is in Golden Gate Park, but Canis latrans is routinely spotted in Glen Park, Twin Peaks, Diamond Height and other neighborhoods with substantial greenbelts.
Apart from a July 2007 standoff in Speedway Meadow between dogs and coyotes, no attacks by coyotes against people or pets have been reported. The
two coyotes in that incident
were shot by representatives of the US Department of Agriculture and were thought to be protecting a nearby den.
Wildlife experts suggest that city-dwelling humans are likely to interpret territorial behavior as unprovoked aggression. Hoodline surveyed news stories and reports from the Recreation and Park Department over the last few years and found that most issues occurred between April and August, coyote pup-rearing season.
Nature suggests that one be extra wary during those months.
Flickr/Peter Bihr
Highly adaptable,
coyotes
are likely to eat small animals like squirrels and rats but will also forage and scavenge when fresh prey isn't available. Adult coyotes weigh up to 40 pounds, and based on photos and sightings, the City's coyote population is extremely well-fed. Human San Franciscans are the next step up from coyotes on the local food chain. Because we're not culling the population, it's likely that their numbers will continue to grow.
In a
March 2014 SFGate article
, a Parks & Recreation dispatcher who handles the city's coyote hotline said sightings are so frequent, that "there's no way we can estimate how many there are." Based on nature studies and photographic surveys, article author Tom Stienstra estimated that there were more than 100 coyotes living in San Francisco.
For the last few years, Parks & Recreation has posted warning signs through Golden Gate Park near known dens and areas where sightings are frequent. Dog owners are advised to keep their pets leashed, particularly when coyote families are present. Since 2012, Parks & Recreation has occasionally closed trails near known coyote dens using tape and barricades.
Across North America, Coyotes have made inroads into urban centers in recent years.
A research project in Cook County, IL
estimates that there are as many as 2,000 coyotes in the same county as the city of Chicago. Extremely skilled at avoiding human contact, they've been spotted in suburban Boston, New York City and Detroit, as well as suburbs throughout the country. Urban coyotes have a high survival rate "with vehicle collisions often a common cause of mortality," concluded
one study
.
To avoid encounters, keep garbage secured, don't leave pet food outdoors and remove any ripe or fallen fruit from your yard. Also, remain watchful over small pets and keep dogs leashed in park areas where warning signs are posted, particularly in spring and summer. If you come into contact with a coyote, make loud noises to scare it away, and don't run away or turn your back.
If you see aggressive behavior or coyotes that have become frequent visitors, contact San Francisco's coyote hotline at (415) 554-9400.
Coyote-watchers
are encouraged to visit the western end of Golden Gate park at dusk and in the early morning hours. They're also frequently spotted near North Lake, Ocean Beach, Presidio Golf Course and Land's End near dawn. If you decide to seek them out, keep your distance and use common sense.