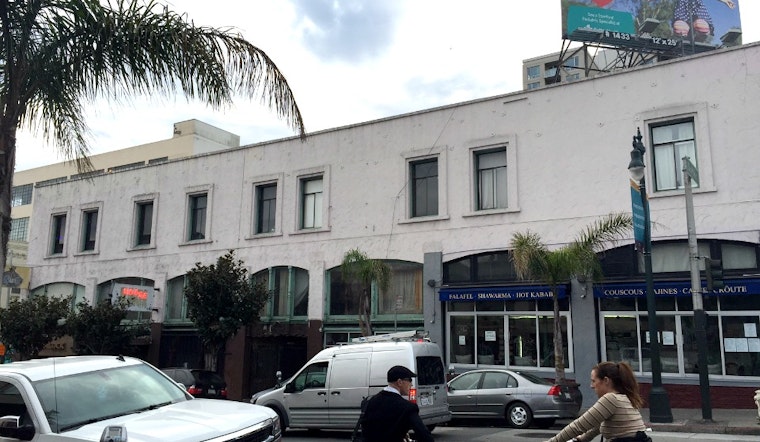 Published on February 09, 2015
Last week, we received a tip about the 1100 block of Polk Street between Hemlock and Sutter streets, home to the Hemlock Tavern and other small businesses. Rumor has it that entire block is being sold to developers, who plan to turn it into apartments next year, with some hearsay suggesting the Hemlock could potentially close its doors in December. After doing some research, we've found that our tipster may have been on to something.
In November of 2014, a Preliminary Planning Assessment (PPA) application was filed by Dolmen Property Group for 1145 Polk St. The project description includes demolition of the existing building and construction of a 6-story mixed-use building in its place. The first floor would consist of retail spaces, and the five floors above would consist of 54 studio apartments. The existing basement would be modified to serve as a subterranean parking garage, with the entrance on Hemlock Street (currently an alley filled with dumpsters).
To be clear—a PPA application is merely an exploratory first step in a potential development plan, and is designed to solicit the San Francisco Planning Department for an initial round of feedback regarding large-scale projects. Once the PPA application has been reviewed, a PPA Letter will be drafted by the Planning Department. As described by Candace SooHoo of the San Francisco Planning Department, "Issuing a PPA Letter is not a development approval or denial from the Department, but rather information for project sponsors/applicants to understand the project's strength, weaknesses, the approval process, and that they are aware of any potential issues that may need to be addressed before development applications are submitted."
In other words, nothing has been decided and it's possible the project may or may not come to fruition.
As for the team behind the proposal, Dolmen Property Group has been keeping busy with many construction projects in San Francisco. The Hibernia Bank on Market Street is one such project, with rumors suggesting it may be turned into a club. The group also built The Lofts At 7, 88 units of loft and studio apartments right next to Civic Center.
But back to Polk Street. The exterior of the two-story building is obviously in need of repairs, and many of the storefronts (such as the former site of Space Gallery) are empty or closed. Aside from Hemlock, Cafe Zitouna, Skylight Grocery & Produce, Sudachi Sushi Bar and The Natural Mattress Store call the block home. Sandwiched between the produce shop and an empty storefront is Masjid Al-Tawheed, a Sunni mosque run by the Yemeni Association of San Francisco.
The Sutter Street side of the block.
A newish apartment building is located on the western side of the block facing South Van Ness. Etta, located at 1285 Sutter Street, is a 15-story building that opened its doors in 2013 . The building offers 107 units, with studios starting at $2,950 per month.
When asked about the potential plans, Hemlock owner Don Alan denied the rumors of a possible Hemlock closure, stating that the Hemlock holds a lease until 2021. "We have not been contacted in any way, shape, or form by the new owners of the building," he stated, "It's quite possible that the new owners have other plans for the building and site beyond 2021, but they have made no contact with us, nor have they offered to buy us out of our lease or anything like that."
Alan, who also owns Casanova in the Mission, has spoken out in support of small businesses in the past. In a 2012 interview he told the SF Bay Guardian, "I think the challenge for San Francisco is to take care of the venues that it's got."
And yet, for live music fans in the city, the circumstances surrounding the developers' plans might seem a little too similar to that of Elbo Room, another decades-old live music venue. In November of 2013, a PPA was filed which proposed to demolish the current Valencia Street building and construct nine residential units in its place. In early 2014, Elbo Room's management posted on their Facebook page stating they were "not going anywhere, soon." They confirmed this last March, telling Uptown Almanac that if anything were going to happen, it wasn't going to be for years.
In November of 2014, however, Curbed SF expressed confidence in the likelihood of Elbo Room shutting down its location, with its current lease expiring at the end of this year.
We'll keep you updated on the possibility of the Polk Street project as matters progress.
Look for Hoodline to be covering more Tenderloin and Polk Street news in the near future.