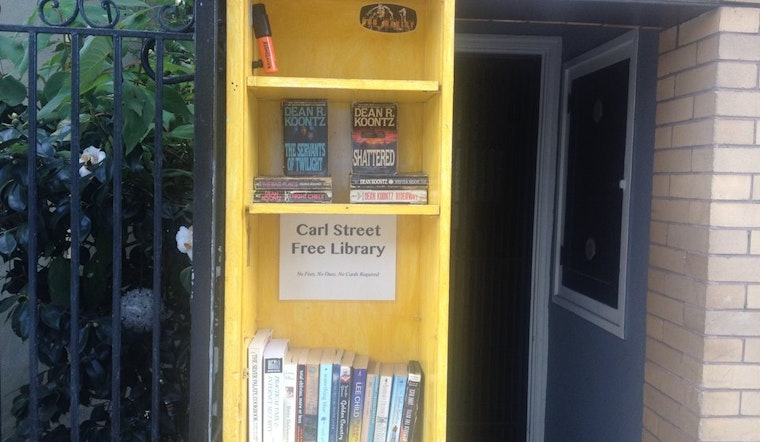 Published on February 28, 2015
The San Francisco Public Library operates 27 branches and 5 bookmobiles, but that hasn't stopped free libraries from popping up around America's 10th-most literate city (as determined by USA TODAY).
On the 300 block of Carl Street between Willard and Hillway in the Inner Sunset, one generous, mysterious bibliophile has maintained a free library outside their front door for several years. Over the last few years, the collection has grown from two shelves to a six-foot bookcase that's secured with a bicycle lock. (At the time of this writing, Hoodline wasn't able to obtain the name of the library's landlord.)
[Update: the creator, Jay Streets, has provided an extensive personal history of the library in the comments section below. Check it out.]
Ad hoc libraries are peppered throughout book-loving San Francisco, such as the Little Free Library on Sutter between Pierce and Scott, or the collection on Noe near Duboce Park that's been stolen and set aflame since it opened in 2014. In contrast, the Carl Street bibliotheque has gone largely unmolested over the last few years.
Current inventory spans everything from spy fiction to cookbooks, and the fact that the N-Judah is steps away seems to guarantee high turnover. As an experiment, we left two Lee Child paperbacks out this morning; two hours later, both volumes were spoken for.
According to the Little Free Library's location map, there are six outposts around the city, including another depository in the Inner Sunset at 1823 10th Ave., though the Carl Street bookcase is not listed. Members of the Little Free Library system are encouraged to go through local zoning and approvals; in San Francisco, distributing free merchandise from a sidewalk requires a DPW permit.
To date, neighbors seem more YIMBY than NIMBY about the impromptu book depository.
"My husband makes fun of me whenever I buy books like these," said a man walking his dog. "I can swing by here and get my trash fiction on."