It's been a while since we checked in on Dolores Park construction, and recent work merits an update.
As you've noticed, the northern half of the park (starting at 18th Street near the tennis courts and extending to the clubhouse/bathrooms) has been closed off for over a year, as new tennis courts, bike racks, a new bathroom building and more renovations have been underway in "Phase 1" of the project.
While a significant delay caused by groundwater bogged down Phase 1 construction last September, things are gradually getting closer to completion on the northern side of the park.
Crews have recently been laying sod, prepping court surfaces, and making additional improvements to the Phase 1 side. It appears that the new sod will require some time to take root and be ready for regular use.
There were additional delays and headaches for crews in mid February, when vandals hot-wired a construction vehicle and caused close to $100,000 in damages to new sod, drainage systems, and uncured pavement. This pushed the already delayed, mid-April opening goal for the northern side even further into 2015. (In other vandalism news, a serial tagger was apprehended after lingering to admire his work near the tennis courts earlier this month.) 

With those issues out of the way, and the old clubhouse demolished, there are some initial signs of Phase 2 beginning, in which the southern half of the park will close (with the exception of Helen Diller Playground). Phase 2 will add a second restroom, improved drainage, a renovated overlook at 20th and Church streets, and other walkway and ground improvements.
Here's a look at plans for the finished project, including a new pathway which meanders diagonally across the park: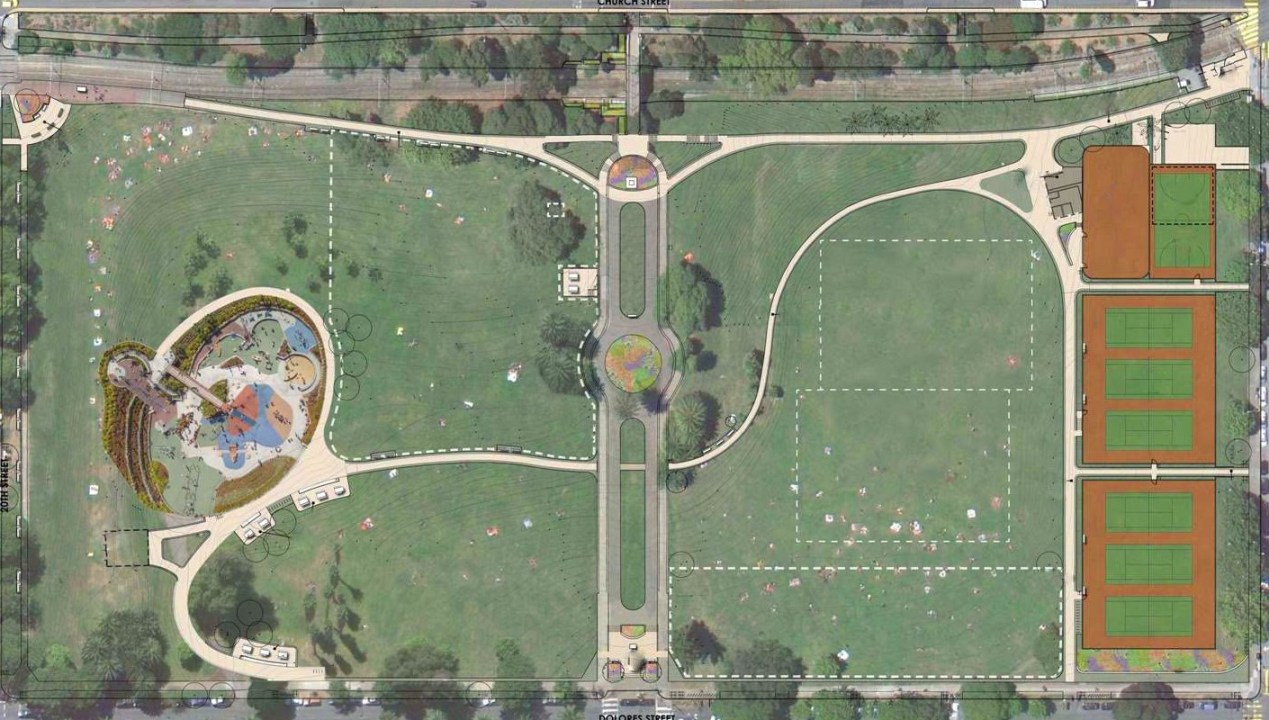 We reached out to Connie Chan, Deputy Director of Public Affairs at the San Francisco Recreation and Park Department, and were told that there currently isn't an update on when the northern side will reopen and the southern side of the park will close. However, it's safe to say that the original June 2015 completion date for the entire project is certainly pushed back.
In the meantime, feast your eyes on the overall plan and some renderings of the 20th and Church overlook below from Royston Hanamoto Alley & Abey Landscape Architecture and Hamilton + Aitken Architects.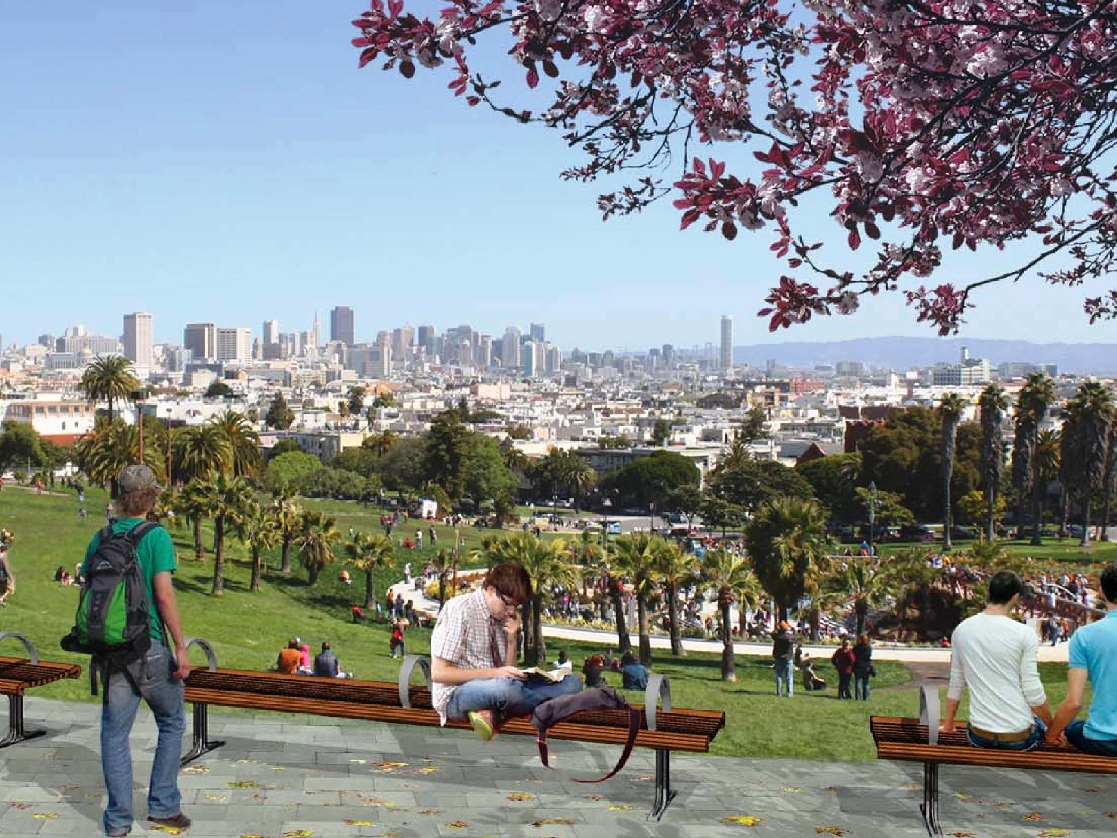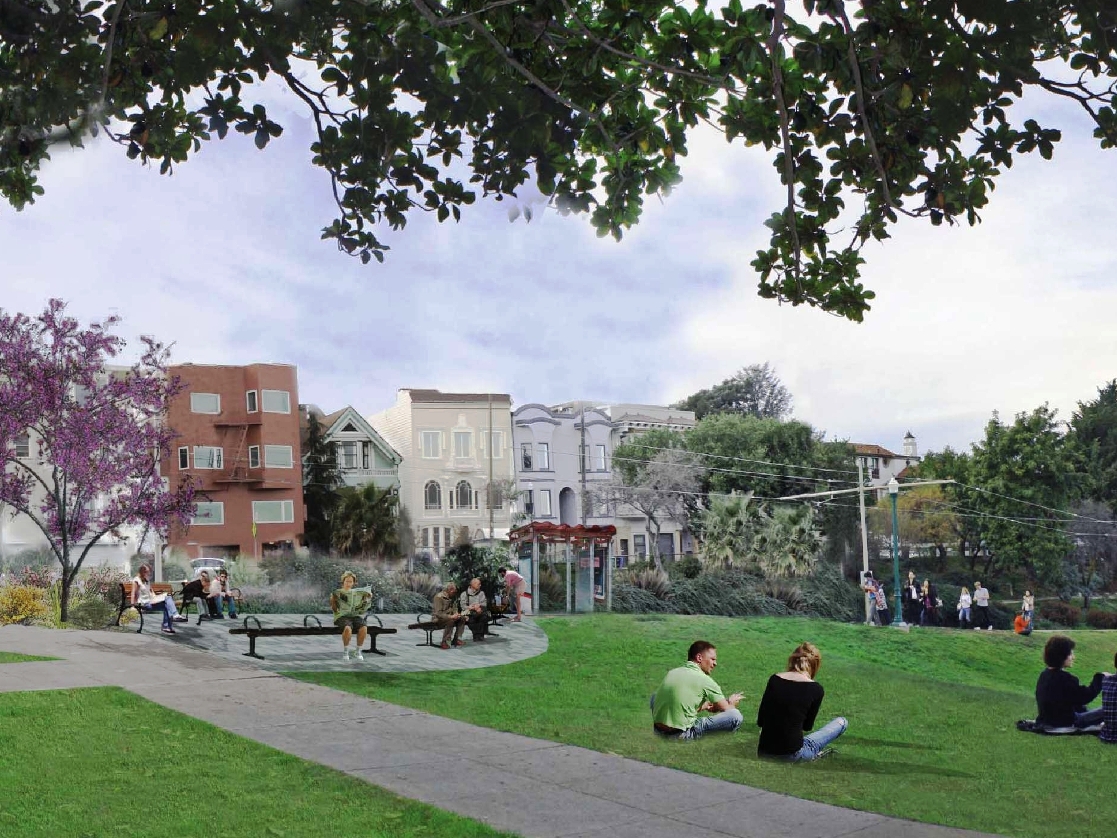 Check back for updates on when the park might officially be ready for its big debut, and for more information on the entire project, head to the Dolores Park section of the SF Rec & Park website.