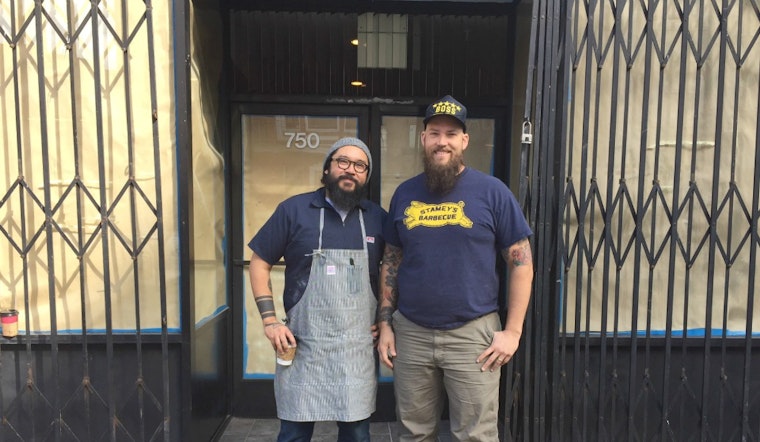 Published on March 12, 2015
For years, Rusty Olson has had the dream of opening a Southern-style restaurant to reflect his roots in North and South Carolina. Now, after a fortuitous venue discovery, a team of friends to help build it into a restaurant, and an immersive trip to study food in the South, Rusty's Southern is finally preparing to open its doors at750 Ellis St.
We met up with Rusty and his chef Francis to learn more about their venture into bringing Southern food and community to the Tenderloin neighborhood. 
With seven years as bar manager at Suppenkuche under his belt, Rusty is no stranger to the service industry, or to running a high-quality fast-paced restaurant and bar. Aspirations to open his own restaurant were stalled slightly by the learning curve of business classes, and the birth of his second child.
But late last year it all came together. Whether you believe in fate, God or luck, all seemed to play a part in the discovery of Rusty's Southern's physical space. Rusty attends City Church with his family, and befriended Reverend Paul Trudeau during his time there. Last year the Reverend began the process of building City Hope Community Center, a central Tenderloin hub that will cater to those recovering from addiction, or who have recently been released from jail.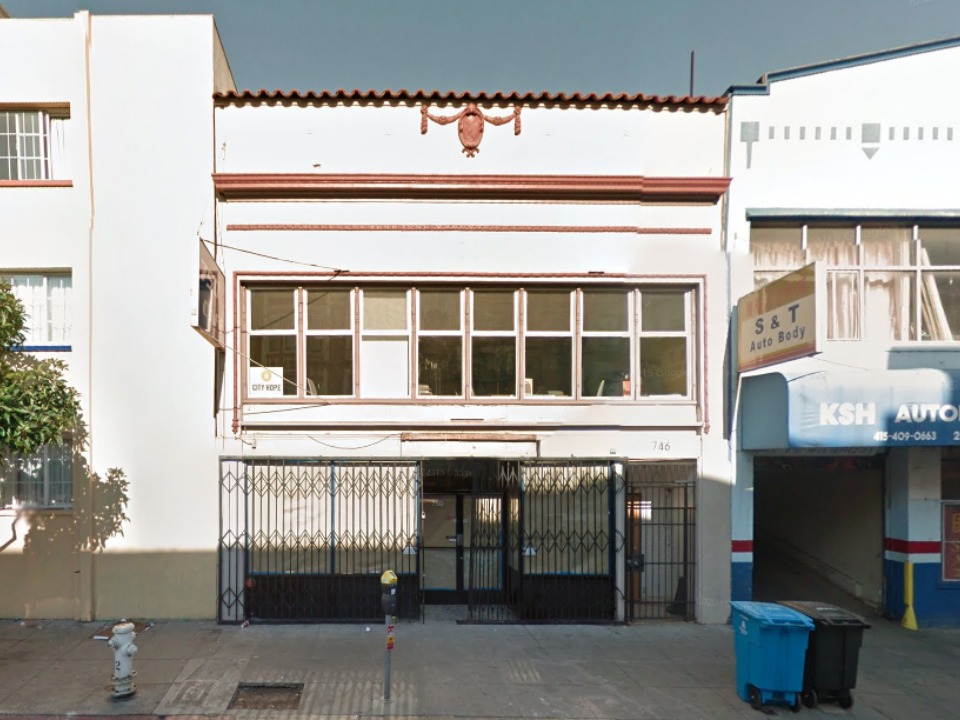 (Photo: Google)
The unfinished space for the community center is on Ellis Street, between Polk and Larkin. Almost nothing else exists on the block aside from a few long-standing auto shops. And on the first floor, underneath the planned City Hope Community Center space, was a former Vietnamese karaoke restaurant Splash Cafe and the future home of Rusty's Southern.
Paul showed Rusty the space, and he was immediately hooked. Together the pair took over the leases for the entire building, and construction on both projects began. 
The restaurant space itself is large, with a long brass-covered bar to the left. The back of the restaurant opens up into a wide dining area, complete with banquette-style seating, and one large communal table. The tables are all made from pine, reclaimed from the floor of Odd Fellows Building on Market Street during its renovation. 
(Photo: Nuala Sawyer / Hoodline)

Near a communal table at the back, a colorful mural is splashed across the wall, created on site by artist Joshua Short. The piece references time and place, and even has a model of Rusty's parents' home built into it. One aspect is interactive—but we'll let you figure that part out on your own.

With the reality of the restaurant taking shape, Biergarten chef Francis Rubio teamed up with Rusty to take the lead in the kitchen. With the physical space progressing fast, Rusty and Francis flew out to North Carolina to put themselves through a crash course in Southern cooking. 
Coming from a Filipino heritage, Francis is new to Southern food, though not to the concept. They're both "simple, honest food," he said. The pair visited every type of Southern food venue they could drive to, from fancy restaurants to places where the only seats were cinderblocks outside. Through their travels they honed the art of fried chicken, curated their Carolina barbecue plate, and began brainstorming ideas for brunch. 
The menu will include classic Southern fare and barbecue, including brisket, succotash, shrimp and okra, and boiled peanuts. To start with, Rusty's Southern will serve dinner from Tuesday to Saturdays, with brunch on weekend mornings. Lunch plans will be developed as the restaurant catches its flow, bringing a much-needed weekend sit-down lunch option to the neighborhood.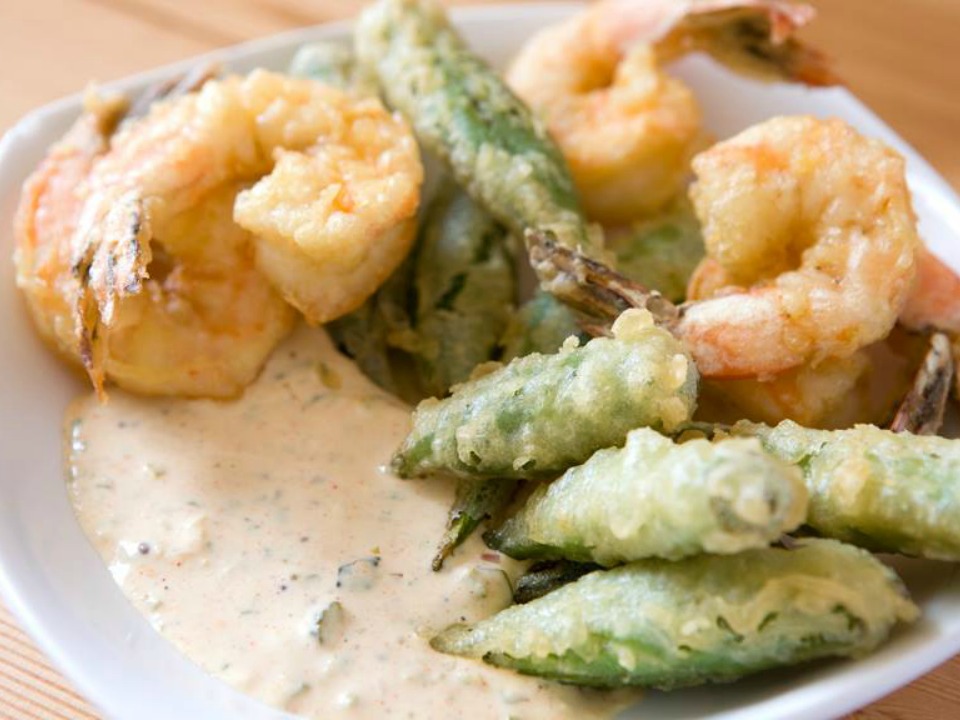 (Photo:
Rusty's Southern
)
As for booze, the restaurant will have eight beers on tap, and an additional 12-16 bottles available as well. With years of beer experience at Suppenkuche, Rusty knows German beers like the back of his hand. But now he's interested in branching out and focusing on beers that are largely produced in San Francisco and California. "If we were to have a beer philosophy, it would be to drink what's in our backyard," he says, and he's been working closely with a couple master cicerone friends who are helping to curate a beer list with something for everyone.
In addition to beer, Rusty's Southern will also have a wine list of around 30 bottles, all at an affordable price point. 
Rusty is quick to admit that when he was first dreaming up the concept of his restaurant, the Tenderloin was not the location he had in mind. But ever since construction on his space started last year, he's grown to love the neighborhood. "I've come to understand and appreciate the other business owners, and the hard work they've put in," he says. He's making friends left, right and across the street with Paul who owns Allied Engine, a body shop that's been around for several decades. Paul brags that he's Rusty's Southern's first customer, thanks to the plates brought over by Rusty and Francis as they perfected the menu.  
As for their neighbors upstairs, Rusty and Francis plan to nurture the connection between City Hope Community Center and Rusty's Southern. Current ideas include preparing free meals and snacks for events held at City Hope, and even offering a vocational training program in their kitchen for people who are transitioning out of jail and rehab. 
"The two most important, base things in life are food and relationships," says Francis. "You need to eat and you need people around you. For me that's what colors the way I look at food. It's the love you do it with, and who you share it with." 
Rusty's Southern will open its doors later this month. In the meantime, you can welcome it to the neighborhood by donating to its Kickstarter campaign or stay in the loop by liking Rusty's Southern Facebook page. We'll let you know when the Tenderloin's newest restaurant opens its doors.