The wait is over. This Wednesday, Seniore's Pizza will open its doors to the public at 559 Divisadero St., serving slices and more from 11am to 3am, seven days a week. The business hopes to fill the void left by the final closing of Acme Burgerhaus back in May 2014. 
Seniore's is a local, family-run chain with five other locations in the Bay Area, including one down on 19th and Taraval in San Francisco. Their San Bruno location actually made the news back in January when a 16-year-old girl crashed her parents' Mercedes into the side of the building, igniting the main gas line and causing the entire building to be engulfed in flames. However, Seniore's has since bounced back and is reopening its San Bruno outpost in the near future, just a few blocks away from the original location.
The Divisadero shop will be run by Simon and Rana Jaber, along with their four sons, Ramez, Sharif, AJ and Moe. Recent transplants from Bayside, Queens in New York City, the clan plans to keep the up the family tradition of Bay Area pizza making started by the Jaber family when they opened the first Seniore's on 19th Avenue over a decade ago.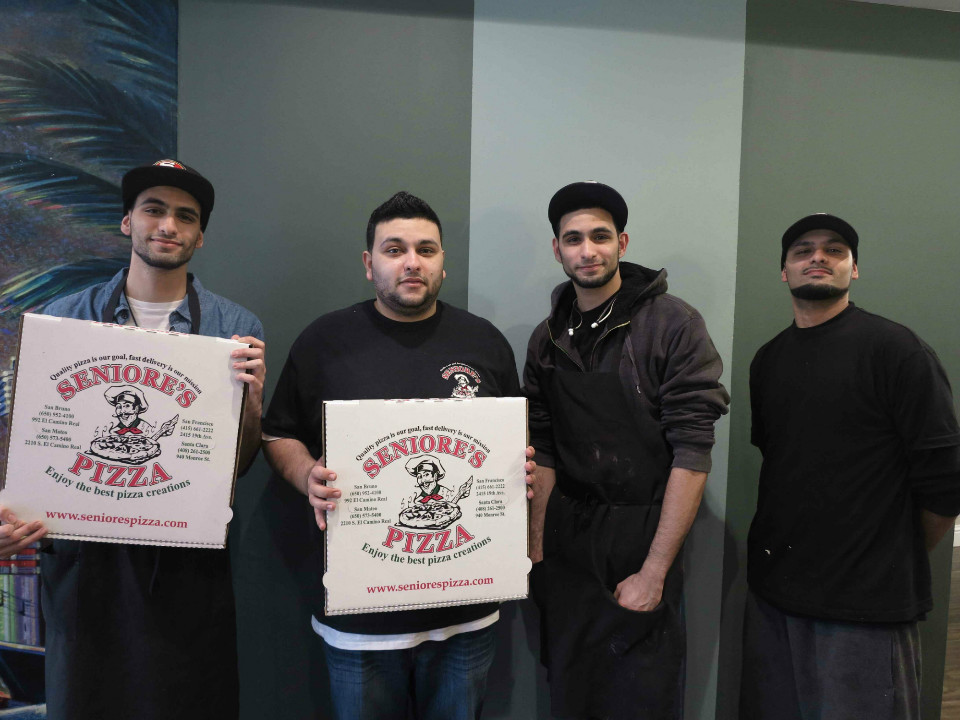 "We're looking forward to opening the Divisadero location. This is a really populated area. There's lots of foot traffic," Ramez told us. "So far, over the past few months, people have been popping their heads in excited about a Seniore's Pizza opening here."
The team attributes the seemingly long delay in opening to the need for renovations within the space. According to Ramez, they needed to install a new hood, a dough table, a new deep fryer, new burners, and, of course, a pizza oven. As for the sign snafu a few weeks back, Ramez told us it was a simple mistake made by the sign installer. 
Food-wise, the group told us the menu will be very similar (if not identical) to their San Mateo location which, along with pizza, will also include burgers, pasta, salads, and sandwiches. 
As far as pizza goes, the shop will sell both whole pies, starting at $13.99 for a 12" cheese, and "jumbo" slices starting at $3 a pop. Prices for extra toppings vary.  For example, a small pie will run you $1.25 for each additional topping, but extra toppings on their 24" "Godzilla" size cost an extra $3.95 each. They have several kinds of sauces, including a pesto, a white sauce, and their signature spicy marinara, which they say is a customer favorite.
They will also offer specialty pies, including the "Seniore's Special" which comes with double pepperoni, sausage, salami, mushrooms, bell peppers, onions and fresh tomatoes. A 16" large of this variety will set you back $24.99.
Seniore's will not be serving alcohol, but will be open until 3am to serve the famished patrons of Divisadero's watering holes after last call. "I'm pretty sure we'll be the only thing open until 3am, so people can come here after the bars and eat pizza," Ramez told us. "Also, if you're home and you can't sleep and you're hungry, we deliver until 3am, too."
We should also mention that you can buy four deep-fried Oreos (for real) for $3.99, or a slice of deep-fried cheesecake for the same price.
Welcome to the neighborhood, Seniore's!