Over 80 intersections in the Tenderloin neighborhood have undergone safety updates as part of the SFMTA's Vision Zero campaign taking place across the city. The citywide project has the goal of completely eliminating traffic-related fatalities by 2024. 
Over 24 Vision Zero projects have been deemed priorities by the city, and the plan is to work through the list by 2016. One recently completed project on the list is the Tenderloin Daylighting Project, which aimed to remove all visual impediments within 10 feet of a crosswalk. By "daylighting," or removing obstacles such as parked cars, the SFMTA hopes that intersections will gain higher visibility for both approaching cars and pedestrians looking to cross the street.
170 parking spaces were removed near crosswalks for the project, accounting for 3 percent of the total parking available in the Tenderloin.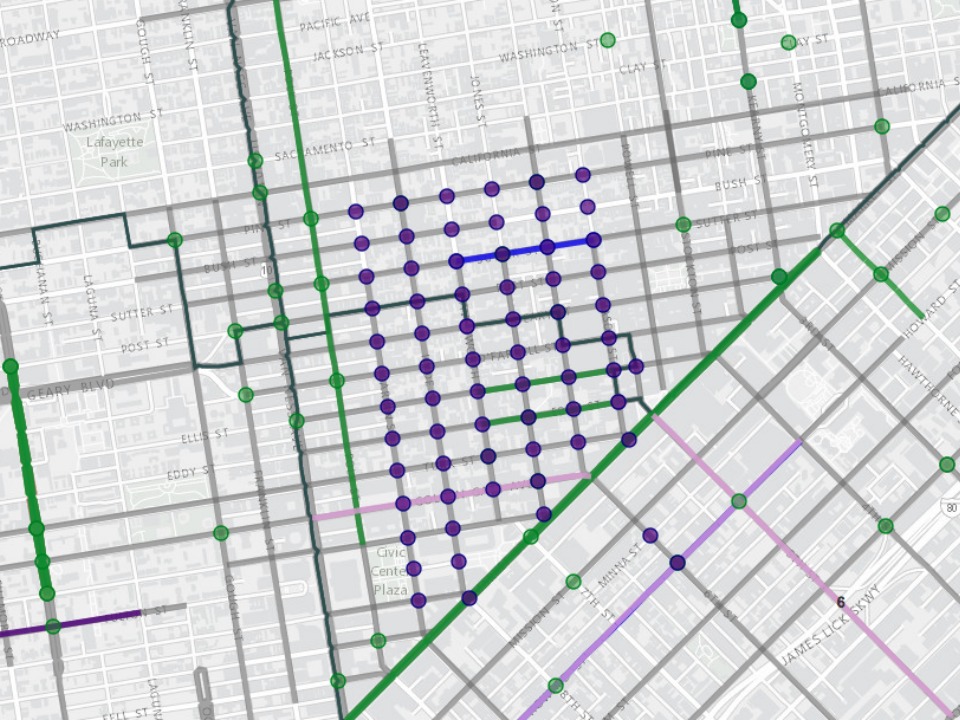 Map of Tenderloin intersections that have undergone daylighting. (Image: SF Gov/Vision Zero)
District 6 Supervisor Jane Kim supported the changes in an SFMTA press release. "The Tenderloin is one of the densest neighborhoods in the city with a high concentration of families and a growing senior population who don't own cars," she stated. "This neighborhood is also home to many of San Francisco's highest injury corridors. Our residents advocated for safer streets and daylighting is a simple and cost effective solution to increase everyone's visibility—pedestrians, cyclists and drivers."
Local resident Michael Harris was also quoted as supporting the daylighting of intersections. Living in the Hartland Hotel and relying on a wheelchair to get around, he says "this is what we've been asking for. I often have to roll around parked cars into the crosswalk to be seen. Unfortunately, drivers often do the same thing and pull fully into a crosswalk to see around a parked car on the corner. These improvements help increase visibility for everyone."
The changes come after a number of accidents between cars and pedestrians in the Tenderloin neighborhood in the past year. In late 2013, a Recology truck backed over and killed an elderly pedestrian at Jones and O'Farrell streets. On New Year's Day of 2014, a six-year old girl was killed by an Uber driver in the crosswalk at Ellis and Polk streets.  A cyclist was killed and a pedestrian was hospitalized in July of 2014 when a car crashed into a taxi, sending it onto the curb near Jones and Post streets. And in November of last year, a car hit a pole and then a pedestrian on McAllister at Leavenworth, sending two people to the hospital.  
The Tenderloin project cost $150,000, and was predicted to be completed in June 2015. That means that for once, the SFMTA is ahead of schedule.
Looking ahead, Ben Jose from the SFMTA says that plans are in development for a similar daylighting project in SoMa.