Construction at Grove & Gough began way back in 2013, and now the big 400 Grove project is wrapping up, with new condo units now accepting applications from prospective buyers.
The 5-story building has 34 units representing a mix of junior 1-bedrooms, 1-bedrooms, 2-bedrooms and penthouse units. Of these, four are being offered as below market rate (BMR) units. A website has already been set up to begin accepting applications for the units, though pricing has yet to be announced.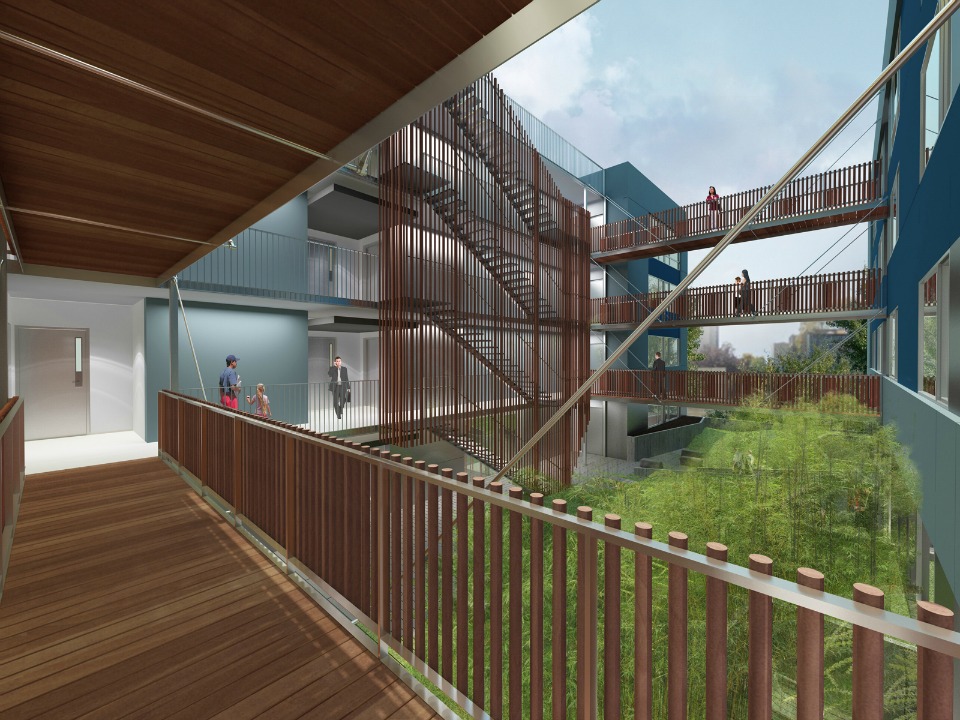 (Inner courtyard at 400 Grove. Image: DDG and DM Development)
The building was designed by Fougeron Architecture, whose work regulars in the neighborhood may also recognize at Octavia Court, a multi-family unit on the corner of Octavia and Lily streets. 
400 Grove's website describes the exterior aesthetic, screened in redwood, as "echoing the classic Victorian bays; the angled windows frame enviable views of Hayes Valley's bustling scene and surrounding hillside neighborhoods." The interior courtyard is be filled with bamboo to inspire a "tranquil retreat." 
As for the interior units, the renderings show light-filled spaces with large windows: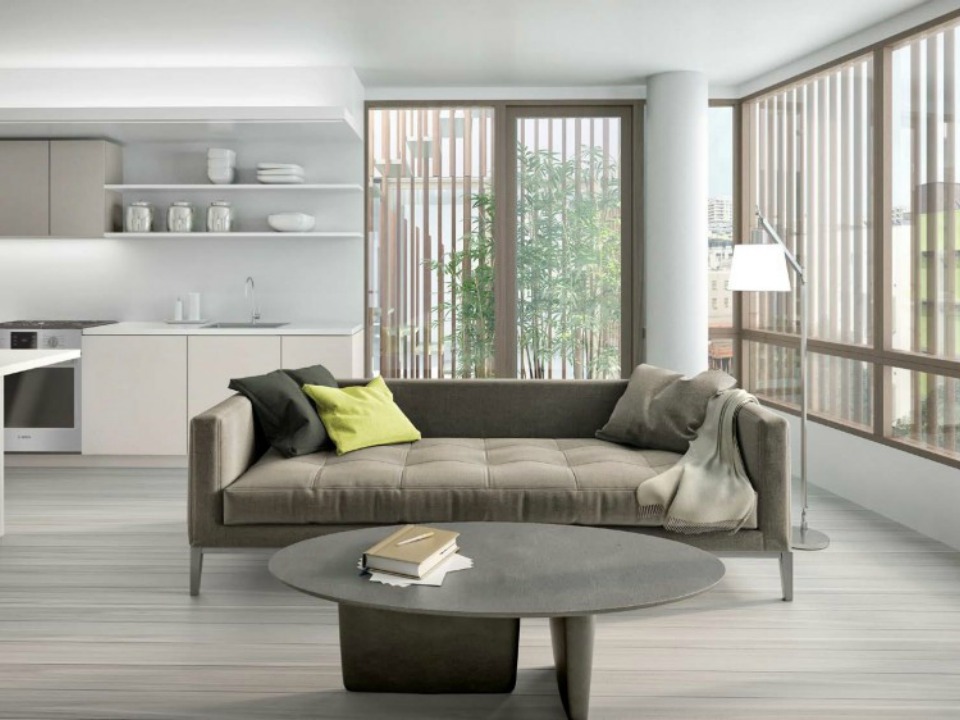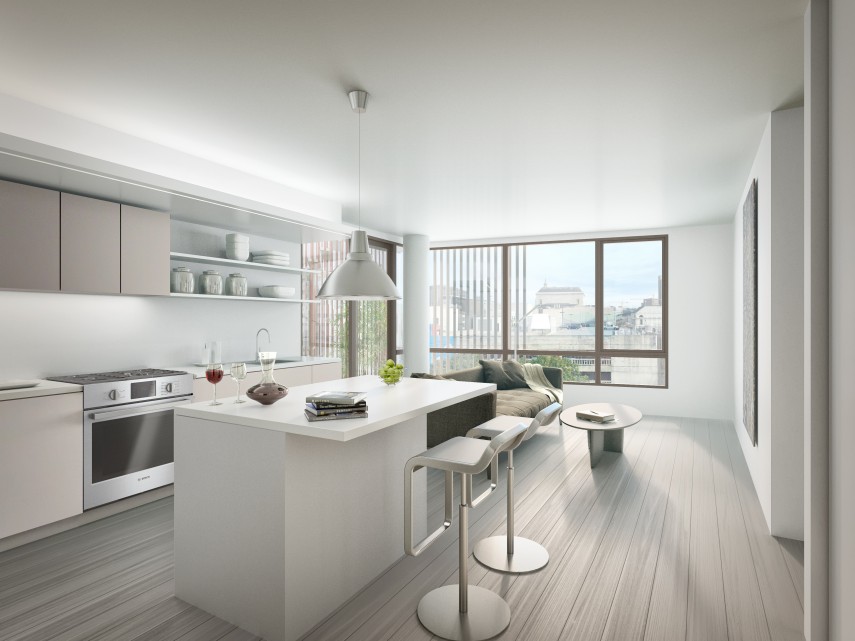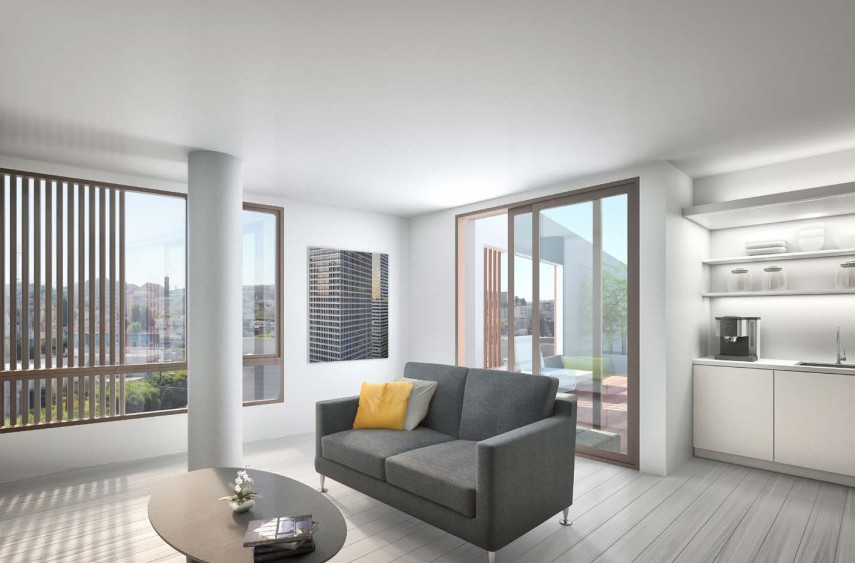 (Images: DDG and DM Development)
The floors in all units are "eco-rustic oak," and plans boast of "high performance windows." Top-of-the-line stainless steel appliances from Bosch grace each kitchen, along with $2,000 Liebher refrigerators.
1-bedroom units are 677 square feet, while the 2-bedroom 2-bath units measure slightly over 1,000 square feet. The tiniest option in the building is the "junior 1-bedroom" (which resembles a studio apartment), coming in at 428 square feet.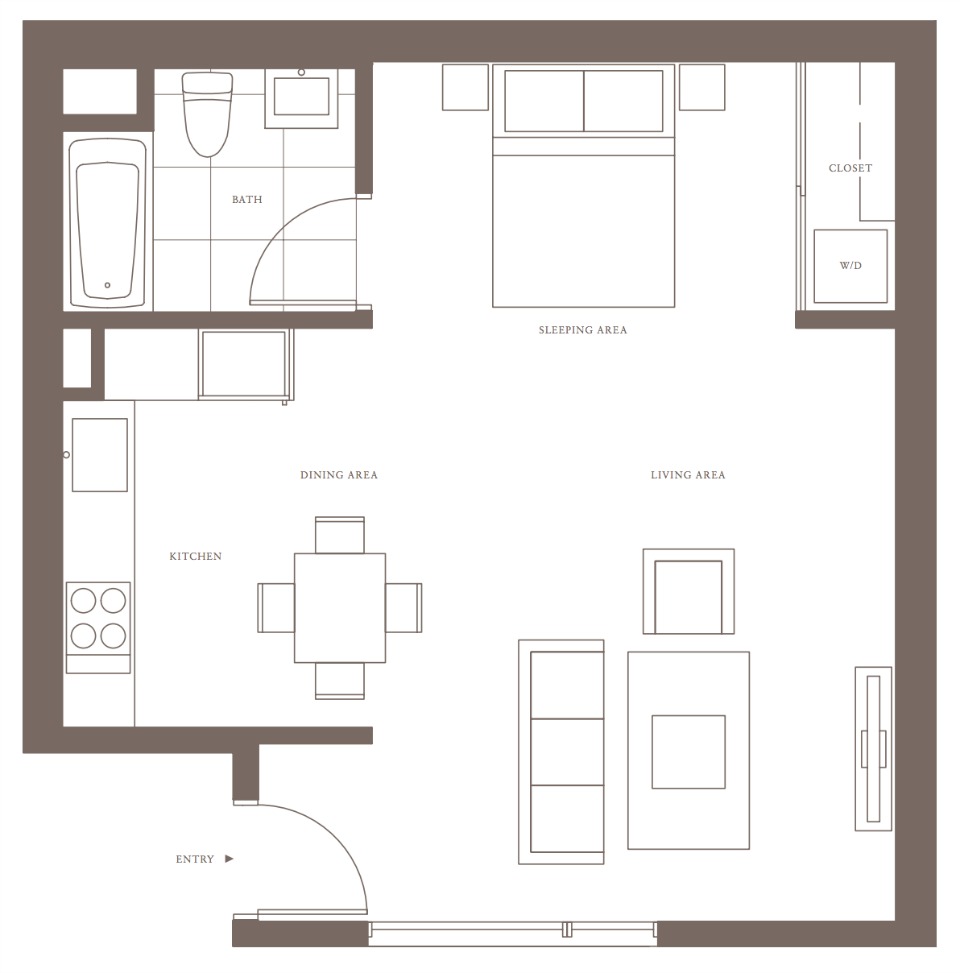 Junior 1-bedroom floor plan. (Image: DDG and DM Development)
The building will also include a "virtual doorman", which DM Development claims is the first of its kind in San Francisco. "Virtual Doorman's professional operators are available 24/7 to greet guests, receive deliveries and assist residents. Using the integrated web portal and smartphone app, residents can grant access for visitors and services on the go."
The first floor commercial space on Grove Street may be set to become a restaurant, according to a subtle hint on the building's website. We'll let you know more when we hear who might be moving in. 
If you're a fan of this aesthetic, the developers, DDG and DM Development, are also behind two other buildings in the area, the recently completed 8 Octavia and the under-construction 450 Hayes.