North Beach is getting even more authentically Italian thanks to a new restaurant opening at 1600 Stockton St. at Union.
A trio of Italian partners is putting the finishing touches on Acquolina and aims to open by the first week of May.
Rutilio Duràn, chef Marco Marianelli and Dario Nicotra all originally hail from Livorno, Italy, a port city on the western coast of Tuscany. Nicotra has lived in North Beach for six years, Marianelli still lives in Livorno and is in the process of moving, and Duràn lives in Alameda and also owns C'era Una Volta Ristorante Italiano there.
At Acquolina, they plan to offer breakfast, lunch and dinner seven days a week featuring homemade Tuscan favorites, pizza and freshly made pastas along with a mostly Italian wine list.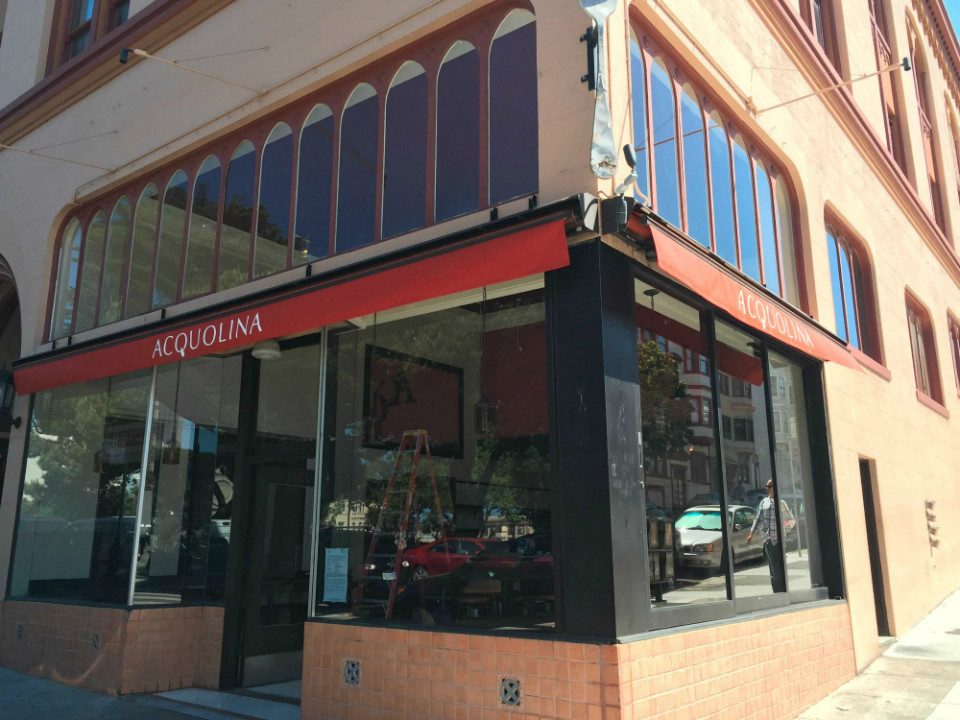 Photo: Geri Koeppel/Hoodline
They want to "create an experience," Nicotra said, and "create some emotion with the food, with the atmosphere." The focus is on high-quality ingredients such as true olive oil and imported cheeses, but he said the menu will offer a range of prices so everyone can come and feel welcome—even families and children.
Breakfast will include the usual eggs and omelettes, as well as a breakfast pizza and pastries, with espresso drinks made from their gleaming, imported Stylema machine. Lunch will include pasta, focaccia and pizza made in a special stone-lined oven (also imported from Italy) that assures a consistent temperature throughout.
Dinner will be "more sophisticated," Nicotra said, with a focus on meats and seafood as well as—you guessed it—pizza and pasta, along with wine pairings ranging from great everyday values to splurge-worthy selections.
"In Italy, the wine is on the table every day," he said, so whether you want a simple Chianti or a higher-end Brunello di Montalcino, you can find it. Wines from all over Italy, not just Tuscany, will be offered.
Buildout of the space, which housed Cafe Divine for a decade until its closure on Nov. 30th, 2014, is ongoing. They kept the old bar, but added a wood extension to make it easier to sit and eat. White marble in a brick pattern has been added behind the bar, and wood letters spell out "Acquolina" above it. Dark wood, warm colors and attractive hanging light fixtures meld for a modern but cozy look. The dining area inside seats 49, and they're adding sidewalk tables on both sides as well.
Photo: Geri Koeppel/Hoodline
"I've lived here [in North Beach] six years," Nicotra said. "I wanted to do something for the neighborhood. Our goal is to bring real Italian; good quality."