Mural artist Believe in People (BiP) has wrapped up work on his first piece in the Bay Area, in the form of a 7-story mural entitled "Self Consuming Self - Dave." 
The anonymous BiP hails from New Haven, but announced last year through a large community-based artistic sendoff that he was leaving his hometown. His work has appeared on the sides of museums in Taiwan, on walls in Detroit, and inside Yale University classrooms. And now, his new mural is gracing the side of a local Tenderloin building. 
The site was an intentional choice by BiP, who worked closely with his representative Michael Atto to secure legal permission for the piece. The building on which the mural is painted is one many may recognize—Hostelling International's San Francisco City Center Hostel Building, located at 685 Ellis St. 
The general manager of the hostel, Molly Salyer, loved the idea. Working with Michael and BiP, she helped to facilitate the the technicalities of the project. "There couldn't have been a better partner for the project than HI-USA," Michael told us. "They put trust in BiP to create something genuine and left the content direction entirely up to the artist."  
"We're thrilled to help bring such a beautiful work to our neighborhood, and look forward to sharing this unique window into SF culture with travelers from around the world for years to come," said Molly. 
The mural, which depicts a man examining his own internal organ under a microscope, took three weeks to complete, but was only worked on at night—meaning that every morning the neighborhood woke up to a slightly more complete picture.  According to Atto, the piece was conceptualized to "contemplate the nature of deep introspection."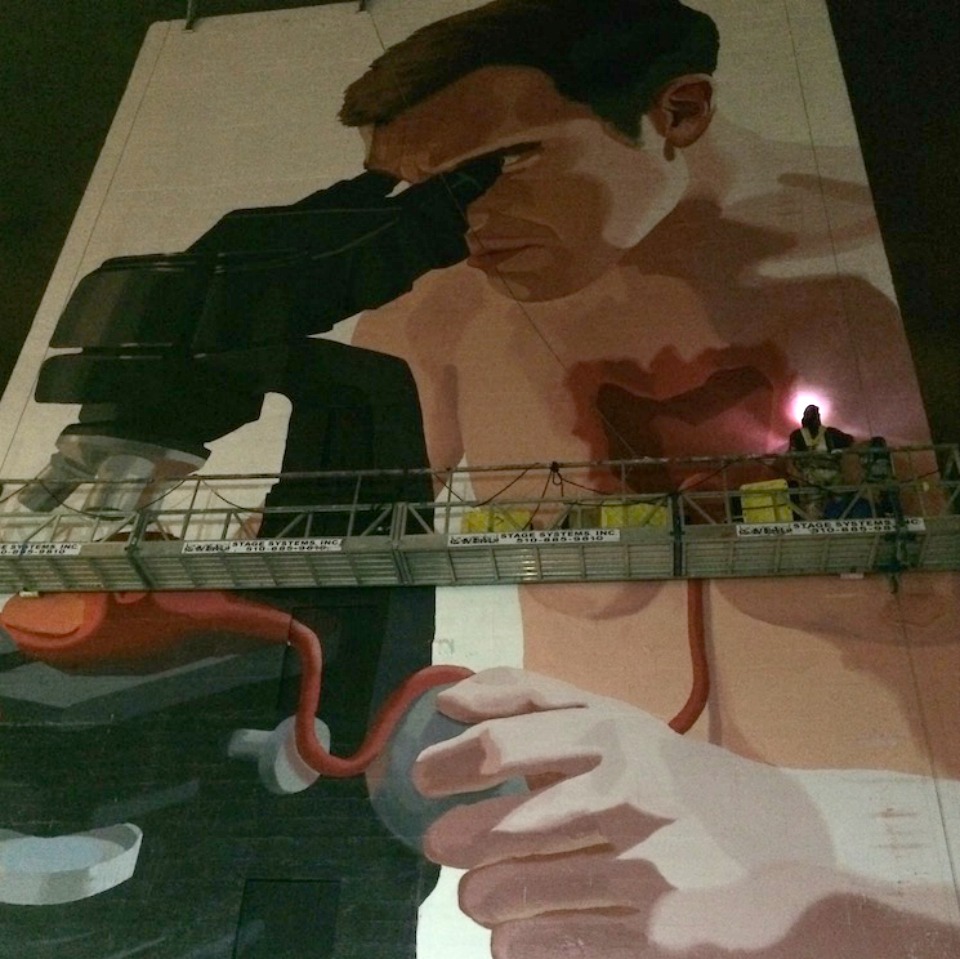 (Photo: BiP)
BiP is rumored to have settled down in the East Bay, so look for more of his work popping up locally. "For the next few years, I'm going to be listening, absorbing as much as I can and reflecting that back to the city. I'm excited to learn what I can from the people who live here," says BiP. "Seeing the raw passion of the Tenderloin was just incredible. I'm ready for more."
Plans are already in the works for two large-scale(and legal) pieces on buildings in Oakland and South San Francisco, though BiP's unsanctioned graffiti pieces may also be making an appearance soon as well. 

In the meantime, we think the best view of the mural from street level can be seen from Larkin and Willow streets. So next time you're in Little Saigon, make sure you remember to look up.