There are boba fans, and there are tea mavens.
Boba fans go bonkers over milky, frothy drinks full of fruity flavors and chewy little tapioca balls, while tea mavens are purists, looking for earthy, demure, unadulterated flavors. 
Asha Tea House caters to both, and it's bringing its particular type of tea experience to 17 Kearny St. in the FiDi this summer. The first Asha opened in Berkeley in July 2012; this is its second location.
Founder David Lau and his wife, Diana Lui, the co-owner and creative director for Asha, sell artisan teas sourced directly from growers in China, India, Japan and Taiwan. In fact, they recently returned from an overseas trip to find new products. (Check out their photoblog and Facebook page to learn more.)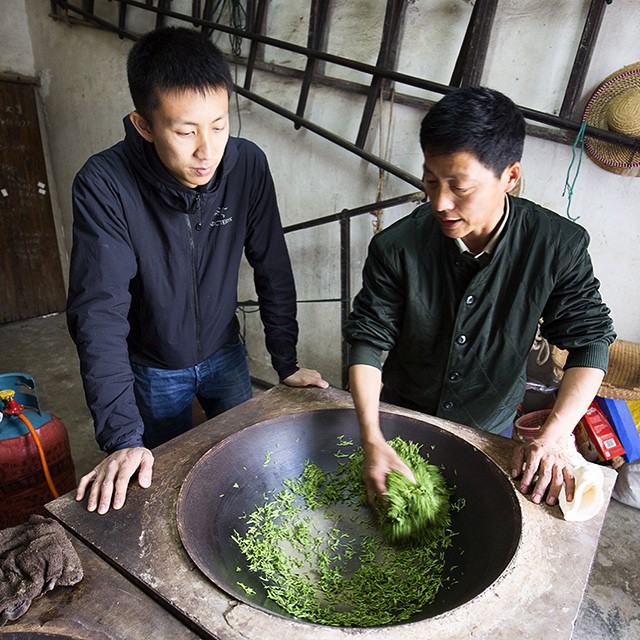 Green tea growers in Lake Tai, West Mountain, China. Photo: Asha Tea House Facebook page.
Asha also uses high-quality teas as the base for its boba teas, which can be gussied up with several types of milk, boba and flavors. The goal is to offer "anything and everything for tea lovers, but make sure quality is still a focus," Lui said. Many boba shops sell powdered teas and use non-dairy creamers. "All the ingredients are typically lower quality and not catered toward health-conscious individuals," Lui said.
Asha hopes to bridge the gap between boba fans and true tea lovers. "The tea is the core and very high quality, and the ingredients that we pair with the teas like the milks and fruits are all high quality," she added. The fruit flavoring is house-made and seasonal, not pre-packaged or frozen, and the grass jelly is made in house, too.
"The cafe drinks are popular with maybe more of the masses," Lui said, "but what we want to emphasize is—much like Samovar and Red Blossom—we care about the teas, too." Check out the menu of pure teas and the menu of boba and other tea drinks, including Hong Kong milk tea, masala chai latte and hojicha latte.
Lui thinks that giving boba drinkers better teas might whet their appetite to try some of the specially-sourced teas from around the world. Asha sells organically and sustainably grown black, green, oolong, pu-erh and white teas from China and Taiwan in loose leaf or in drinks. Everything is presented in in traditional tea ware appropriate to each type of tea when served on-site, or in cups to go.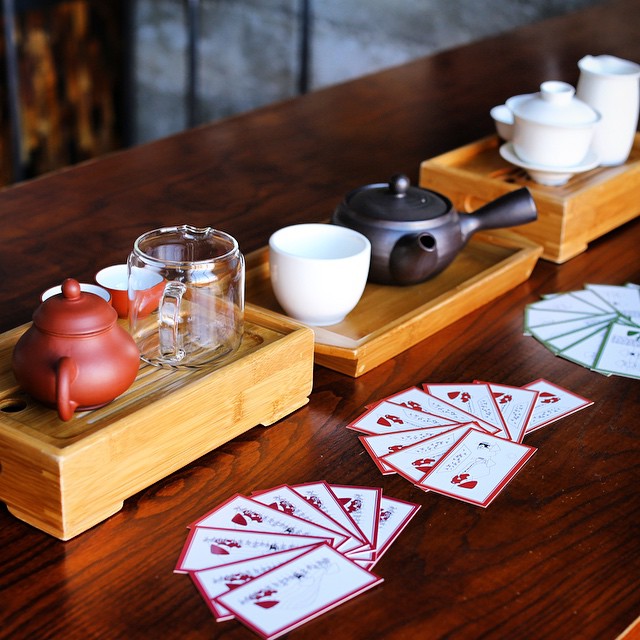 Traditional tea ware. Photo: Asha Tea House Facebook page.
Lau and Lui chose the Kearny Street location due to the foot traffic and the fact they wanted to reach a mix of locals, tourists and FiDi workers. It's going to have a different look and feel from the Berkeley shop, which recalls the architecture of many homes in that area. The FiDi space "will have a more minimalist vibe, inspired by Blue Bottle (which I am in love with!)," Lui wrote in an email.

At 1,000-square-foot, the new Asha will be smaller than the first (blame the high rents in downtown San Francisco) and hours will be determined due to demand. Also, the prices for tea and drinks will be slightly higher than in Berkeley, no thanks to the higher costs of doing business here.
Keep your eyes out for Asha Tea House's Kearny Street debut this summer.