It's really time to say farewell to Capp's Corner. The owners confirmed the doors will be closed for good after Saturday.
Rumors had been swirling that Tom and Maureen Ginella were trying to pull off an 11th-hour comeback to save the more than 50-year-old eating and drinking institution at 1600 Powell St. at the corner of Green. They sent an email to Hoodline on April 14th saying, "Could be yours and other media sources and prayers seem to be in sync for possible success of a turnaround at Capp's."
But on Thursday, they sent an email saying:
"It's official, we are closed for good! We are having a sidewalk sale of everything on Saturday April 25 from 10:00 am to 4:00 pm. Everything must go! Bring cash ... Thanks for all your help and support!"
They'll sell drinks (Maureen will tend bar), serve cookies and clear everything out, Maureen said, including the framed photos on the walls. "Grab a piece of history," she added. Capp's Corner opened in 1963, and the Ginellas have owned it since 1986.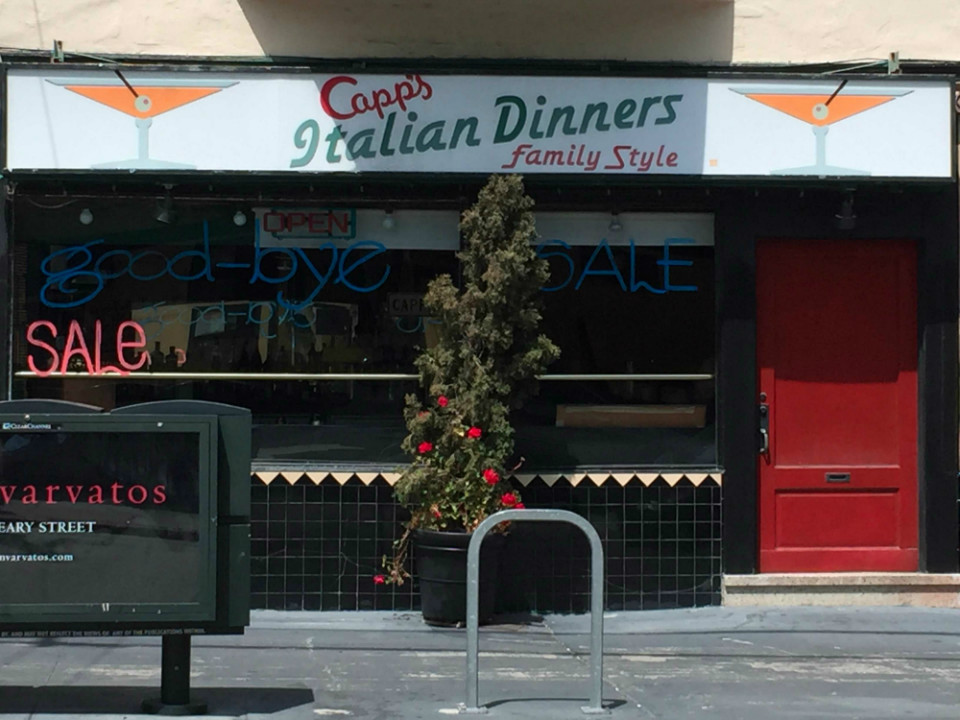 Photo: Geri Koeppel/Hoodline
Maureen said District 3 Supervisor Julie Christensen "was trying really hard" to help get a deal arranged to save the business, but "it just folded again with the attorney." In an earlier interview, she said contractual snags, not rent increases, were the deal breaker. 
If you haven't already stopped by, this will be your last chance to bid the Ginellas goodbye and wish them well in retirement. The last day for dining was April 19th, and any remaining food was donated to Meals on Wheels and Saints Peter and Paul Church, Maureen said. Gov. Jerry Brown and his wife, Anne, attended the final feast, and cast members of Beach Blanket Babylon sang "San Francisco." Everyone joined in song and "it was a tearjerker," she added.