The S.F. Public Utilities Commission unveiled two alternative street lighting options aimed at improving pedestrian safety in the Tenderloin at this month's Tenderloin Police Community Meeting, which is held at 6pm on the last Tuesday of every month at the Tenderloin Station.
This special project for the PUC is part of the city's larger effort to to turn the city's Central Market Economic Strategy and new investments in San Francisco toward the Tenderloin, and enhance quality of life and safety in the neighborhood, said Amy Cohen, director of neighborhood business development for the Office of Economic and Workforce Development (OEWD).
The PUC worked with the OWED, Planning Department and community stakeholders to assess current street light infrastructure and needs, and is now collecting feedback from community members on two proposed options—which both fit into the city's $4.25 million budget for this project—before deciding which to implement.
The first option involves replacing the existing street lights on 15 blocks with new decorative lighting systems. Each new system includes a decorative pole and "twin teardrop fixtures". One light fixture will illuminate the sidewalk while the other will illuminate the street, said Mary Tienken, the PUC project manager who walked community members through the proposals. The remaining blocks will keep their existing "cobra head street lights", but they will be upgraded to LED fixtures, which distribute light better and will create more visibility on the sidewalks, she said.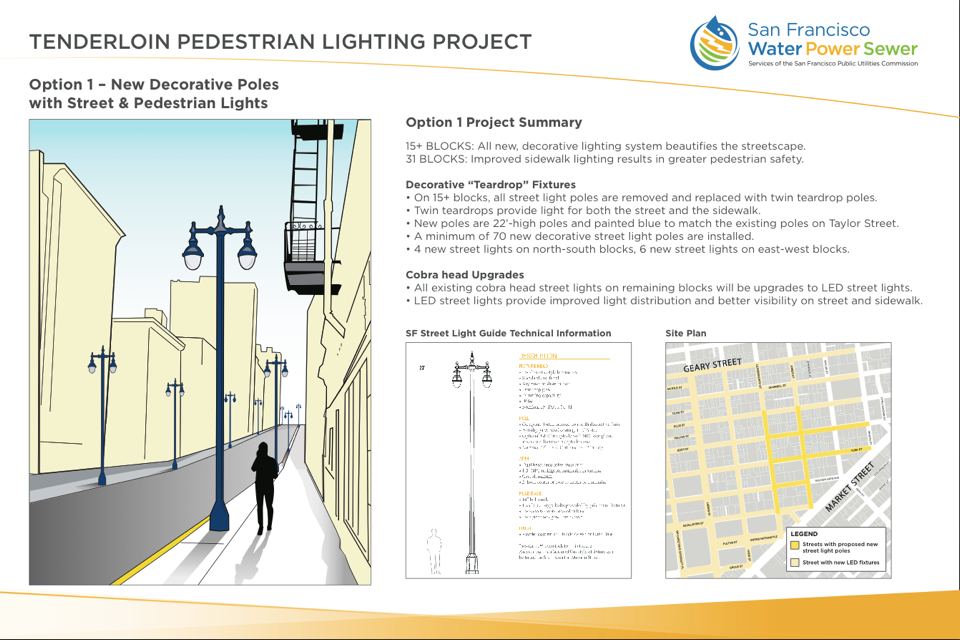 Image: S.F. Public Utilities Department
With the historic charm of this lighting option, Tienken said the focus is lighting improvement and beautification. She also noted that lighting will be improved on all 31 blocks, not just the 15 receiving entirely new systems.
Examples of this decorative lighting system can be seen on the 100 block of Golden Gate Street (pictured above), the 100 through 500 blocks of Taylor Street, and the 100 block of 6th Street.
With the second option, the PUC will leave all existing "cobra head street lights" in place and add pedestrian scale lighting systems, 16 feet high, between them on all 31 blocks. Each block will receive two new pedestrian poles, with light fixtures facing the buildings. 
The goal of this option is lighting improvement on more blocks, Tienken said.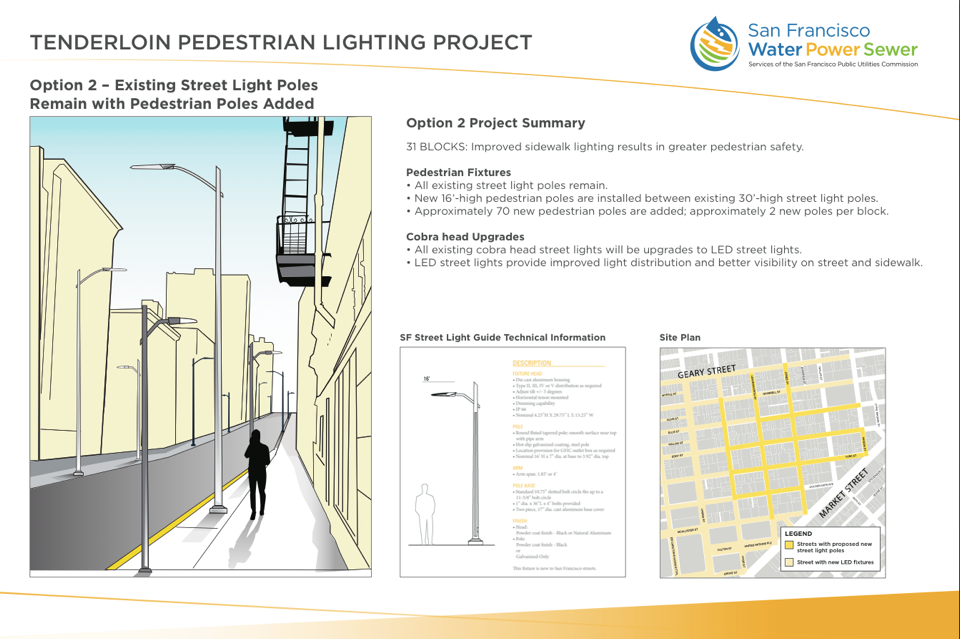 Image: S.F. Public Utilities Department
This type of pedestrian lighting system has never before been installed in San Francisco.
For additional context on the existing street light infrastructure in the Tenderloin, we spoke with the PUC's spokesperson for Power pision and Street Light group, Charles Sheehan.
"The challenge that we face throughout San Francisco is we have to balance some residents' needs and desires for more light and other residents who don't want as much light," said Sheehan. "And we run into this problem throughout many San Francisco neighborhoods where someone will say, 'This corner is kind of dark, we're going to need additional lighting here,' and other residents will say, 'No, we don't want more light, we have too much light'. We find ourselves in that position, to balance those community needs, often in the exact same neighborhood or street."
"Some of our strongest lights exist in the Tenderloin, so when you think about the best-lit place in San Francisco, it's the Tenderloin," he added. "We've got up to 400 watt lights on our street light poles and those are our highest wattage lights in San Francisco. There's always going to be dark spots, we're always working on best way to light those dark spots."
However, a "recurring theme" throughout San Francisco is street lights illuminating more of the street than the sidewalk. Both lighting solutions the PUC is proposing for the Tenderloin would "add more light for the sidewalks and enhance pedestrian visibility."
Sheehan also noted that while this project is special to the Tenderloin, the PUC will begin its LED street light conversion upgrade project, which will convert 18,500 high pressure sodium overhead lights to LED street lights, in the fall of this year. "The entire city will be seeing LED street lights."
To collect additional feedback on the two proposed Tenderloin lighting options, PUC representatives are scheduled to meet with four additional community groups: the 430 Turk Tenant Council, the Hyde/Turk Merchants Association, representatives of the 100 block of Golden Gate and the Hamilton Apartments Neighbors Association.