San Francisco Public Works (DPW) held a community meeting last night at the County Fair building (1199 9th Ave.) to present revised plans for the Inner Sunset phase of the Irving Streetscape Improvements Project. Once completed, DPW says the project will shorten travel times and "provide a safer and more inviting environment for pedestrians, motorists and transit riders."
The presentation reviewed proposals for Irving Street between 9th and 5th avenues. Project manager Mike Rieger said the goals for this section of streetscaping were to add green space and new, safe transit amenities, as well as community spaces "which reflect the neighborhood identity." Project costs are covered by a 2011 Road Repaving and Street Safety Bond.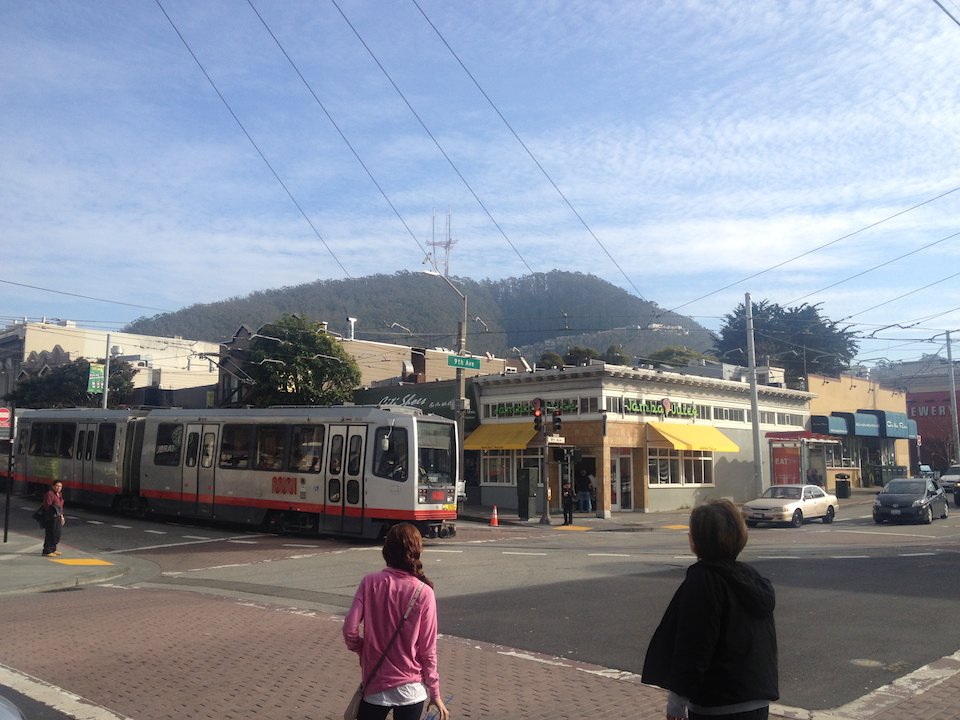 Because many riders who disembark at 9th & Irving head for Golden Gate Park, the proposal includes wayfinding tools and directional designs to steer them in the right direction. "A lot of people come to the neighborhood but don't realize the park is north one block," said Rieger. The current inbound streetcar stop will be moved from Irving Street to a new 120-foot bulb-out on 9th Avenue that includes the existing parklet in front of Arizmendi Bakery.

"Irving Street has a very strong connection to Golden Gate Park," said Martha Ketterer, a DPW landscape architect who grew up in the Inner Sunset. The neighborhood character is "eclectic and playful with whimsy and green spaces," she said. "We felt it should reflect the park in a more organic, natural way."
To better orient visitors and create new communal space, Ketterer designed a waiting zone for the relocated Muni stop on 9th Avenue and a "mixing zone" to facilitate the flow of pedestrian traffic. In keeping with results of a neighborhood survey, the bulb-out will have raised oval planters with seating "to make it a comfortable transition from one zone to the next," said Ketterer. Arizmendi's parklet will be moved further out as the sidewalk is expanded.
Ketterer noted that the western sidewalk on 9th Avenue between Judah and Irving is 630 feet long, which means the new bulb-out is "less than 20 percent of the block." Several residents raised concerns that streetscaping would create obstacles that could make the sidewalk less accessible. "Our job is to make sure that bulbs are pleasing and pedestrian-oriented," said Rieger.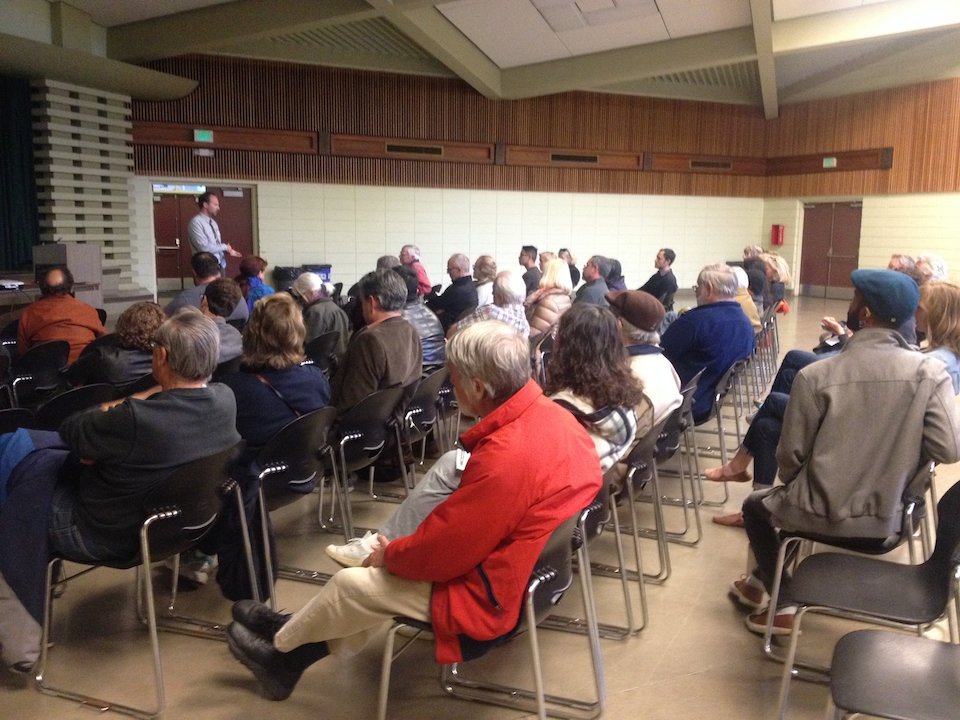 Adding seating and trees to a parklet on a busy sidewalk allows the new bulb to "really become an amenity to the neighborhood that's also a respite," said Ketterer. Arizmendi has already offered to help maintain the area around its existing parklet and DPW is in talks with other merchants and residents who'll do "some day-to-day upkeep to make sure things are looking good," said Rieger.

In front of the Citibank at 8th & Irving, plans call for trees, a new paving surface for the sidewalk and a circular seating area that will have art or sculpture at its focal point, Ketterer said. At 5th & Irving, DPW has consulted with Martha Bros. Coffee to come up with a new placement for a Muni shelter, as well as plantings and new seating.
Several attendees raised concerns that seating areas will attract people who'll want to sleep or stay put for extended periods of time, but Rieger said the proposed seating is "not comfortable enough so that it can be slept on. You can sit there for 20 minutes comfortably, but maybe not much longer."
New trees and plantings come with a 1-year warranty and will be maintained for the first three years by the contractor who wins the bid, said Reiger. This stipulation is "to make sure plants get established so they require less maintenance."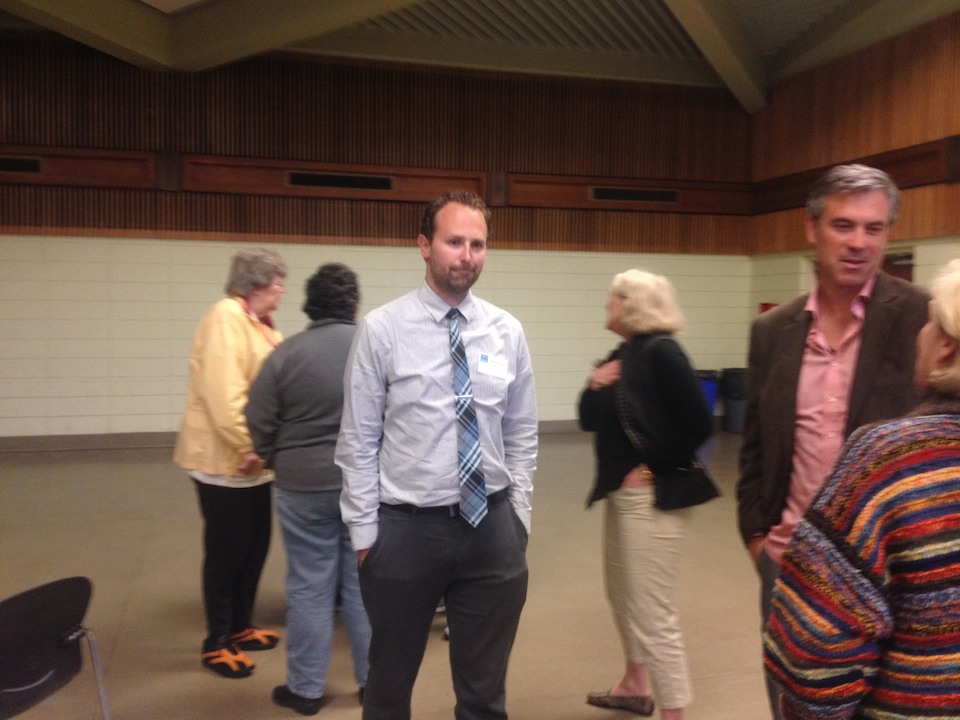 DPW Project Manager Mike Rieger
Streetscape improvements will bring upgrades to area infrastructure; seismic upgrades for the AWSS high-pressure water system, and repaved street surfaces, and existing traffic bulbs near Carl & Stanyan will be spruced up with design elements borrowed from the work farther west, which is expected to begin in the first half of 2016, said Rieger.
After the presentation, several people asked pointed questions about maintenance and cleaning, the potential for sidewalk congestion and efforts to make the Inner Sunset less convenient for drivers. "I'm going to be stuck behind the N-Judah the whole time," said one resident. Another voiced concerns that narrowing 9th could hinder fire trucks: "We need to keep the roads open for emergency vehicles."
Rieger said SFFD, SFPD, SFMTA and other relevant agencies didn't find any issues with the proposed changes, noting that "the current travel lane on 9th Avenue is much wider" than what's common elsewhere in San Francisco. When work is completed, the area will lose a total of 14 parking spaces within the streetscape project's boundary.
For a sizable contingent, the changes were hard to accept, despite the fact that city agencies have solicited neighborhood input and held multiple meetings. Said one resident, "it functions very well as a commercial zone right now. It's not the park; this is a mini-mall." Another attendee asked for a show of hands to see how many were opposed to the bulb on 9th Avenue. Slightly less than half the room raised their hands before breaking into applause.
The Inner Sunset renovations are still in the design phase and won't be finalized until mid-year, after which point bids and proposals will come in so that contractors can start work, potentially as early as this winter.