Kristie Fairchild, executive director of homeless outreach group North Beach Citizens, is walking from the organization's current headquarters at 720 Columbus Ave. to what will be its new building at 1034 Kearny St. near Broadway.
The typical path would be to shoot straight south on Columbus Avenue and head east on Broadway to Kearny, and then boom, you're there. But not Fairchild.
She zig-zags through back alleys the entire way. A man drinking beer on a curb before noon on a Thursday calls out, "Kris, are you still going to consider me?"
He wants to get into the program, but not badly enough—North Beach Citizens, Fairchild explains, exists to help people willing to work to get clean, get housing and get jobs. "Because of the space limitation, I can only take on a certain amount of people and dedicate our time to what our action plan is" for those people, she said. 
The new building, with more than double the space, will allow North Beach Citizens to help even more people. But only those willing to make an effort. People like Anthony Mack.
"I was unstable for like a year and a half," Mack said. "I saw Kristie and started taking life seriously. She helps people who want to help themselves."
Mack works in construction; he's happy to have a job and a purpose and grateful to the program. But, he says, "It wasn't until I really stopped drinking and running around with the crowd out there and using the services," he said, that he turned his life around. "I don't smoke; drink; I don't even drink coffee," He said. "Construction is hard work, but I love the physical workout and I'm happy, thanks to the center. All the staff are beautiful."

He added, "I want to really commend the center, but you know it really all came down to one thing, and that's me. They're going to make you put in work. They're not going to give you this, give you that, if you're not working."
Fairchild understands how to make her clients self-sufficient, once they're ready. "We create an action plan," she said. "A lot of people think, 'oh, we just need a job.'" But there could be any number of roadblocks. Physical or mental health issues and lack of identification are a few of the biggies. Without some form of I.D., it's almost impossible to get a job, but many people who have been living on the streets a long time don't have a birth certificate or driver's license."
Health care is another issue. "The people I have now have been on the streets 20-plus years and their health is really poor," Fairchild said. They might need dental work, like Mack did. They might need medication for mental health. Maybe their feet are in such bad shape, they have a hard time wearing shoes.
North Beach Citizens works to give a leg up to anyone who wants to work and provide for themselves, but needs some of these core services first.
"A lot of the people would be dead in the street if it wasn't for the center," Mack said. "They should have more places like this, actually. I've seen a lot of people come here and if they're determined, they'll get help."
Some clients work to beautify North Beach by cleaning up streets and Washington Square Park; they're a common sight in their day-glow yellow vests. The nine workers each get a small stipend via a grocery card, and the city and county gives North Beach Citizens a $25,000 annual grant for their help.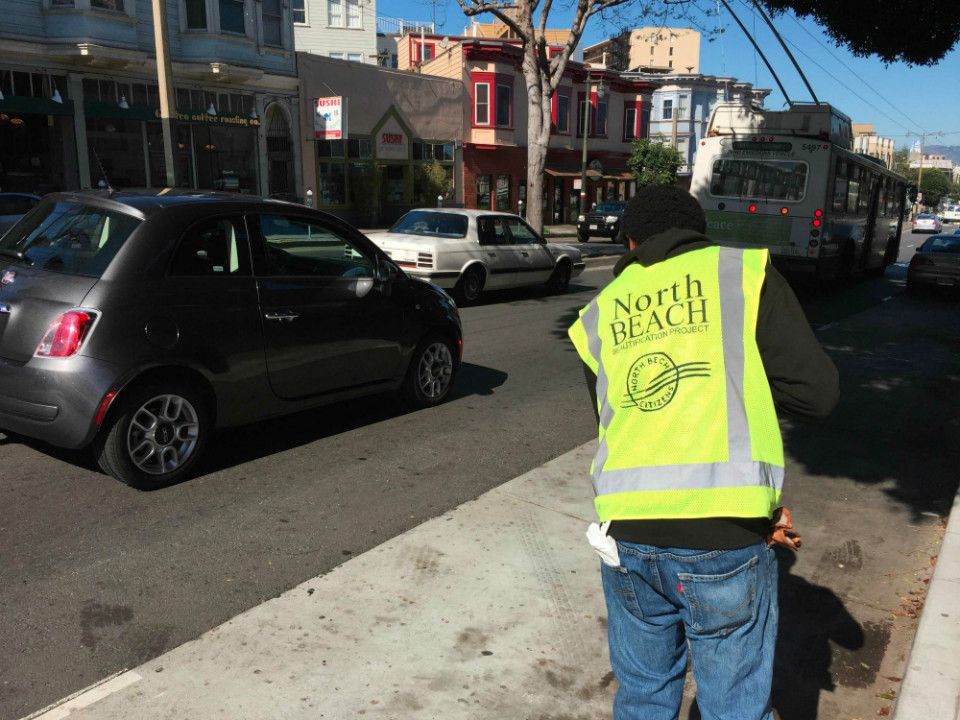 A North Beach Citizens client helps beautify North Beach. Photo: Geri Koeppel/Hoodline
Fairchild said they see about 40 people a day, and about 170 come to the Wednesday food pantry. They help both homeless and low-income residents, and they hope to expand these numbers gradually based on staffing capacity and ability to raise more funds as part of the capital campaign. They definitely need it—they've outgrown the space, which bulges with stuffed shelves and bags of donations.
The new building cost more than $1.7 million, which was covered by an anonymous donor, and the group aims to raise $5 million for construction costs and additional staffing and operating costs.
North Beach Citizens expects to move in July. It had four full-time employees and recently added three more to get ready for the expansion. The group formerly rented its space on Columbus for the past 14 years, so this will be an opportunity to have a permanent home without fear of rent increases or eviction.
Much has been made of the fact that that the new building is a former porn theater; its windows look out across the street to the Hustler Club and another porn theater. But it's also next door to Tomaso's Ristorante Italiano and kitty-corner to 200 Columbus St., which houses the chic Réveille Coffee Co. and upscale office suites. A designer parklet is right outside Réveille, and up the block at the corner of Columbus is the popular Little Szechuan. The block might not be a showplace right now, but the area is changing.

How have neighbors reacted to a homeless services organization moving in to an area that's trying to revitalize? There was "not one outcry to City Hall," Fairchild said. "It made me even more so want to work for the community."
The spring fundraiser—which brings in about 55 percent of the group's annual revenue—on Sunday night raised $476,000 and attracted 430 attendees, including a cadre of VIPs. Filmmaker Francis Ford Coppola, who founded North Beach Citizens with a group of community members in 2000, sat with filmmaker George Lucas. About 430 well-dressed guests munched on antipasto plates and penne pasta by É Tutto Qua in the basement of Saints Peter and Paul Church and sipped Coppola wines, of course, at cocktail hour and dinner.
Also attending were Supervisors Julie Christensen and Scott Weiner, supervisor hopeful Aaron Peskin, Mayor Willie Brown and former Tosca Cafe owner Jeanette Etheredge. Lawrence Ferlinghetti was billed as a co-host, but was ill.
A live auction included a trip to New York City to stay in architect Robert Mittelstadt's condo, a "Foodie Dream Package" with dinner for four at eight local restaurants, and a ride on SFPD Marine Unit's boat for 10, which was the largest-grossing item of the night. Bidding reached $8,000, and Central Station Capt. David Lazar at the last minute offered a second ride, so the second-highest bidder of $7,500 also bought the experience. 
The donors aren't the only ones who support North Beach Citizens. Once clients get help, they often pay it forward. "I really expect the people who have gone through the program to step up and mentor other people and encourage them," Fairchild said, "and that's a big piece of it. It's creating and building community."