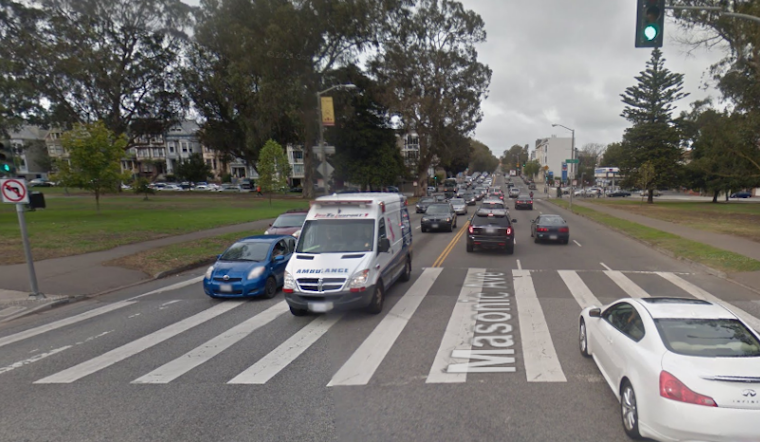 Published on April 16, 2015
Multiple reports indicate that a male pedestrian was seriously injured after being struck by a vehicle this morning at Masonic and Oak.
"I saw a jogger run over at Masonic and Oak," reports tipster Nadia N., and SFCitizen relayed some of the action via Twitter:
Heavy sfpd sffd at oak and masonic now. Oak shut down.

— SFCitizen (@SFCitizen) April 16, 2015
Update: Oak now clear at Masonic. Mercedes benz c320 vs. Ped. Blood on pavement, ped concious, breathing, off to SFGH. Merc driver in tears

— SFCitizen (@SFCitizen) April 16, 2015
SFPD: Ped vs. Mercedes accident at Oak Masonic serves as "yet another warning to pedestrians"

— SFCitizen (@SFCitizen) April 16, 2015
Update: now I think it was just a red plastic bag by the front of the mercedes at oak and masonic. Ped in "serious" cond.Sfpd: ped at fault

— SFCitizen (@SFCitizen) April 16, 2015
"When I left just a bit ago the poor guy was still on the ground with paramedics enroute," wrote one witness on NextDoor. "Does anyone know who to petition to get a bike/runner light at this intersection like they have on Fell/Masonic? This is not the first nor will be the last accident there ..."
We've reached out to SFPD to learn more about the incident and get an update on the pedestrian's condition, and will update this story when we learn more.
Update, 4/17: SFPD's Albie Esparza confirms that the pedestrian was at fault in the incident, noting that he ran into traffic against his own light. Two of the cars in the street saw him, but the third vehicle didn't see him in time. The driver remained on the scene, and the man is still in life-threatening condition.