At about the same time news broke about Philz Coffee opening its first permanent Financial District location, the company was quietly planning a second FiDi spot.
According to public records, Philz Coffee Inc., the lessee on 5 Embarcadero Center, received a permit for non-structural demolition to combine two retail spaces into one space. The cost for that construction was listed at $40,000. No further information is available about the space, and Philz reps and its CEO aren't saying much.
"We will be moving into that location but I can't comment further at this time," Philz CEO Jacob Jaber wrote in an email. "We are still working on some special design ideas for this very special store."
In an earlier interview, Jaber said the first FiDi storefront planned for 1 Front St. will bring the company's number of outposts to 23, with multiple more locations pending. The company expects to have 1,000 employees by the end of 2015. It also has a popular coffee truck on Sansome Street near Pine Street.
A likely location for the new Philz could two vacant storefronts in Embarcadero Center formerly used to house an Il Massimo and a Noah's Bagels. The area gets heavy foot traffic because it fronts busy Market Street, it's near the entrance to the Embarcadero BART/Muni station, it's close to a host of bus stops and an F-Market stop, and it's adjacent to the popular SF Art Market at Justin Herman Plaza.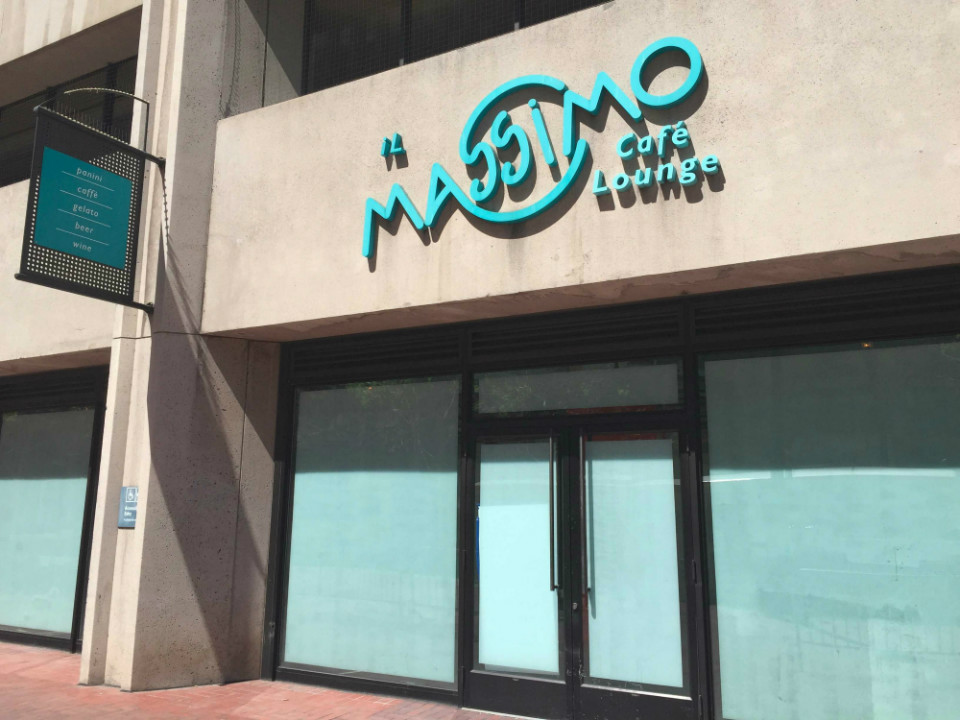 The former Il Massimo. Photo: Geri Koeppel/Hoodline
But Embarcadero Center and the area is already home to numerous coffee shops. The center has a Paramo Coffee and Coffee Bean & Tea Leaf just around the corner near the Hyatt Regency San Francisco entrance. There's a Peet's Coffee in 2 Embarcadero Center and a Prima Cosa in 1 Embarcadero Center, and other places, such as Crêpe & Curry and the Posh Bagel, sell coffee. Across the Embarcadero, the Ferry Building houses a Blue Bottle and a Peet's, and there are Starbucks nearby at Pier 1 and 52 California St.
Jen Piya, who works for the family business at Crêpe & Curry, said it wouldn't affect their business because they concentrate more on food. "I think it's good because they might bring more people; more traffic," she said. 
At Paramo Coffee, barista Cole Bonnor said their products are different enough from Philz that they attract a different clientele. Paramo offers coffee for a certain type of connoisseur who looks for single-source beans and particular roasts. While people can add milk or sweetener, the focus is more on the coffee, whereas Philz "tastes more like a dessert," he said. "Because of the culty nature of third-wave coffee, our regulars would never touch Philz coffee," Bonnor added. "It's definitely more of a threat to the Starbucks around the corner or the Coffee Bean."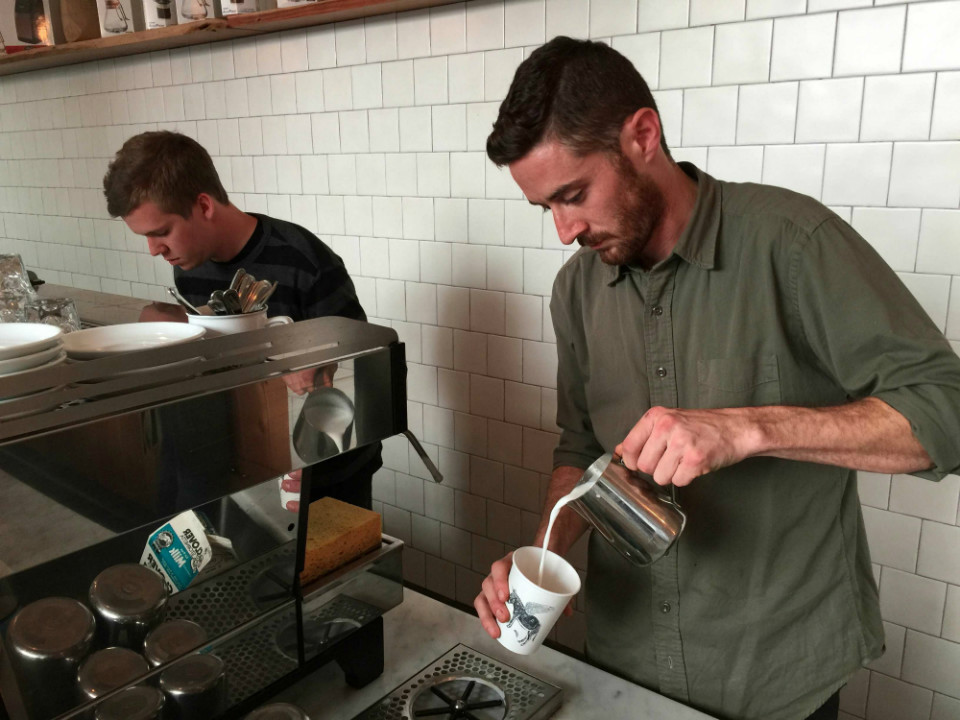 Paramo Coffee baristas Tom Robley and Cole Bonnor. Photo: Geri Koeppel/Hoodline
Barista Tom Robley agreed. "We've got our Paramo crowd; Philz has their crowd," he said. "I don't think it will cause any problems at all. If it were Sightglass or Blue Bottle, then it would be a little more detrimental to the business interest." Both agree more coffee choices are a positive: "A couple of years ago it was a coffee ghetto down here," Bonnor said. Robley added, "San Francisco is turning into a Seattle of its own."
Brian Wong, who was sitting outside Coffee Bean & Tea Leaf with a friend on a sunny afternoon sipping a drink, said he goes there because it's the easiest spot to grab a cup of joe and close to his office. When asked if he'll switch to Philz, he said, "We'll probably try it out. It depends on the line."