Pedestrian safety improvements, traffic and beautification are all on the agenda of the upcoming Octavia Boulevard Enhancement Project presentation, coming up this Thursday, April 16th.
Late last year, we covered a meeting between the Hayes Valley Neighborhood Association (HVNA) and the SFMTA, which focused on identifying and prioritizing key transportation issues and traffic calming projects in the ever-denser Hayes Valley neighborhood.  
As a direct result of that meeting, 12 projects have been slated for improvement along Octavia Boulevard and its surrounding blocks, spreading north to Grove and west to Buchanan: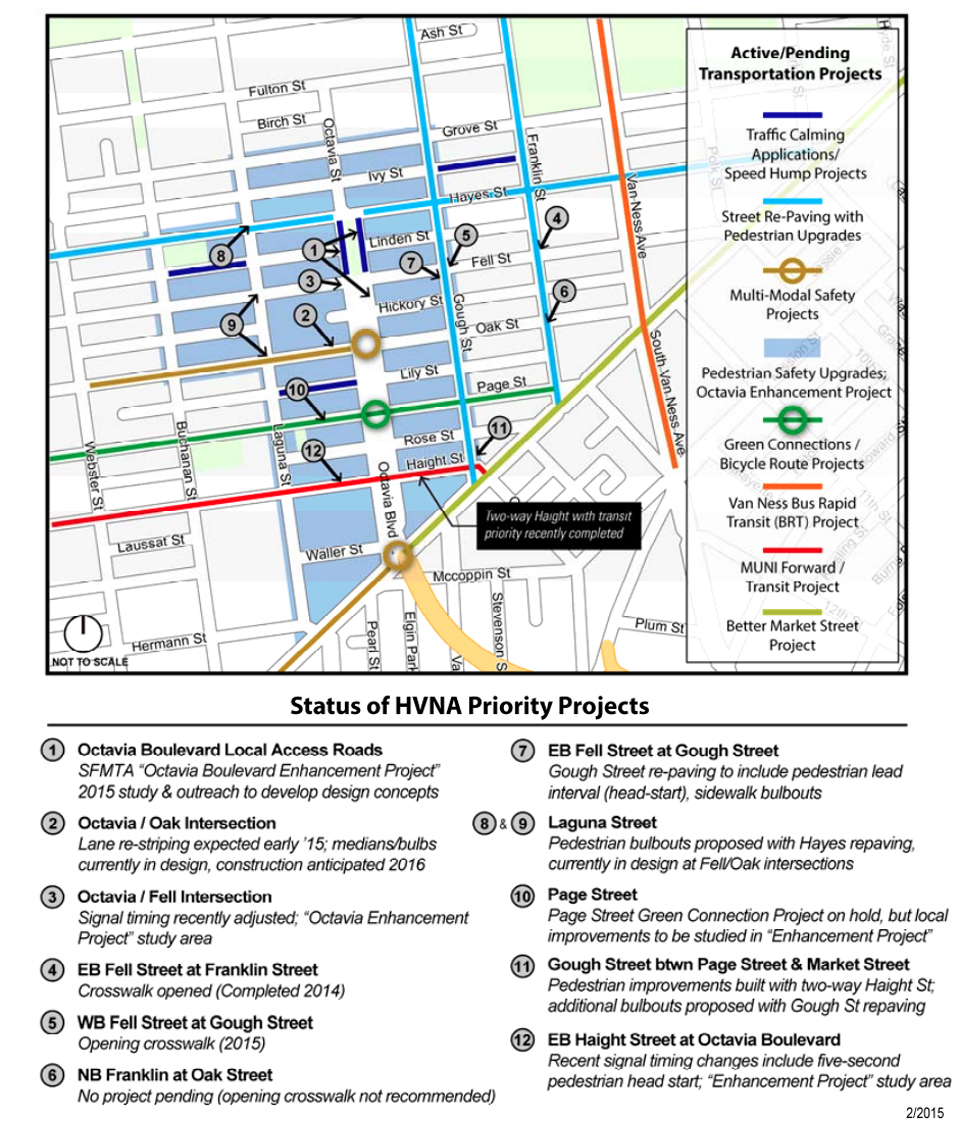 The SFMTA has split these issues into two key categories, with outlines of proposed plans and data research from other similar intersections throughout the city. 
Pedestrian Safety Improvements
The first of these is to improve pedestrian safety in the Hayes Valley neighborhood, which often sees gridlocked and/or high speed traffic trying to get to and from the freeway.
Two intersections under scrutiny are those at Hayes and Buchanan and Hayes and Laguna. Changes proposed for those two areas are as small as tree plantings, and as large-scale as curb extensions and the re-configuring of bus shelters. (Update: as Project Manager Casey Hildreth notes, the pedestrian improvements at Laguna and Buchanan on Hayes have already been approved and will be constructed later this year as part of a repaving project. "The Buchanan bus stop relocation proposal, however, was dropped based on public comment. Bike (or motorcycle) corral is still up for discussion".)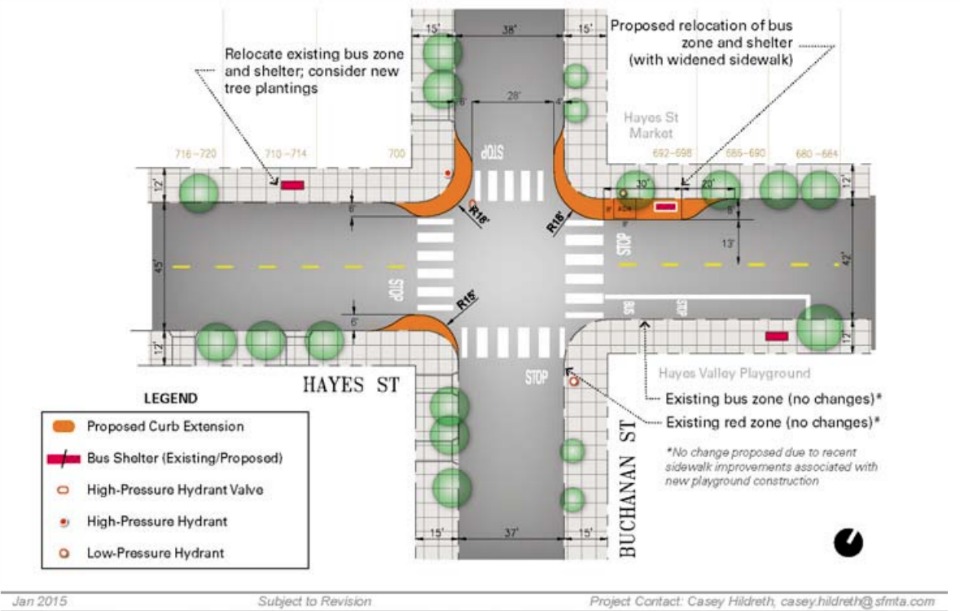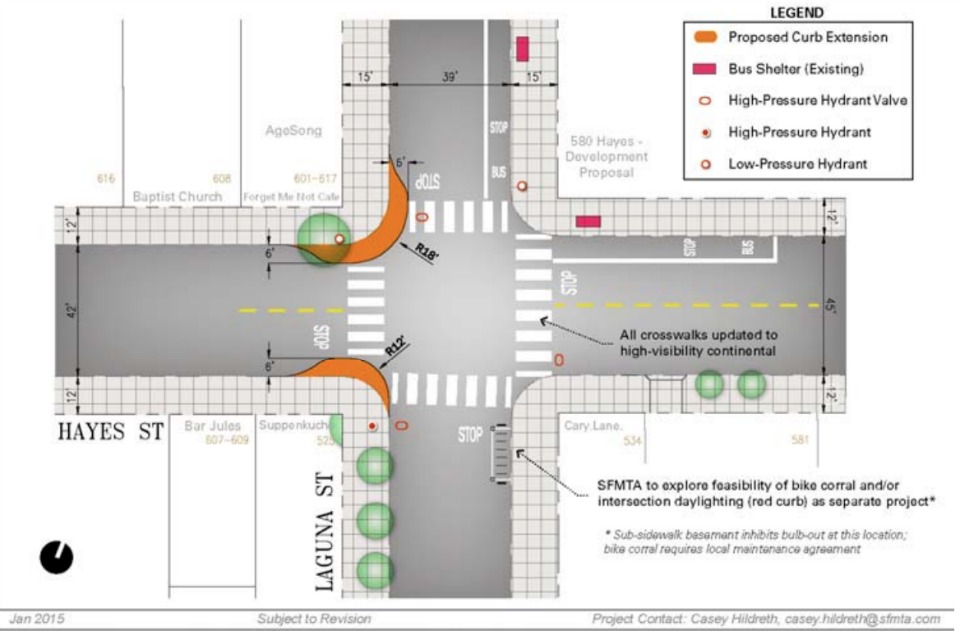 Another part of the pedestrian improvements planned for the neighborhood would be "daylighting"—or the removal of obstacles (such as parked cars) near intersections to increase visibility. This is a method that was recently put into play in the Tenderloin, with the removal of 170 parking spots near crosswalks. 
Octavia And Market Intersection
The second, and arguably largest aspect of this project involves rethinking the functionality of the Octavia and Market intersection. An interactive map released by Vision Zero show the most dangerous areas for cyclists in San Francisco, and Market and Octavia stands out as a contender for first place. (We also highlighted the intersection in last year's "Dangerous Intersections of Hayes Valley".)
In January of this year, data on the intersection was still being collected, including information on overall speed and volume of traffic, plus intersection turn counts.
As of this spring In an initial 2008 concept, the proposed updates to Octavia and Market Street included creating landscaped medians on Market, redesigning Octavia's median with seating, landscaping and a pedestrian path, and potentially raising the bike path, among other ideas: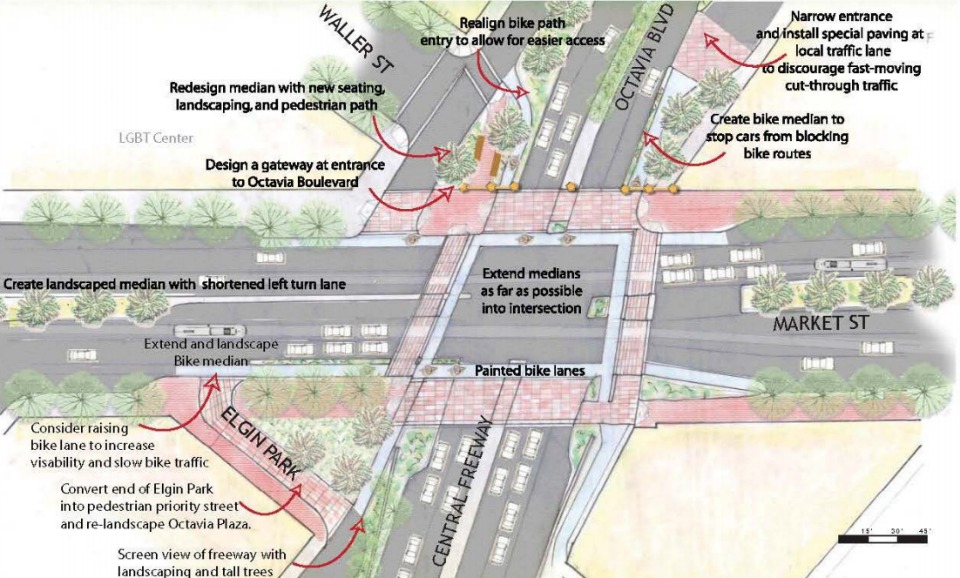 (Image: SFMTA)
However, as Hildreth noted in the comments, "The current proposal is more focused on short-term changes while we wait to coordinate more expensive changes with Better Market Street."
"The current proposal includes removing eastbound, left-turn lane from Market to Octavia to give more green time to Octavia and westbound Market through-traffic, and we are also in discussions with neighborhood art committee to potentially locate a memorial to the freeway revolt on the upper left plaza area after fixing the bike slot design."
In addition, the SFMTA is also looking at measures to angle parking along Fell and Oak Streets, which may result in the loss of a lane. 
A community open house to present all the above changes will take place at the Proxy project on Hayes and Octavia on Thursday, April 16th, from 3pm-7pm. If you can't make it, a thorough PDF of all the plans and proposed changes can be found online here.
The presentation will be followed by a "Walk and Talk" presentation in the near future. We'll let you know when a date has been selected, and what the next steps are in implementing these changes.