The Chairman, everyone's favorite mobile pork bun vendor, has finally debuted its Tenderloin brick-and-mortar location after weeks (if not months) of neighborhood speculation over when the doors at 670 Larkin St. would open for good.
Widely reported to be soft-opening on April 13th, undisclosed delays kept the space, which formerly housed the popular food truck's commissary kitchen, closed to the public. Happily, this past Saturday saw The Chairman officially open for business, and a midday scout today confirmed that customers are indeed getting their lunchtime fix at the new location.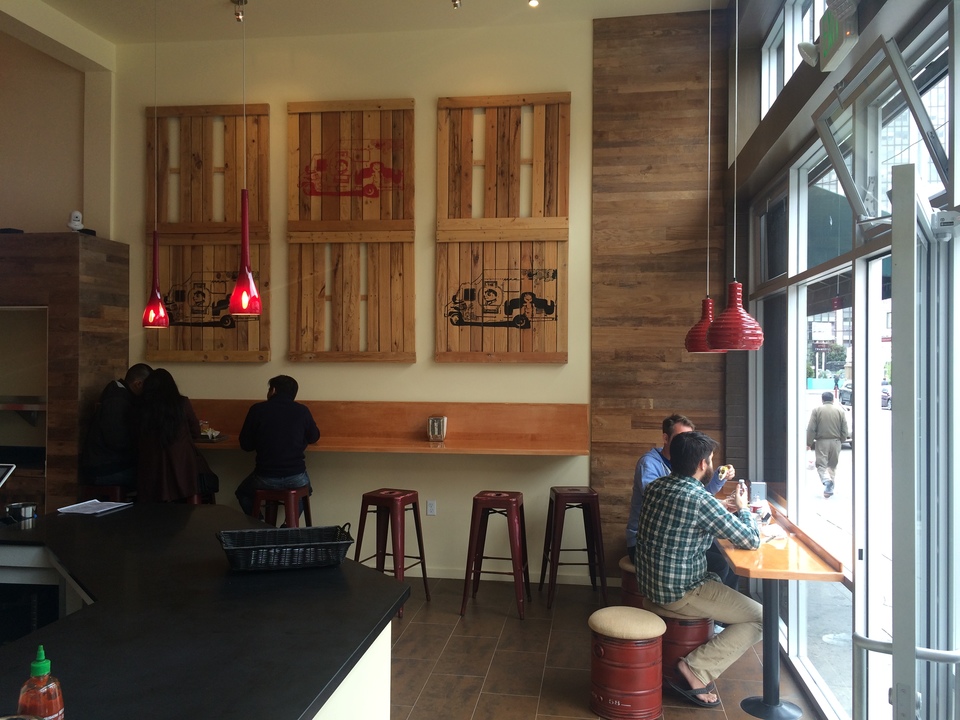 The Chairman's famous steamed buns ($3.25-$5.75) and larger baked buns ($6.25-$10.50) are on offer, but the menu has expanded beyond the food truck offering to include rice bowls, seasonal greens, and noodle salads, which like the buns come with a choice of  beef short ribs, pork belly, Coca-Cola braised pork and more (prices vary according to protein choice, plus add-ons like fried egg and crispy shallots). Sides include fried chicken wings ($8-$10), wonton chips ($2.50), and Kennebec fries ($3.50).
Beverages include housemade sodas with creative flavors like black currant with charred cinnamon and shiso; pink guava with passionfruit and toasted coriander; apricot with tangerine and sweet ginger; and ginger lemonade with lychee jelly and mint ($4). 
Customers order at the counter, then either take out or eat in at one of the space's 14 seats. Both lunch and dinner will be available; as of this past weekend, The Chairman's hours are 11am-9pm daily, but they may change according to demand.