As we caught wind of earlier this week, chef Daniel Sudar's new Janchi Korean Gastropub restaurant is now open for dinner at the former ManDu location. 
Highlights from the menu include the Jelly Fish Salad ($12.95), Kimchi Pancakes ($6.95), US Army Stew 'Budae Jiggae' ($14.95) including everyone's favorite Spam, the hot stone bowl Bimbimbap ($11.95) with a variety of vegetables and a egg sunny-side up, the Korean Fried Chicken "KFC" ($14.95) served with sweet pickled daikon and the garlic marinated rib eye Bulgogi ($12.95). The drink list includes a variety of soju cocktails, sake, wine and beer.
During this soft opening period over the next month expect to see menu items come and go while they try things out to determine what's going to work best.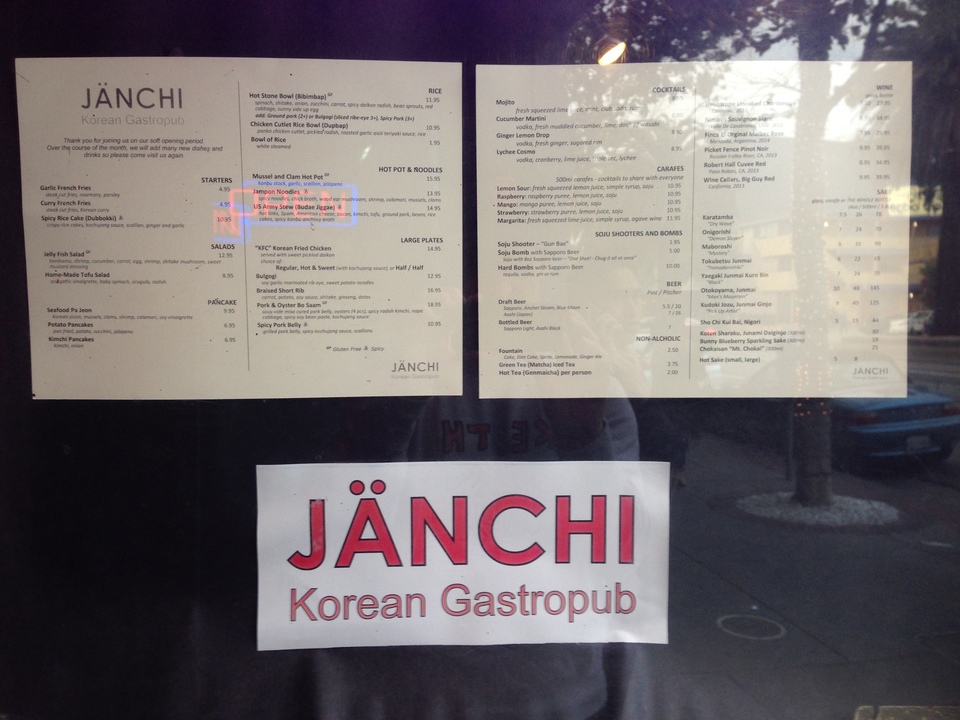 It's been quite a process to get here. Sudar, who also owns Slurp, moved in with ManDu earlier this year to replace Barracuda Sushi. But it was temporarily shuttered by a Health Department violation earlier this month. Over the past few weeks, the restaurant and its team took care of the problem and changed concepts for this reopening.
Stop in to Janchi for dinner and let us know what you think.