Next time you walk, bike or bus past Market and Van Ness, keep an eye out for San Francisco's latest large-scale mural piece, adorning the west-facing backside of All Star Cafe. The new mural, which measures 50' by 40', was unveiled on Market Street over the weekend, marking a collaboration between three female artists, plus a neighborhood association and backpack brand JanSport. 
The All Star Cafe building is slated for demolition, though most likely not until next year, as plans for a future high-rise tower designed by SCB (plaza designed by Snøhetta) and developed by Build, Inc run the city permitting gauntlet this year.
William Bulkley, the co-chair of the Art, Culture, and Entertainment (ACE) Committee of the Hayes Valley Neighborhood Association (HVNA), has been wanting to have a mural painted on the site for a while. But Rome wasn't built in a day, and getting permission for the mural, finding artists and securing funding was no small feat.
Build, Inc, which now owns the lot, was enthusiastic about the idea, but there still remained the issue of finding artists. HVNA reached out to Trevor Martin of Fifty24SF Gallery (part of the Upper Playground empire) for help, and Martin suggested connecting with JanSport. For the past few years, the backpack company has been sponsoring art as part of JanSport's Live Outside program, which highlights the work of street artists in San Francisco and Brooklyn. You might recognize one of the company's other sponsored pieces—created last year by artists Amanda Lynn and Lady Mags— on the side of the Hotel Whitcomb.
"This type of sponsorship is unusual for HVNA," said Bulkley, "but we felt it was fitting for the very visible Van Ness and Market intersection." The aim of colorful, eye-catching piece is to brighten up the rather dismal parking lot on the site.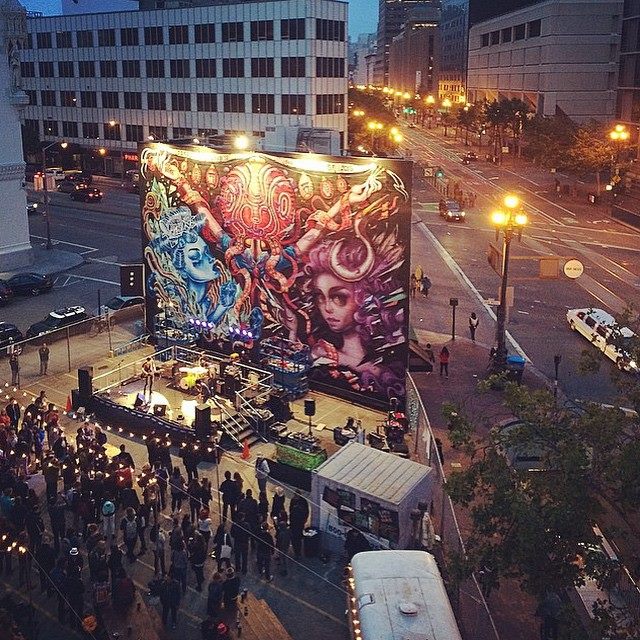 Saturday night's big unveiling (Photo: Lolo/Facebook)
For their part, JanSport recruited three artists to work on the All Star wall piece as a collaboration: Caratoes, Lolo and Tati. All three are experienced internationally-recognized female artists. Caratoes is Cara To, an illustrator and street artist based in Hong Kong. Lolo is Lauren YoungSmith, a Stanford grad who lives locally in the Bay Area. And Tati is Tatiana Suarez, a Miami-based artist who references her Brazilian and El Salvadorian roots in her art. 
The mural was unveiled at an event on Saturday night which also include live music from local band Birdmonster. It will remain up for approximately 18 months, as long as the building is still standing.
Bulkley told us that HVNA's ACE committee is "actively pursuing multiple mural projects in Hayes Valley." We'll let you know what public art project is on the way next.