This Thursday, the fourth-ever Open Late on Larkin will take place in the Tenderloin. The combination art walk/discount fest/food pop-up was launched in February of this year, and is gaining traction in the neighborhood. We met up with organizer Adriel Lively of salon and barber shop Strand to learn more about the event and what's in store this week. 
Adriel and her partner Jeff Bruton are both long-time residents of the Tenderloin, but new business owners. Jeff moved The Loin (a screen print shop and gallery) from its old location on Eddy to Larkin Street in August of last year, followed by Adriel opening Strand in October. 
Larkin Street is experiencing a new business boom at the moment, and several new retail shops and restaurants opened on the heels of The Loin and Strand. San Francycle debuted next door to Strand in October, Fleet Wood opened its doors on the street in February, and Rusty's Southern restaurant opened in March half a block away, along with ShakeDown ice cream the same month.
"Open Late on Larkin began as a way to promote ourselves," says Adriel, "but it's also about getting people out." Many of the neighborhood's businesses close early, which means that the stretch of Larkin can be empty in the evenings. Open Late on Larkin, she says, will hopefully activate the space and make it feel safer for merchants to stay open, and for patrons to walk down the block after dark. 
Open Late on Larkin is still in its early stages, but Adriel has high hopes for the monthly event. She'd like to get some of the Vietnamese businesses involved, though language barriers are proving to be an issue. "I just want to see everything open," she says. 
Open Late on Larkin will run from 6-10pm, with a number of both long-standing and newer businesses participating. Here's who's participating, and what they're offering this week: 
Gauntlet Gallery at 1040 Larkin St. is currently exhibiting two shows.

Triumvirate

is a curated group show of ten artists, each exhibiting three sets of work.

Speculative

 is a solo show by Portland photographer Mako Miyamoto, whose work in this series focuses on Wookie-themed pop culture. 
The Loin at 914 Larkin St. is exhibiting a series of work titled Serial Killer Ketamine Orgy, showcasing work by artists John Vochatzer and Galen Rivers, who created it while working the late-night shift in the box office of a strip club.
New ice cream joint ShakeDown at 835 Geary St. (just off Larkin) will be hosting an "ice cream party," featuring their organic ice cream, sorbet, shakes and smoothies. 
Further down the street, Strand Barber & Beauty at 704 Larkin will be offering 15 percent off any appointments booked on Thursday. The salon will also be hosting Wax Wipes, who will be doing a demo and DJing. 
Next door at 702 Larkin St. San Francycle will be hosting an electric bike demo with A2B electric bikes, and selling its trendy and bike-friendly tees. 
Vacation, Larkin's resident vintage shop at  651 Larkin, will have a special $10 rack. 
Soul Groove at 422 Larkin St. will be serving up micheladas and tacos, made using "tortaffles" (a tortilla waffle hybrid). 
Finally, the after party for Open Late on Larkin will be held at Emperor Norton's Boozeland at 510 Larkin St., with drink specials starting at 10pm. 
And here's a quick at-a-glance map of participating businesses: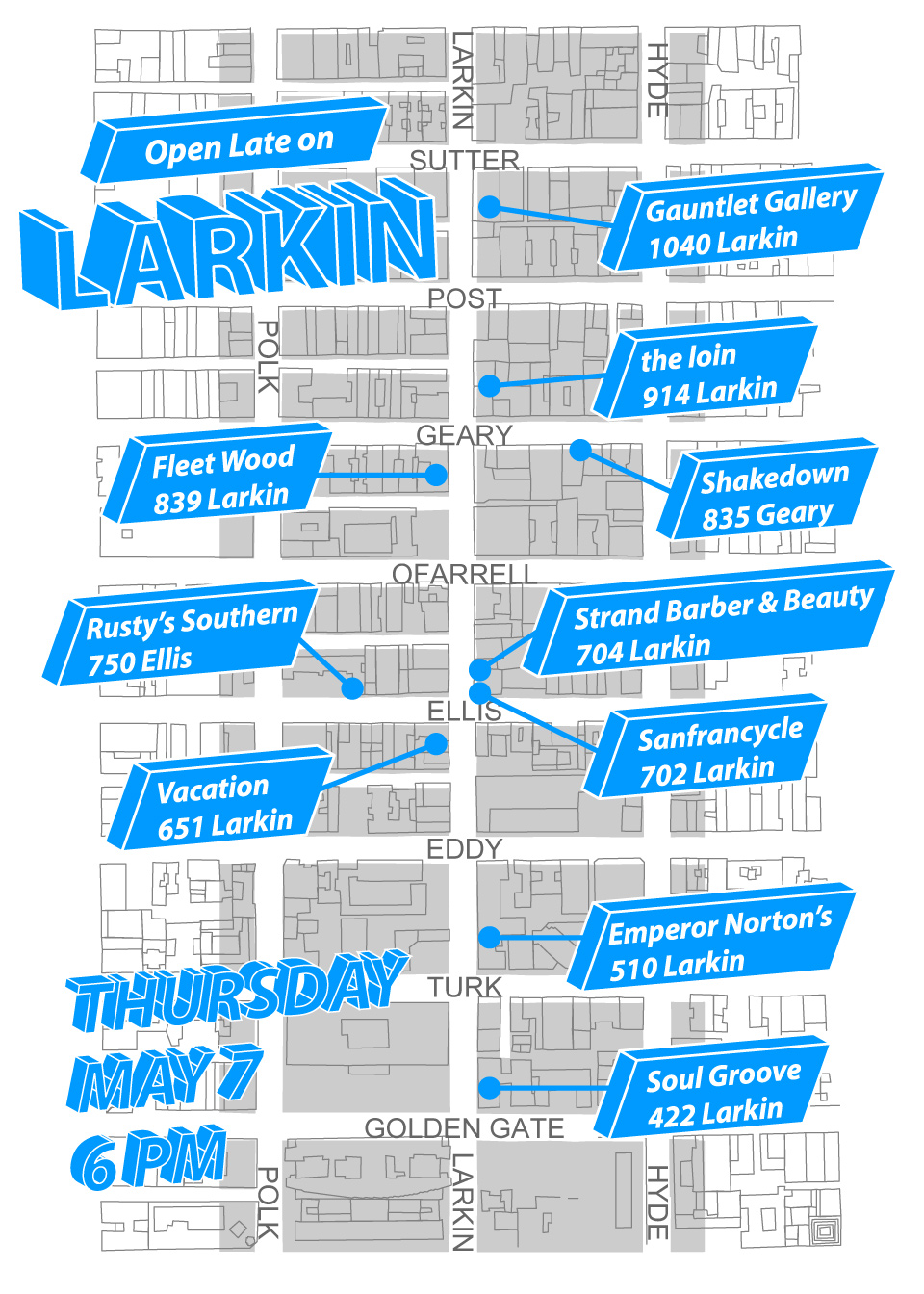 (Map:
Jeff Bruton / The Loin
)
We'll see you out there!