Back in January, we noted that the small, hidden gem of a staircase following Waller Street between Buena Vista East and Broderick—and adjacent to Buena Vista Park—was being renamed to commemorate author and avid walker Adah Bakalinsky. Now, we check back in to see what progress has been made thus far.
The work to renovate the stairs was awarded $70k in city funding as part of the commemoration, which includes a plaque in Bakalinsky's honor. Local nonprofit Nature in the City is involved with the project, and revealed some details about what's in the works on the Adah's Stairway program website:
"This public stairway and garden will be densely planted, especially at the perimeters, to provide the greatest value to local wildlife (birds, butterflies, pollinating insects, and small mammals) as well as the most attractive aesthetic and low-maintenance plant palette that can be designed.
"Plans for improving the space are also focused on transforming its appearance, quality, functionality, and sustainability; in effect, we are creating a more attractive and amenable place to walk."
So far, the top of the stairs has been planted with a concrete balustrade (shown above), similar to those overlooking portions of the Lyon Street steps directly north of here, and sealed with anti-graffiti sealant that allows graffiti to wash off easily.
Flower beds have already been prepared at the Buena Vista East entrance. Further down, there are plans to add a handrail to the 91-step southern walk, and to terrace the planted area into individual planting beds retained largely with the smooth, round river stones that have already been discovered underground in the park.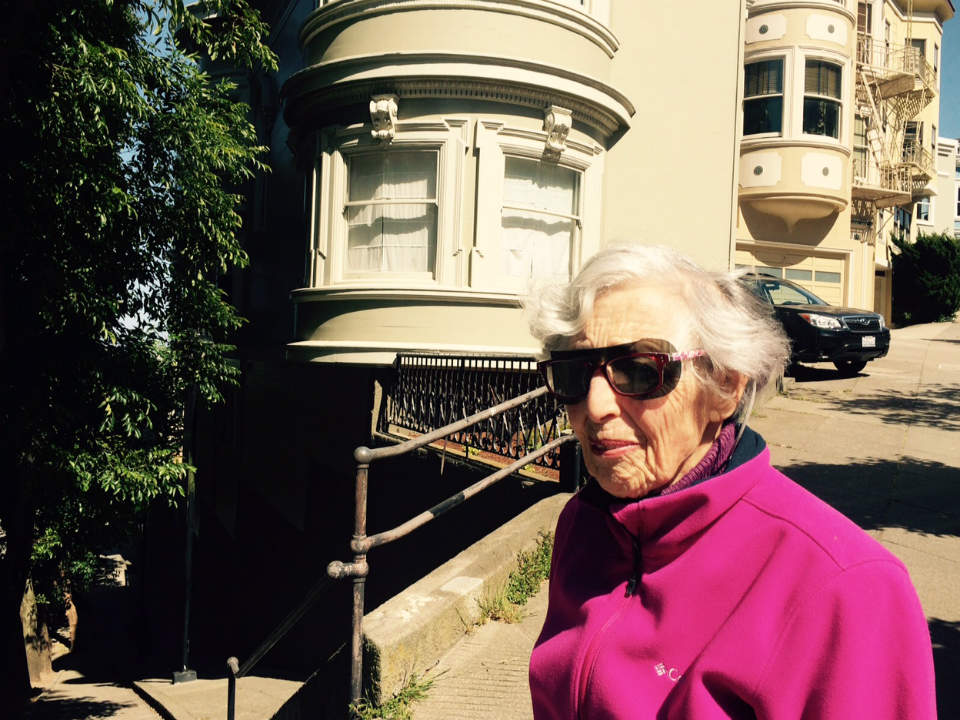 Adah Bakalinsky at Adah's Stairway.
On a recent trip to the stairs, we actually ran into Bakalinsky, the 91-year-old urban hiker and author of Stairway Walks in San Francisco, the bestselling guidebook to the over-600 public and semi-private stairways in the city. Bakalinsky was there on a visit with a friend of hers.
Bakalinsky made sure we made the most of the stairway's charms. "Did you see the view that way?" she asked us, pointing through the trees towards the bay.