Every patch of green space is precious in SoMa, with District 6 containing less than 0.17 acres per 1,000 residents. (The average is three acres per 1,000 people in the city.)
Now that developers are talking about building two high-rises that would cast shadows over Rincon Park—known for its Cupid's Span sculpture by Claes Oldenburg and Coosje van Bruggen—neighbors have formed a group called Save Rincon Park. They've enlisted the help of the same community organizers who have so far successfully fought the building of 8 Washington, a contentious condo project proposed for the Embarcadero and Washington Street.
Though the park is not in danger of disappearing, and waterfront parks are exempt from the city's "Sunlight Ordinance," the group would like to see one tower, at 160 Folsom St., stay within the height limit of 300 feet (developers want 400) and "step down" as it approaches the waterfront. And they'd like to see a proposed 240-foot tower at 75 Howard St. stick to a 200-foot limit or less and also step down in order to minimize shadows. (Note: 75 Howard spokesman Alex Clemens states that "the project sponsor is now proposing a 220 foot proposal – exactly what existing city zoning allows at this site.") 
Right now, most of the 160 Folsom lot is a parking lot, and all of 75 Howard is a 91-foot, seven-story parking garage.
A press conference was held at Rincon Park on Thursday morning, and the kick-off meeting of Save Rincon Park took place from about 7–8pm Wednesday in the community room of the Infinity Towers condos at 301 Main St. Infinity resident Jerry Dodson opened the meeting by showing renderings of the shadows the buildings would cast over the park and talking about the impacts.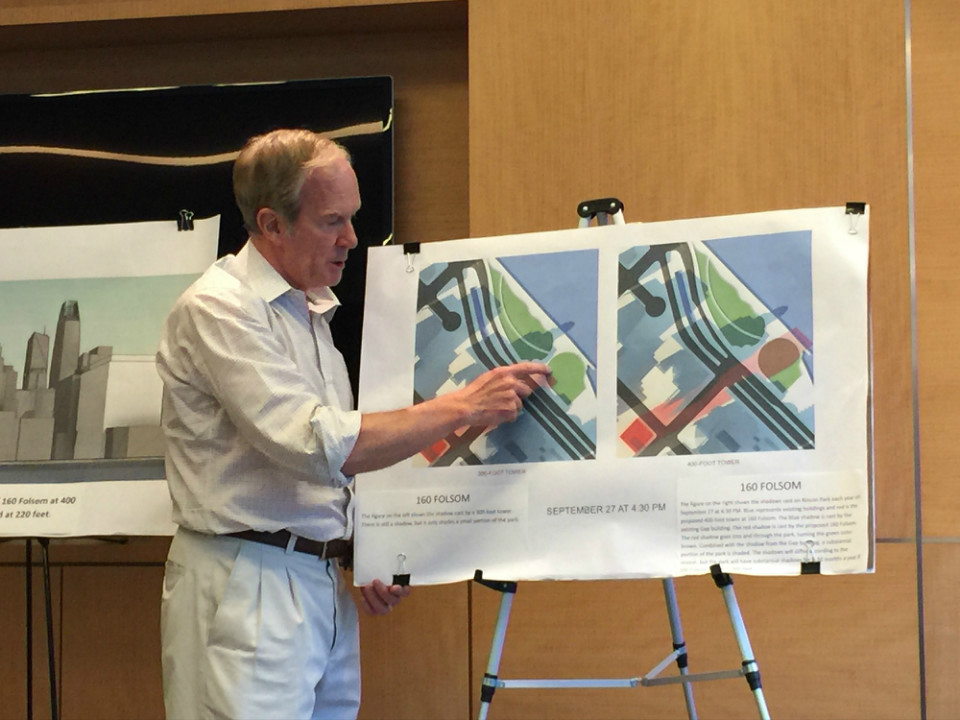 Jerry Dodson
After he spoke, former mayor Art Agnos—who was an outspoken critic of 8 Washington—addressed the room, giving a talk about his roots as the son of a Greek immigrant who came to San Francisco for "the chance to be something I could never be in the city I came from, which is Springfield, Illinois." He talked about how someone making $140,000 a year can't support a family here anymore, and how the opportunities he had when he moved here are threatened by development policies and by out-of-town developers who make money and take it back to the "home office" in New York, Los Angeles or elsewhere. (The developers of neither 75 Howard nor 160 Folsom are local.)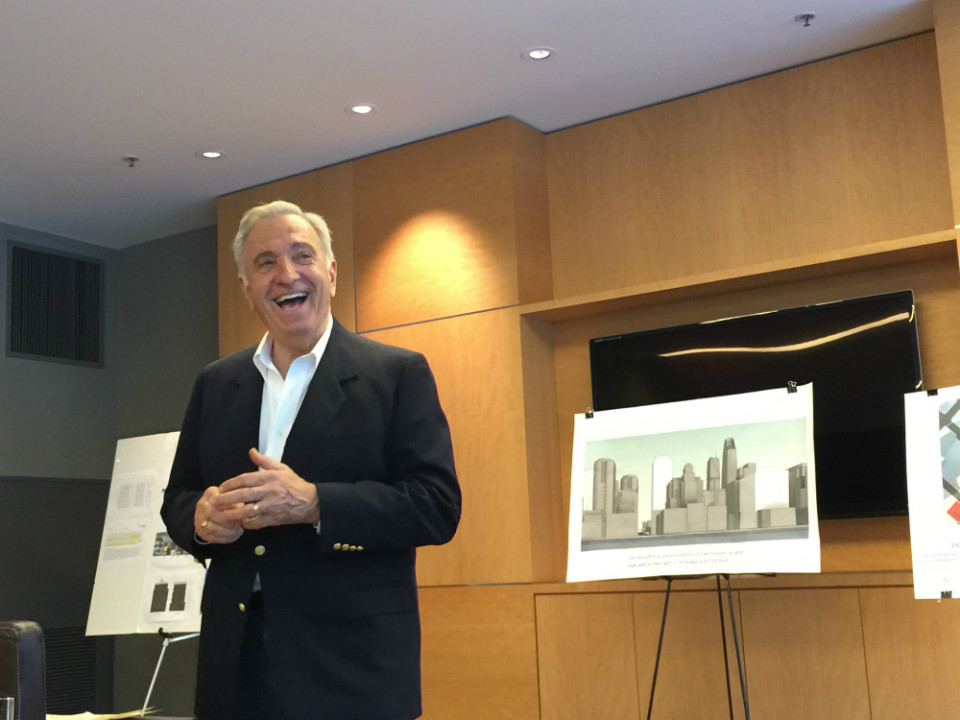 Art Agnos

Agnos outlined a brief history of development in San Francisco, a talk familiar to anyone who'd heard him speak at 8 Washington rallies and fundraisers. At one point, he said a 5,000-car Ford dealership was nearly built on the waterfront south of the Ferry Building. "What do you think stopped it?," he asked. "People like you. You said, 'Hell, no; that's not what we want on our waterfront." He praised projects like the rehabilitation of Piers 1 1/2, 3 and 5 (which, incidentally, was undertaken by Pacific Waterfront Partners, the same developer behind 8 Washington). And he applauded the recent news that the San Francisco Giants will devote 40 percent of the 1,500 units at its Mission Rock project to affordable housing, then concluded by telling the crowd to organize.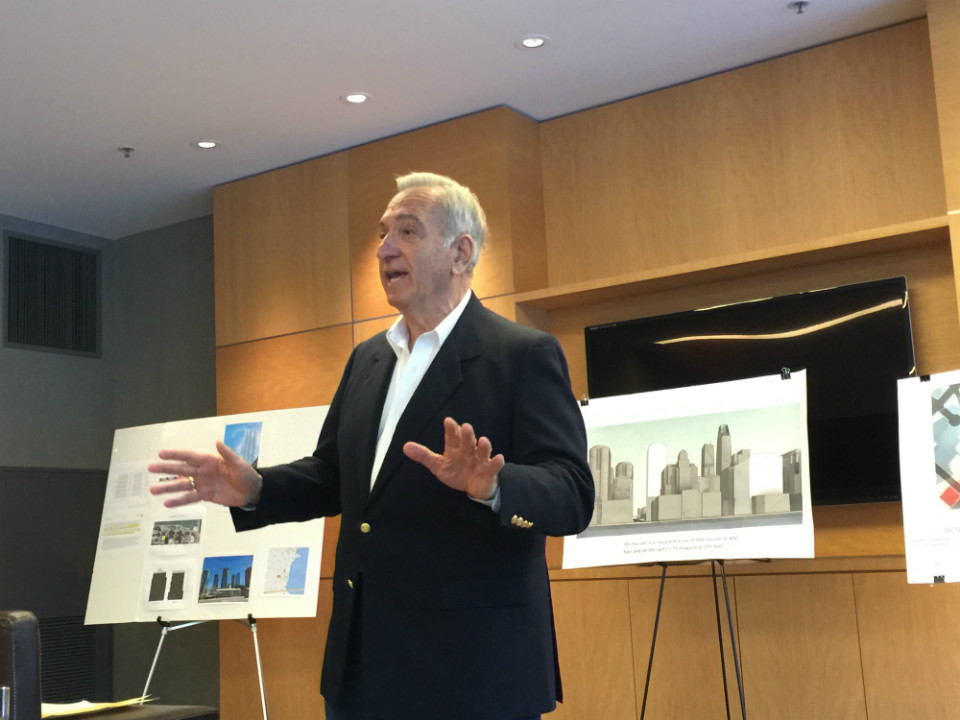 Art Agnos

Environmental attorney Jon Golinger and a leader of the No Wall on the Waterfront campaign, which was a powerhouse in helping get Proposition B passed to give voters the right to OK height limit increases on the waterfront, spoke after Agnos. He explained that the Sunlight Ordinance, enacted when Proposition K was passed in 1984, doesn't apply to the waterfront parks because they didn't exist back then (Rincon Park opened in 2002). "Buildings have already started to be built that shadow that park," he said. But now, neighbors can encourage developers going forward to "bring the projects down to a reasonable height." If not, he said, they can fight it at the Planning Commission and the Board of Supervisors, and eventually, if needed, take it to the voters.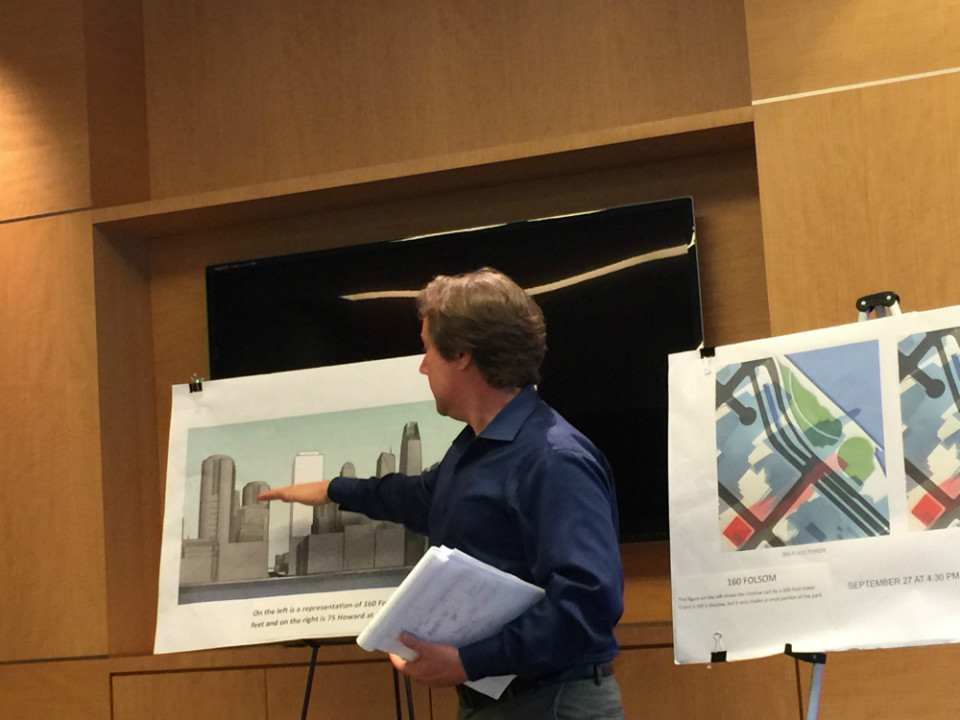 Jon Golinger

One woman asked if it made sense to move forward with development at all, given the four-year drought. Golinger replied, "The infrastructure to support all of this new development is an afterthought at this point," including water and transportation.
A man asked Agnos, "Would you support these variances if there were increases in affordable housing?" Agnos said no, not at the cost of livability and inclusiveness. "At 160 [Folsom], they've got a new trick," he said. "We've got poor floors and rich floors; we've got poor doors and rich doors." Or, they reserve the lowest floors for affordable units. "Bullshit," he concluded.
Another person asked, "So where's our actual leverage right now?" Golinger said, "Organize, organize, organize. Let the developers know people are paying attention," along with policymakers. 
Golinger also mentioned that, contrary to what some believe, even if 160 Folsom is allowed to exceed the height limit by 100 more feet, it won't be adding a greater percentage of affordable housing. He stated that that project is mostly on state redevelopment land, which is public, so the mandate is 35 percent affordable units (as opposed to 12 percent, or 15 percent off-site, for private land). The developers of 75 Howard St. don't plan to include any on-site affordable units.
Agnos told the group, "You are on the shoulders of what [Golinger] and the neighbors to the north did on 8 Washington. They were David going up against Goliath ... We clobbered them at the polls. That has built a kind of credibility for citizen groups such as yourself to build on."
Other groups supporting the effort include the Sierra Club, Coalition for San Francisco Neighborhoods, Affordable Housing Alliance and the Harvey Milk LGBT Democratic Club. We'll keep you updated as plans for the waterfront development proceed.