Divisadero fixture Bar Crudo, owned by twin brothers Mike and Tim Selvera, has a reputation of serving up food with aphrodisiacal properties—starting with, but not limited to, its fresh selection of oysters. Though Mike says he didn't deliberately set out to create "erotic" food, he knows his restaurant has a reputation for offering provocative dishes. "People tell me that all the time," he says. "They'll be like, 'Man, I brought my date there last night, thanks so much!'"
Mike was initially the more culinary of the two Selveras, earning a degree from the New England Culinary Institute in Vermont before returning to his native California. When Mike and his brother decided to open their own restaurant, Tim left his IT career and started working in San Francisco restaurants to gain experience in the industry.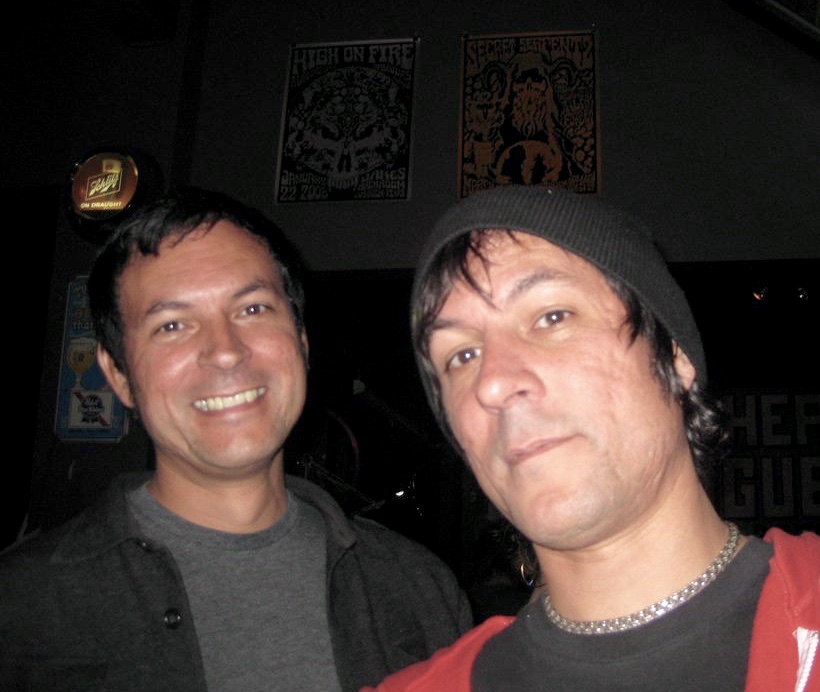 Mike and Tim Selvera, twin brothers and owners of Bar Crudo. (Photo: Jessica Brown)
The brothers opened Bar Crudo at 603 Bush in 2005, with the intention of doing a modern take on seafood. Mike ran the food side of the business, while Tim, an avid homebrewer and beer enthusiast, curated the restaurant's wine and beer selection.
Both brothers had lived in the Western Addition since the late '90s, so when they saw an opportunity to move the restaurant closer to home, they took it, relocating it to 655 Divisadero St. in 2009. At the time, the block wasn't nearly as bustling as it is today, but customers from the original location followed them all the same. This October, Bar Crudo will be celebrating a major milestone—its 10th anniversary.
With six years on Divis, the Selveras have seen a lot of changes, especially when it comes to foot traffic. "I have to look both ways when I walk out the door onto the sidewalk now," says Tim. "It's gotten really crowded!" He said the Western Addition used to have more of a neighborhood feel, where everyone knew each other, but now he looks around and doesn't quite recognize anyone anymore.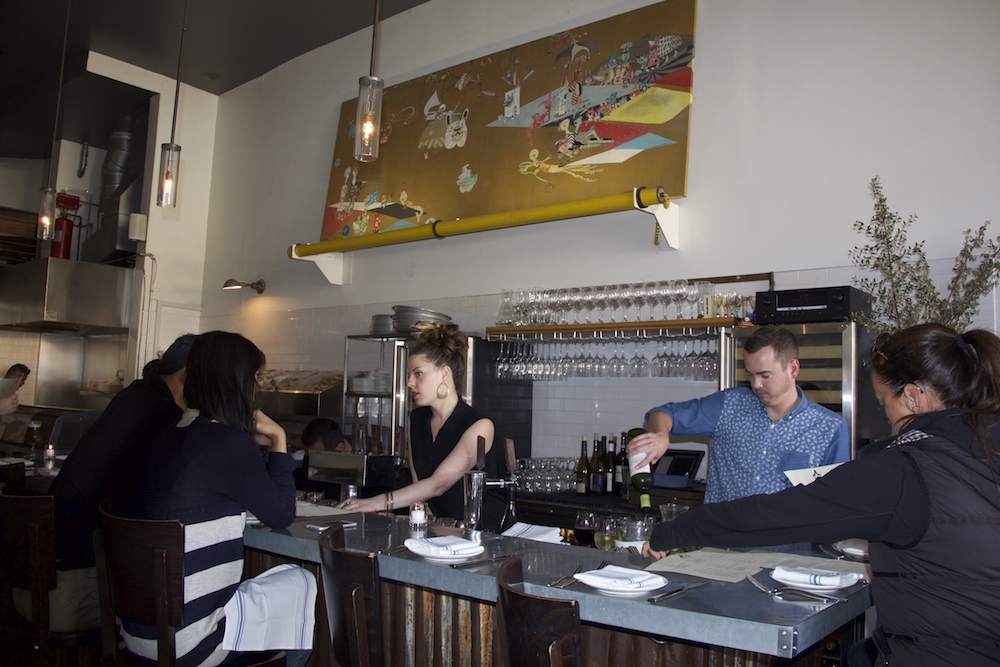 Nonetheless, Mike and Tim say they can't complain, since the neighborhood's rapid growth has been great for business. The crowds at Bar Crudo grow every year, and people sometimes line up outside before the doors open at 5pm. Business is so good that the Selveras have decided to soon open for lunch on weekends, with plans to launch daytime service by the end of the summer. Mike says the menu is still in the works, but "champagne cocktails" will definitely be a part of it. They also plan to open the restaurant on Monday nights. 
Business has been so strong, in fact, that Bar Crudo was able to expand. Last March, the Selveras opened a new restaurant, Seaside Metal, in Guerneville. Mike has moved to the Russian River to oversee the new project, which shares the same general concept as Bar Crudo, while Tim continues to live in the Western Addition and travels back and forth to work at both locations. To run the kitchen at their flagship location, the Selveras brought on executive chef Melissa Perfit, who worked at the original Russian Hill location in the early days before moving over to work with Charles Phan at The Slanted Door and Hard Water.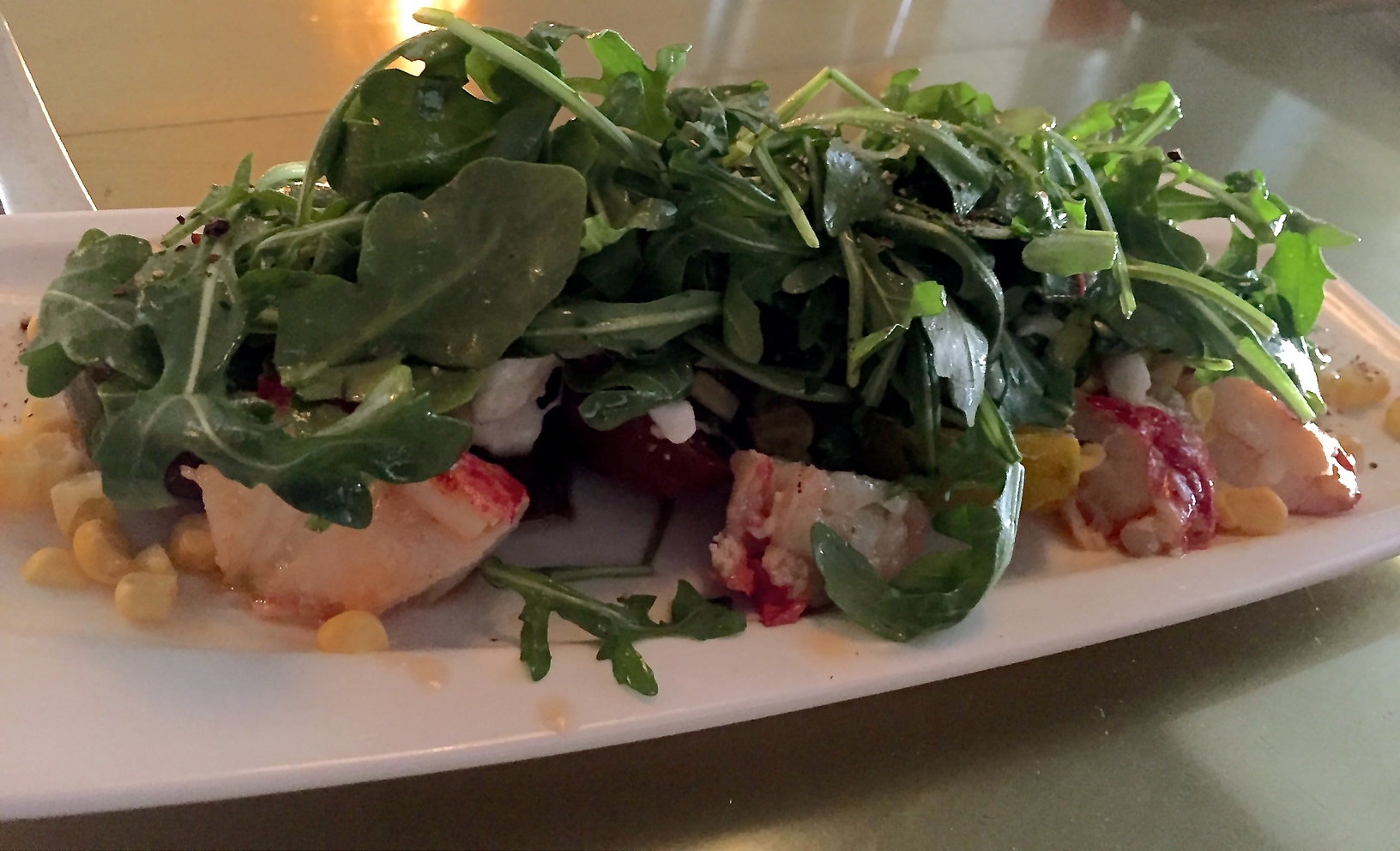 Lobster salad with burrata.
Even though Mike is no longer the chef at Bar Crudo, some of his dishes have remained on the menu by popular demand. Those items include seafood chowder with hot sauce and smoked bacon, arctic char crudo with horseradish crème fraîche, and the San Sebastian. Another favorite dish is the lobster beet salad with burrata, which Mike created to challenge the taboo that fish and cheese don't go together. Current chef Perfit, who describes her cooking style as simple, clean, and uncomplicated, has added newer options like grilled octopus and a whole branzino with uni sauce.
According to Perfit, the biggest challenge of working at Bar Crudo is getting food out quickly, thanks to a consistent crowd and tiny kitchen. Due to its size, the restaurant can only have one person on the hot line, which means a lot of prep on the front end. The oyster bar goes through ingredients quickly: nothing lasts longer than a day and a half, which is a good thing for a seafood restaurant that prides itself on freshness. 
Bar Crudo's general manager, Sofia Laurin, now buys the restaurant's wine, while Tim continues to handle the beer. An aficionado of up-and-coming local breweries, he's currently excited about the offerings from HenHouse and Berryessa, but he is always looking out for new options to switch things up. As for Laurin's wine selection, she considers bubbly a staple, since "oysters and bubbles go so well together."
With next-door businesses Cara Glass and Your Scents Trading recently vacated and up for lease, it should come as a relief to Divisadero residents that at least one longtime business is staying put. To wish the Selveras well, swing by for the restaurant's popular daily happy hour, running from 5-6:30pm (or call ahead to reserve a table for dinner).