Several dozen politicians, community advocates, business leaders and more showed up today at the grand opening of the Broadway-Sansome Apartments, a new affordable housing development at 255 Broadway St. Residents began moving in earlier this year, and a "key ceremony" on April 2nd unofficially welcomed the new neighbors, but this was the big to-do.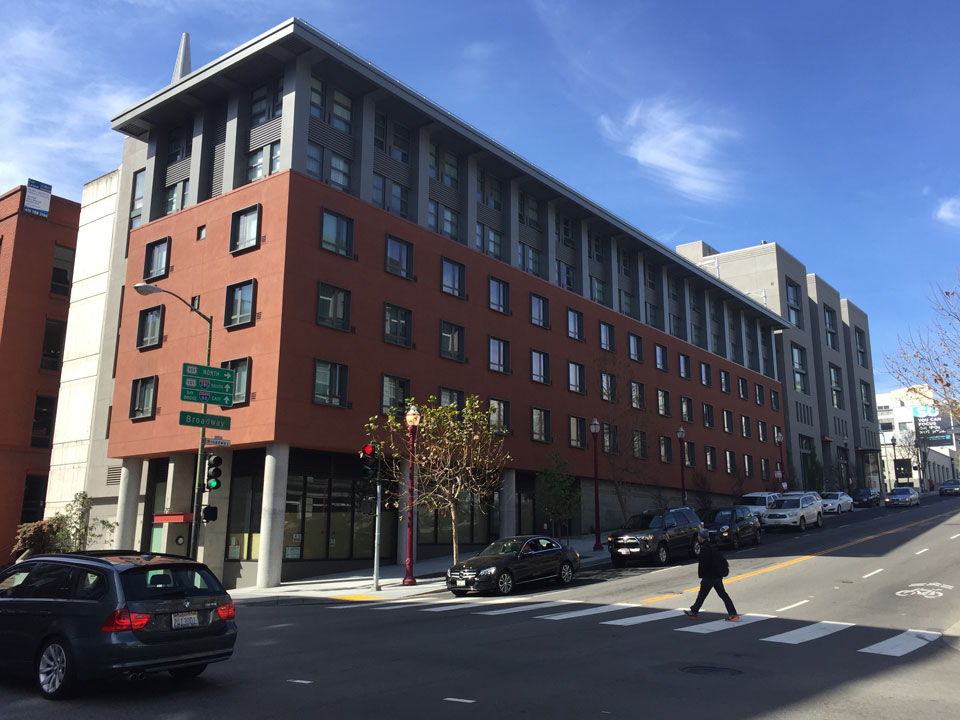 Broadway-Sansome Apartments
The event kicked off with a traditional lion dance by Leung's White Crane Association, followed by a series of speakers lauding the creation of 74 units of affordable housing, including 18 units for families formerly living in single-room occupancy units (SROs) without their own private kitchens or bathrooms.
"It is a wonderful thing to finally see this building come to fruition," said Susie Wong, chair of the Chinatown Community Development Center (CCDC) board of directors. The site was dedicated to affordable housing after the Loma Prieta earthquake in 1989 destroyed the off-ramp to the Embarcadero Freeway, which had once been there. The city selected CCDC as the developer in 2007, but it took years to finance the project.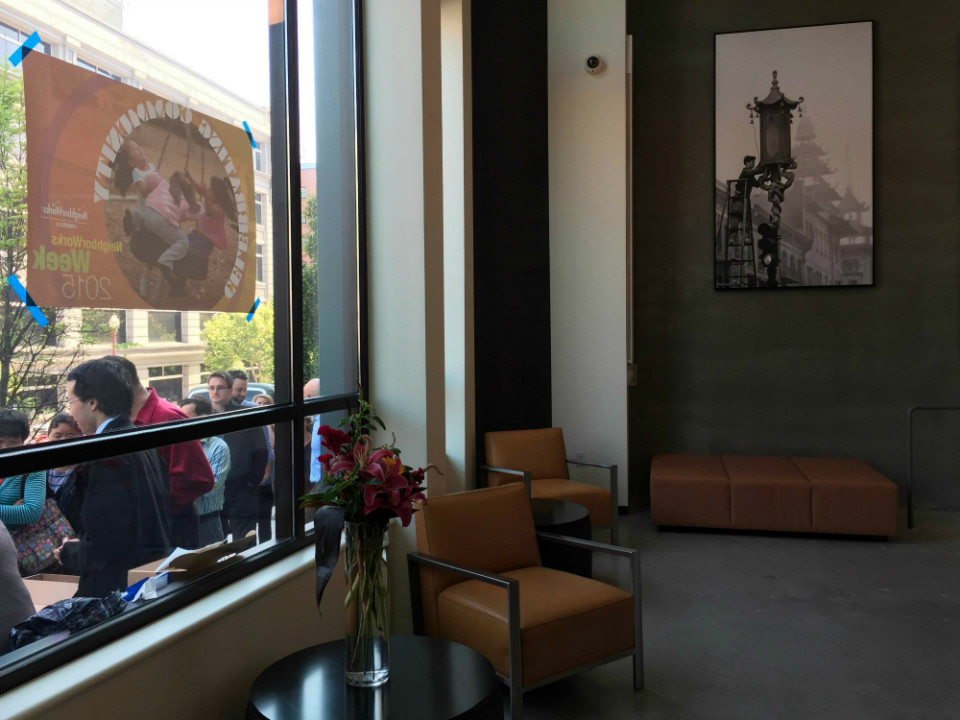 Lobby of Broadway-Sansome Apartments
Other speakers included Rev. Norman Fong, executive director of the CCDC; North Beach resident Fiona Hsu of Silicon Valley Bank; Daniel Solomon of Mithun Solomon, Alex Lazar, senior congressional aide to Rep. Nancy Pelosi; District 3 Supervisor Julie Christensen; District 6 Supervisor Jane Kim; former Board of Supervisor president Aaron Peskin; Andrea Mayfield, a resident of the Broadway-Sansome Apartments; and Mayor Ed Lee. Following that, Fong and Rev. Dr. James McCray did a blessing of the building, and then the ribbon was cut.
"Out of rubble comes good things," said Fong, referring to how the freeway was devastated after the earthquake. Lazar read a statement from Pelosi that said in part, "Providing safe, quality, affordable housing for all is a matter of social justice." Mayor Lee talked about the $250 million housing bond to build 30,000 new housing units that will be on the ballot in November and urged everyone to vote for it. 
Hoodline also spotted members of the Barbary Coast Neighborhood Association, Telegraph Hill Dwellers and Top of Broadway Community Benefit District, as well as SFPD Central Station Capt. David Lazar and his predecessor, Cmmdr. Garret Tom. 
Andrea Mayfield and Rev. Norman Fong
We also caught up with Mayfield to ask how she was enjoying her neighborhood. She and her husband and 11-year-old daughter used to live in an SRO at 8th and Howard streets, she said, and she couldn't even let her daughter out into the hallway unsupervised. Now, she said of her daughter, "She goes to the store by herself. She's able to take her scooter out and ride her scooter."
Mayfield added, "I love to cook, and I'm so happy I've got a kitchen. I can feed my family healthier." She said, "It's like a brand new life. Invigorating ... My family and I, we're so happy here."