As a number of tipsters have pointed out, Chilango and Azteca Taqueria, on Church Street near Market, closed for good this past Sunday. The Mexican restaurant had been in the location for 26 years.
A letter displayed in the window explained that a new landlord took over the building but declined to renew Chilango's long-term lease. "I was offered an option of month to month rent that gave them the right to increase my rent at their will or throw me out," the letter stated. "My neighbors have also been offered the same terms. I was the only one not to accept these terms..."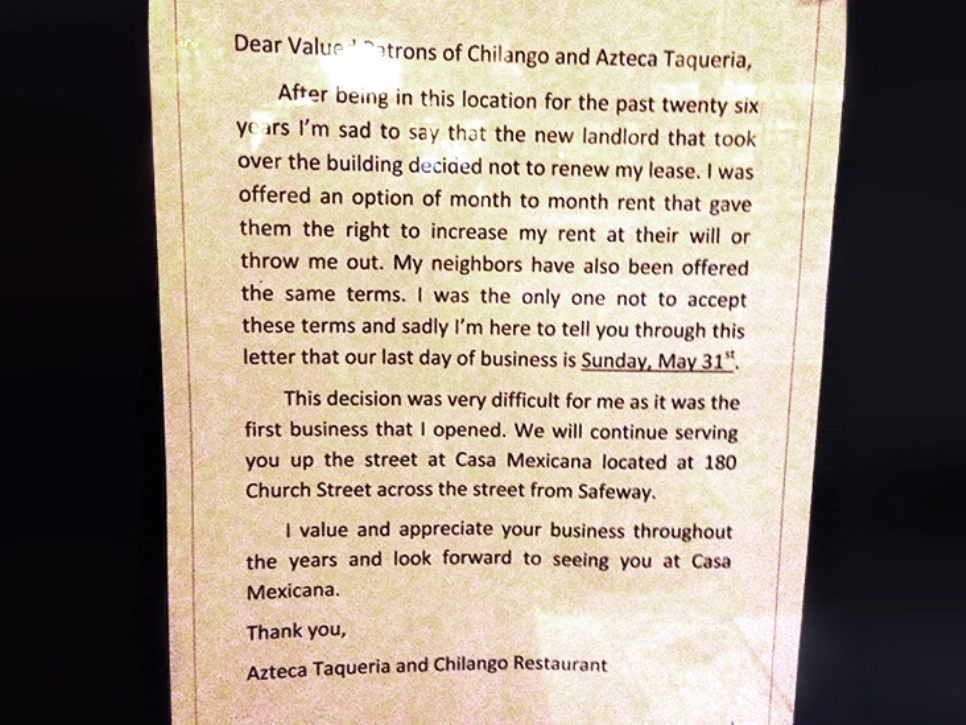 Chilango's Letter - Photo by Michael Mathews
The letter continued by saying that their other restaurant, Casa Mexicana at 180 Church Street, would remain open.
Tipsters comments have so far included:
"Another loss for the neighborhood." - David T.
"Loved their carnitas." - Michael M.
"It is sad to see this place go.  Good food, good prices, not pretentious.  A bummer." - Dan
Thanks for sending them in, everyone. 
Have any memories from Chilango or reaction to the closure? Share them in the comments below.