Fans of bubble tea have many options to choose from, but for residents of the Inner Sunset, their cups may soon runneth over. Along with global chain Quickly, independent operators Tea 4 You and Mi-Tea have applied for permits to open shops within a few hundred feet of each other near the intersection of 8th Avenue and Irving Street.
Quickly, which opened last month at 716 Irving, closed down a week later after the Planning Department determined that owners used the name "Irving Cafe" when filing for permits and identified the store as as independently owned and not as a formula retailer. City regulations require businesses with more than 11 locations to obtain a conditional use permit and notify neighbors before opening for business.
As of today, Quickly is still closed; a notice from the Department of Health in the window indicates that the shop's DPH permit has been "suspended due to identified existence of imminent health hazard(s)" and "serious or repeated violations or interference" with Section 114411 of the California Retail Food Code, which relates to compliance and enforcement.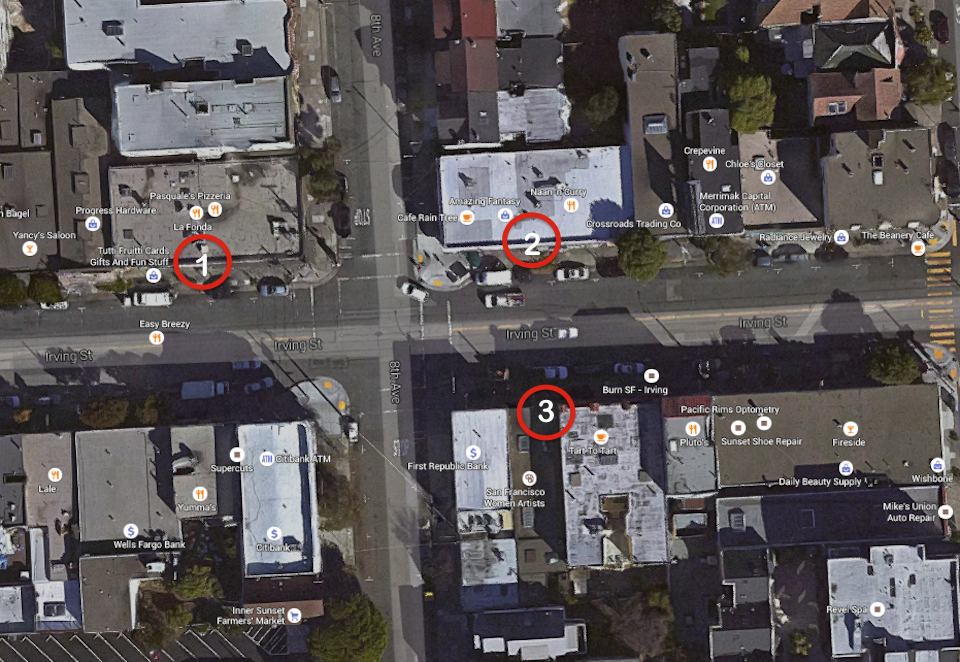 (1) Quickly Tea (2) Tea 4 You (3) Mi-Tea (Image via Google Earth)

At 646 Irving St., a banner in the window identifies the new tenant as Tea 4 You and specifies "not a franchise." On June 5th, Planning opened an investigation into Tea 4 You after receiving a complaint that it was another franchise, but the chain only has locations in Fremont and San Leandro. We contacted the Code Enforcement office at the Planning department but were not able to determine the status of the complaint.
Across the street at 647 Irving St., a new shop doing business as Mi-Tea has applied for a permit from the Department of Building Inspection. The permit, which is currently on hold, is for a new limited restaurant built on the site of the former Irving Variety store, which closed in 2013. After months of construction, the space has been divided in two to accommodate a new gallery for San Francisco Women Artists and Mi-Tea. SFWA has already moved into its new home and plans to open officially next month.
Thanks very much to tipster Peter W. for correctly identifying Tea 4 You as 646 Irving St.'s new tenant.