If you've been to Rosamunde (545 Haight St.) on a Wednesday or Thursday, you've probably met Christine. No matter how busy it gets, she'll take your order and manage the crowd with an upbeat attitude.
What you may not know is that in addition to her duties at the local sausage shop, Christine is a serious sidecar racer. We recently stopped by Rosamunde to chat with her about her role at the shop, and her love for an incredibly fast sport.
Hoodline: Where are you from originally?
Christine: "Berlin, Germany."
H: Was San Francisco your first stop when you moved to the U.S.?
C: "Yes. I came out to San Francisco in 1993 and first stayed at the Globe Youth Hostel, a lot of Europeans stayed there then. That place is closed now."
H: Did you try living anywhere other than San Francisco?
C: "Yes, I left San Francisco and went to New York for six months where I worked at Kenny's Castaways on Bleeker Street. It was a live music bar, and I was there during the winter. Great people, but I didn't care for the winter and came back to San Francisco. Too cold!"
H: How did you come acrossRosamunde?
C: "I knew Peter, the owner of Berliner Imbis, which was a hot dog place near a flea market off of South Van Ness in the '90s. I met Jeff [Howard] through Peter. Jeff was the original owner of Rosamunde, and he asked me to help open it, that was in 1998. My German background was a plus for Rosamunde!"
We switched to the topic of sidecar racing. For anyone unfamiliar with this sport, a sidecar is a three-wheeled vehicle; in its simplest form it can be described as a motorcycle with a triangular platform enclosure. There are two riders — one the driver, the other the passenger (also known as the monkey). The monkey uses his or her weight to keep the sidecar from flipping as it speeds down a track. Per the Sidecar Racers Racing Association:
"Sidecar Racing is a dangerous sport, these 3-wheeled bikes can hit speeds of 260kph and have a tendency to flip over if not handled carefully. However they are also the most amazing sight on the racing circuit and the only form of motorsport where both the passenger & driver both steer the vehicle."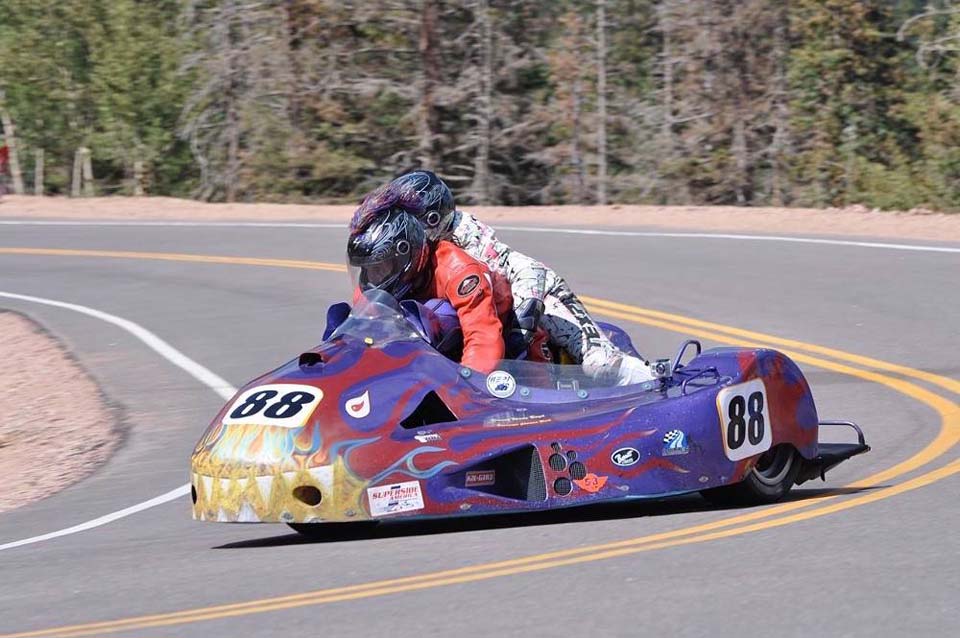 Christine Blunk is in white, using her weight to keep the sidecar at optimal speed and steadiness. Photo: Subculture Racing / Facebook.
H: How long have you been racing and how did you start?
C: "I've been racing since 1998. Iwent to a Halloween party in 1997 and met Wade Boyd [a well-known, if not legendary, sidecar racer]. Wade found out I was a professional seamstress and pattern maker and asked me to design a new look the Umbrella Girls could wear."
H: What are Umbrella Girls?
C: "Umbrella Girls protect racers from the heat with umbrellas, especially when there's a delay. Racers are in full leather protective gear, when you're sitting on a track under intense sun and high heat, like Willow Springs, you need all the shade you can get. I designed and created the uniforms for the Umbrella Girls, and I was an Umbrella Girl. When I watched the sidecars race, I knew I wanted to ride."
H: Did you have any racing experience, and how long after seeing that first race did you become a competitor?
C: "I didn't have racing experience — I always rode motorcycles. My friend Jennifer Broome, who owns Werkstatt [at 17th and Capp streets] was interested, and we decided to race together. Six months later we were on the track at Willow Springs with Wade's support and sponsorship."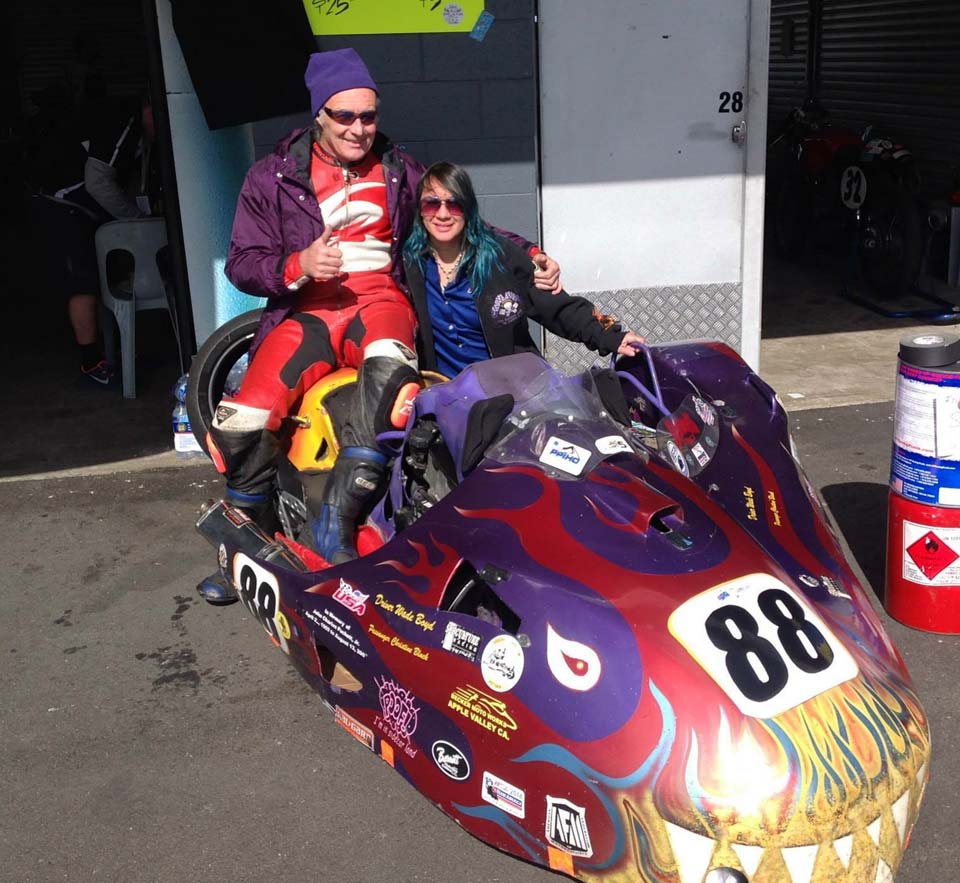 H: You've had two riding partners. How long have you ridden with each?
C: "Jennifer and I rode together from 1998-2004. After 2004 Jennifer retired from sidecar racing and I partnered with Wade Boyd. We've been racing ever since."
H: What's the average speed when you're racing?
C: "Roughly 160mph."
Christine Blunk and Wade Boyd make up the Subculture Racing team. The duo took First Place at the Phillip Island Grand Prix Circuit in Victoria, Australia last December, maintaining their 1st place ranking. Their next race is on June 28th at Pike's Peak, which is recognized as the 2nd oldest race in the United States after the Indianapolis 500. The Pike's Peak International Hill Climb started in 1916 and is 12.42 miles of climb and 156 turns. Subculture Racing maintains a 1st place ranking at Pike's Peak and holds the sidecar record for fastest course time over the last three years.
H: As we wrap up, what are the highlights about sidecar racing?
C: "The adrenaline, speed and loving what I do. You're doing something that is completely out of the ordinary."
With that, a crowd started coming in and Christine went back to taking care of her customers.