New coffee shops are sprouting up across the city, but for one local chain of cafes, the boom times are over. Last night, the Wall Street Journal reported that Starbucks will close all La Boulange locations in September. The coffee mega-brand acquired La Boulange for $100 million back in June of 2012 in order to boost its food offering, and added La Boulange sandwiches and pastries to its lineup in 2013.
Founder Pascal Rigo opened the first La Boulange on Pine Street in 1996. La Boulange now has 23 locations, 15 of which are in San Francisco. These include spots in Hayes Valley (500 Hayes St.), the Inner Sunset (1266 9th Ave.), Cole Valley (1000 Cole St.), North Beach (543 Columbus Ave.) and multiple downtown locations. 
From a statement released by Starbucks yesterday:
"As Starbucks stays steadfast in its commitment to achieve long-term growth targets enterprise-wide, it is with careful consideration the company shares the difficult decision to close all 23 La Boulange retail (bakery cafés) locations, as well as the two manufacturing facilities that serve those locations, by the end of September 2015 ... Based on our ongoing evaluations, Starbucks has determined La Boulange stores are not sustainable for the company's long-term growth."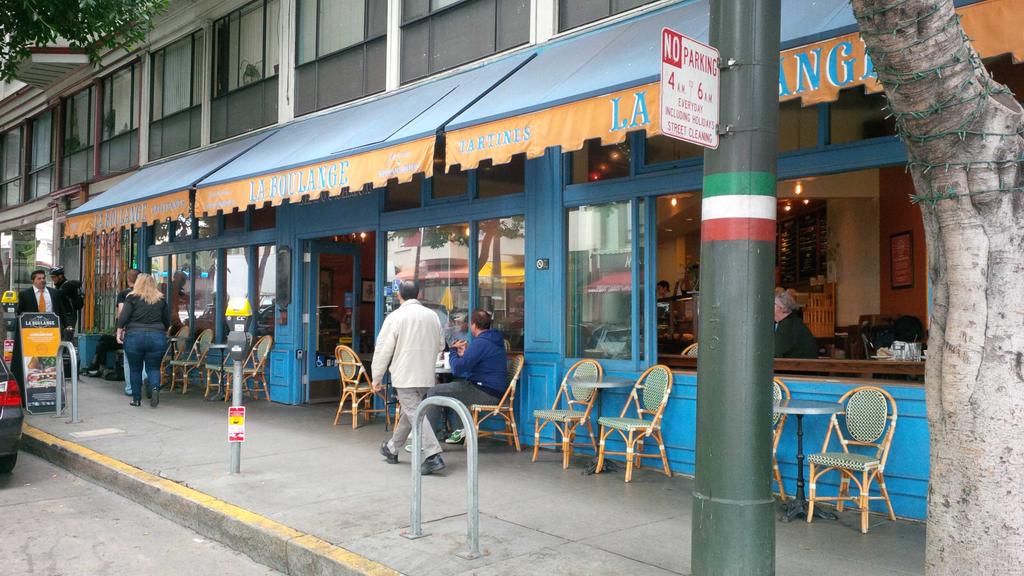 Columbus Avenue's La Boulange (Photo: Tim Butler/Twitter)

It's unclear just how many employees may be out of a job come September. Per Starbucks' release: 
"All partners (employees) who work in these locations are being treated with the utmost care – receiving personalized transition materials and having in-person conversations with their managers to explain this decision. Where possible, Starbucks will help partners find new positions at Starbucks stores in the area. In addition, retail partners from La Boulange ... will be offered incentives to continue employment with the company through their store closure."
Though coffee shops and high-end bakeries have proliferated across the city since La Boulange's heyday, the bistro-style ambiance, outdoor seating and consistent food offering will likely be missed by neighborhood residents. The closures also signal a significant turnover in high-visibility retail space, as many La Boulange locations are located in coveted neighborhood retail corridors.
Though La Boulange's brick-and-mortar locations will close, Starbucks will continue to carry La Boulange's food in house. As for Cafe Du Soleil, the Lower Haight cafe which started out in 2005 as jointly owned by La Boulange's Bay Bread LLC and Mustapha Hakkou, locals can thank Hakkou for acquiring full ownership in 2012, just before the Starbucks takeover.